SKIPPER DICK VEKINS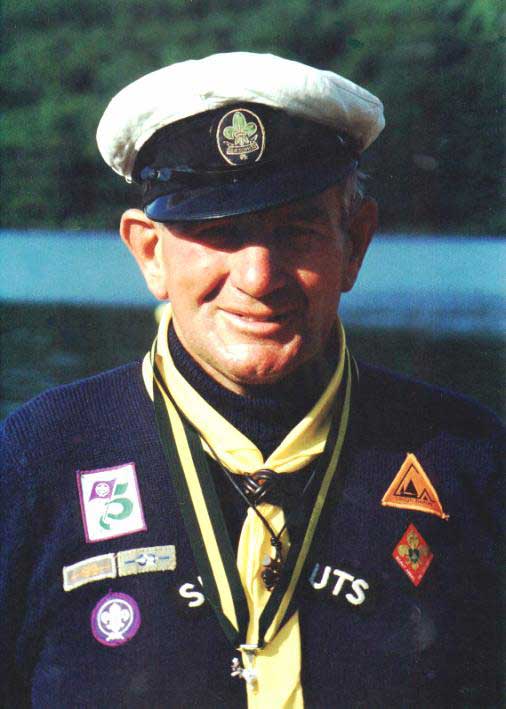 THIS PAGE IS DEDICATED TO SKIPPER DICK VEKINS.
It contains short dedications to "The Skipper" by ASL Eric Young and Eoghan Lavelle and in some way expresses our estimation and appreciation of the man, both as a sea scout group and as individuals.
AN APPRECIATION OF SKIPPER VEKINS BY ERIC YOUNG
It is very difficult to write an appreciation of Dick Vekins, known by all his good friends as Skipper, and do him justice. He had such an interesting and varied life in which he achieved so much that it would really take a book or mini series to cover it all.
He gave great and loyal service to scouting for an amazing fifty years, initially as scoutmaster in 1st Port Ringsend and for the last 35 years as the Skipper of 5th Port Dollymount.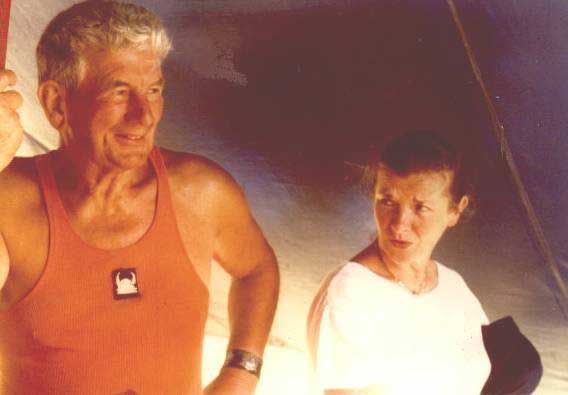 He would often recall with great humour his first visit to Dollymount and the culture shock that he was faced with. Those members, still strong supporters of 5th Port, recall the way that he won them over and transformed what was a draughty hut to the atmospheric sea scout den it is today.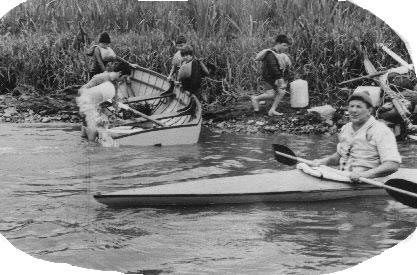 However the measure of his achievements are not in the den or the boats and canoes that he built. It is more reflected in the scouts that he made from very young boys. Always demanding the best from each scout he instilled values of doing their best and achieving their potential. He strongly believed that scouting had something for everyone and this is reflected in the events that he organised from the most physically gruelling boat or canoe race to a poetry competition. It is this spirit that I believe inspired the loyalty that he commanded so well.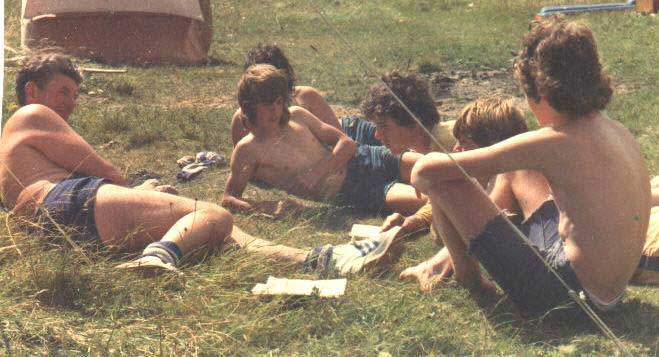 He was strongly devoted to the scout law and promise and saw in them the heart of the scouting ideals established by BP. He was keenly aware of the challenge this posed for everyone in scouting yet believed that this was what it is all about. He had very high standards for himself and demanded these from everyone else. However he was keenly aware of each ones frailties and often made allowances for these in his own way. He was the first to admit to himself that he was no saint and he would not like us to canonise him.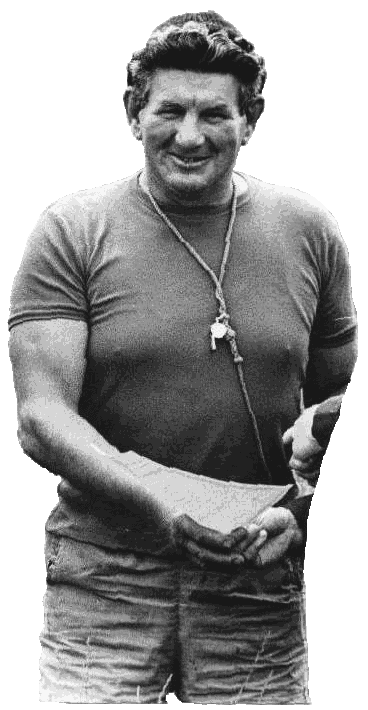 There is no doubt that he was a 'doer' and would often become agitated if there was too much talk and not enough activity. His love of the sea and the outdoors is well known and it was on many of the sea scout boating trips that he was most comfortable.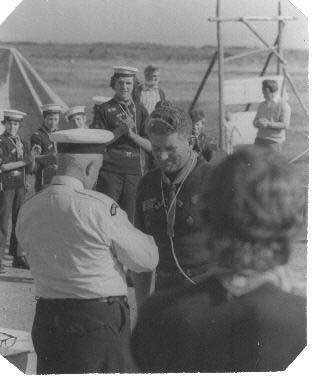 There were many other aspects to his life including music and his many crafts. He was very fond of poetry and even wrote some himself. As the president of the Irish Amateur Wrestling Association he was involved in wrestling at many levels and always managed to get the best out of those in his charge.
With him has passed an era of scouting that is not likely to be repeated. Hopefully we who follow in his way can live up to his ideals that he taught and build on his great achievements.
Eric Young
An appreciation of Skipper Vekins by Eoghan Lavelle which appeared in SAI news
GONE HOME - Dick Vekins
Dick Vekins died on 17th January 1998. We offer our deep sympathy to Moira, Carmel and Karl who have lost a great husband and father, and to all the past and present members of 5th Port who have lost a great Skipper.
Dick came into Scouting in the mid 1930's, joining the first port of Dublin Sea Scouts in Ringsend. But it is as Scout Leader of 5th Port that he became most well known in the Association. The 5th Port of Dublin Sea Scouts had been started in 1949 but by 1963 had fallen on very hard times. Dick Vekins was not involved in Scouts at that time and was asked to help out.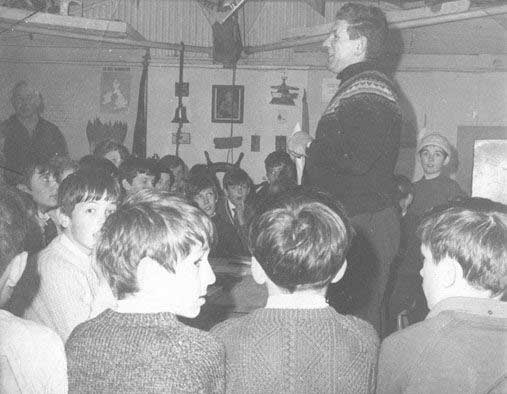 He found one young leader trying hard to keep going with about 6 Scouts, no boats, no camping equipment, a den which was falling down and no money. He took on the challenge. Gradually the Troop was revitalised - tents and canvas canoes were made, the den was rebuilt, more recruits joined, Parents' Committee was set up, a small boat was acquired, but above all a real feeling of confidence and espirit-de-corps developed.
Since then the Group has prospered and has become well known for its high standards, enormous range and ingenuity of activities and its solid foundation on Scout principals and patrol system.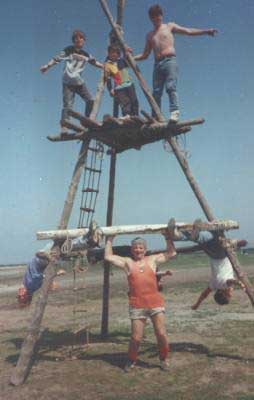 Canoeing was one of Dick's special interests and he had been one of the pioneers in this activity in Ireland. He had many amusing and often hair-raising stories of canoeing in the 1930's. Because of lack of boats when he first came to 5th Port, he turned to canoeing to get the scouts afloat as quickly and cheaply as possible.
At that time canoeing was almost unknown in Sea Scouting and was looked upon with suspicion by some. Dick introduced it to the Sea Scout Regatta and instituted the Canoe Sprint Races and the Scout and Sea Scout Long Distance Liffey races. He also strongly encouraged swimming and started the Sea Scout Swimming Gala in 1966. Over the years this became one of the most successful activities in the Sea Scout Calender.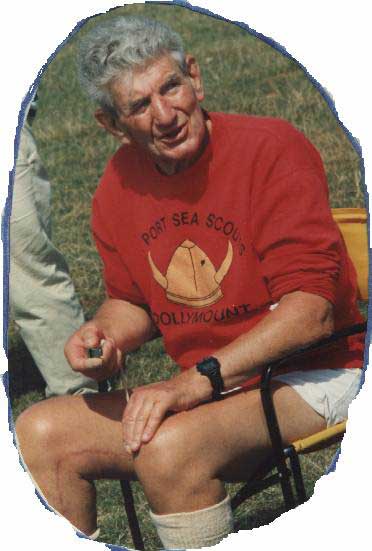 Dick also had many other interests. He was a founder member and later President of the Irish Wrestling Association. He was a qualified instructor in the Royal Life Saving Society and trained large numbers of Scout and Guide Leaders and others in resuscitation techniques in his regular course in Dollymount.
He played the Mandolin and used to have a musical group known as the "Dixies". he was also a strong supporter of the Royal National Lifeboat Institution. He attended the World Jamboree in Norway in 1975 as Leader of a Jamboree Troop. He was in charge of water activities at the Irish International Camps at Woodstock '78 and Portumna '85, and at the Sea Scout Camp at Lough Dan '82. He served as National Commissioner for Sea Scouts for 8 years.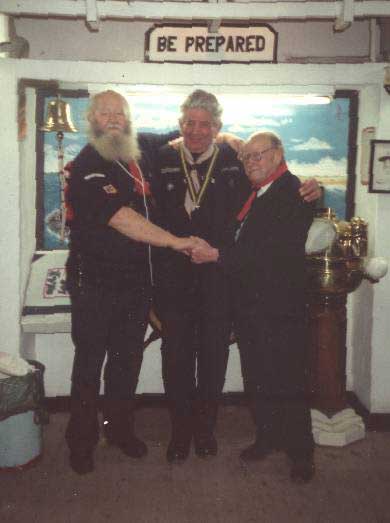 His outstanding contributions to scouting were recognised by the SAI when he was awarded the Silver Elk and later was made an Honorary Commissioner.
Dick's life has touched the lives of hundreds of young people and his influence has been incalcuable. He will be remembered for many things, but mainly as Scout leader of 5th Port for 35 years - "Skipper" - the proudest title he ever had.
Go udéana Dia trócaire ar a anam agus go dtuga Sé sólás da mhuíntir.
Eoghan Lavelle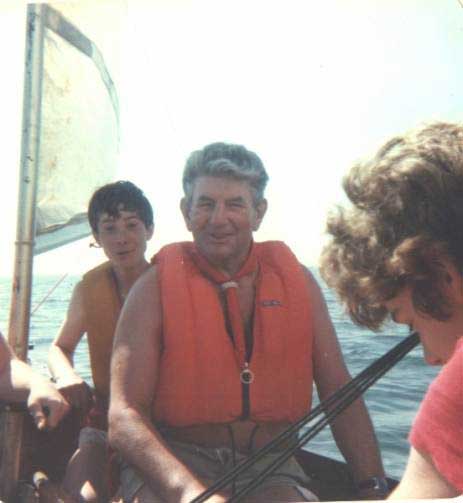 Life and Love
After all the day is here
To seek and find
And make quite clear
That life is love
And love is life
To give and take
When right is right
For if we don't
Then all is lost
To most of us
At unknown cost
Skipper, January 1998.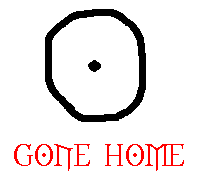 RETURN TO MAIN 5th PORT PAGE.
GO TO MAIN 5th PORT HISTORY PAGE.