! Created with Key Internet Publisher>
ANN COSTELLOE
ALL-IRELAND WINNER


Ann Costello's love affair with Gaelic football began in 1978 in Killahan Primary School when it was introduced by Principal Gerard Doyle. The first Club success for Ann and her young team mates came in 1982 when she Captained the Abbeydorney Under 16 Team that won the Kerry County Championship. Ann's playing position that day was at Centre-field where her great fielding ability combined with her free taking expertise marked her out as a future star.
Ann did not have to wait long before she was called onto the Kerry Senior Team which came in 1984 and that same year she collected the first of her All -Ireland Medals when Kerry defeated Leitrim 3-06 to 2-04. This set the ball rolling for a long and illustrious career at Senior County level in which she won All-Ireland Honours in 1985, '86, '87, '88, '89, '90 and '93.
The Abbeydorney Ladies Club developed from that U16 team of 1982 and went on to win Minor County titles in the years1984/85 and their first Senior County Championship in 1990 when they defeated the Mid Kerry team - Beaufort. Abbeydorney went on to win another 4 County Senior titles in the years '92 '94 '95 and '96.
Ann is also the holder of an All-Ireland B Club Championship medal and an All-Ireland Club 7 a-side Medal. A grand total of 8 All-Ireland Senior Medals, 6 National Leagues, 5 County Championships along with numerous other club achievements tells its own story of this outstanding footballer's career. Ann is always singing the praises of the football coaches she has had down the years. Firstly, Donal Sheehan of Abbeydorney, one of the founders of the local club and still involved in coaching to the present day, and Mick Fitzgerald of Castleisland, who is credited with being the founder of ladies football in Kerry and when training the county side brought a total of 11 All-Irelands to the Kingdom.
While still playing at club level she is also putting back into the game what she has learned down through the years by coaching the under age teams and looks forward to the day when these footballers bring to Abbeydorney a County title.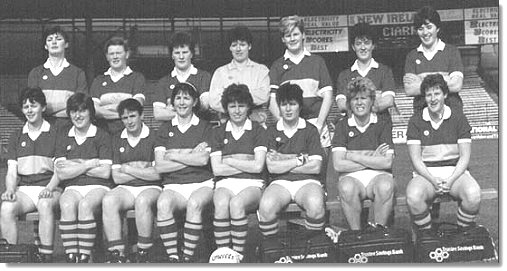 Kerry All-Ireland Champions


1987; The six-in-a-row All-Ireland Champions; Back row, (from left) Mary Jo Curran, Beaufort; Ann Costelloe, O'Dorney; Annette Walsh, Castleisland; Kathleen Curran, Beaufort; Jackie McGillycuddy, Beaufort; Marina Barry, Austin Stacks; Mary Lane, Castleisland; Front row; Phil Curran, Beaufort; Tess Horgan, Austin Stacks; Bridget Leen, Castleisland; Margaret Lawlor, O'Dorney; Marion O'Doherty, Castleisland; Margaret Flaherty (Capt.,), Castleisland; Eileen Lawlor, O'Dorney; Dell White, Austin Stacks






Times Past