FR. DAN HICKEY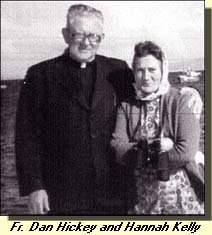 The sad bells tolled their parting knell a faithful priest had died .
The mourners came from far and near
Their grief was hard to hide.
They knelt in prayerful silence
As his funeral mass was read
Then laid him down in hallowed ground    
Among the silent dead

*
Just a lad, like other lads
So full of life and fun
Uncertain of his future
Not knowing which course to run
Then the Master smiled and whispered
"Dan, Come follow me"
He knew he had a winner
An Apostle Dan would be.

*
His sacrifice was great indeed
he did not count the cost
Full in the flower of youth and life
He set out to find the 'lost'
Seven years in Maynooth College
To test his zeal and faith
then at last a priest forever
Back in June of '38.

*
Knocknagoshel, Killeentierna
Dear Lixnaw and Millstreet Town,
Castleisland and Listowel
Then P.P. of Brosnan Town.
Whereever he has ministered
He's remembered to this day.
We will not forget his memory
And we know for us he'll pray.

*
At last to Abbeydorney
Near his hometown Sweet Tralee
Where the final words were spoken
Of his priestly ministry.
In this peaceful bit of heaven
God was very close indeed,
With the loving care of Hannah
Who took care of every need.

*
In the good old days of youth's life
He was full of wit and fun.
The games of life with zeal he played
With ball, or hound or gun.
His family were his pride and joy
He was theirs through thick and thin
To enlighten and to counsel
When their case was put to him.
 *
Nothing stays the same in life
And illness takes its toll.
At times, dear Lord, the going is tough
Sure it pains the very soul
For a sensitive man in many ways
And shy beyond our ken,
The duties of his priestly life
Could be quite a cross for him.
 *
But now the trials are over
For this good and kindly man.
There's a spot just filled in heaven
By a priest called "Fr. Dan"
His spirit now shines brightly forth
Tho he lies beneath the sod;
A grue pastor, friend and confidante
Fifty Golden Years for God.
Anna Bella (Reen) O'Sullivan
Back to Parish Priests