The Blue Hussars
Established in 1931first appeared during 31st Eucharistic Congress June 1932. Acted as Escort for visiting dignitaries. Proper title "The Mounted Escort". They were disbanded prior to WW11, re-formed in 1945 and took part in the inauguration of Sean .T. O'Kelly (below) as President of the Republic of Ireland in 1949. Disbanded soon afterwards.

A Captain's Escort in Cathal Brugha Bks
June 2001


Tpr Joanne Douglas in the best of company
The 2 Cavalry squadron has the honour of providing the Escort of Honour EOH.
The 4th Motor Squadron took over escort duties from the "Hussars" and was the first unit to use motorcycles for ceremonial purposes. However in 1955 the task was handed over to the 2nd Motor Squadron now renamed 2 Cavalry Squadron, where it remains until this day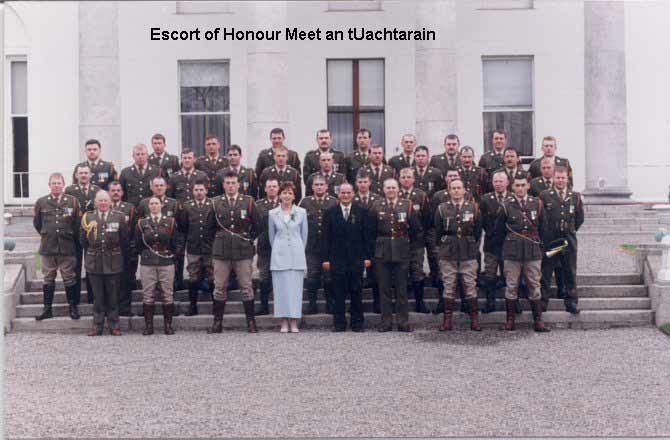 There are two different types of escort.
A Lieutenants Escort ( 18 all ranks )
A Captains Escort ( 29 all ranks).
The difference is one of protocol and the diplomatic seniority of the visitor.


The Lieutenants Escort is provided mainly for visiting ambassadors on the presentation of credentials. Prime Ministers, church leaders etc also receive an escort depending on the appropriate political protocol.
A Captains Escort is provided for The President of Ireland and visiting heads of state.