---
Previous Visitors
---
Scott Hamilton(Saxophone)
with
The Jim Doherty Trio
Belvedere Conference and Banqueting Centre, Anglesea Road 22 April 1997 at 8.30 p.m.
The Dublin Jazz Society hosted a return visit by the vibrant tenor sax-player Scott Hamilton. He performed with the Jim Doherty Trio in the Old Belvedere Conference and Banqueting Centre, Anglesea Road, Donnybrook, Dublin 4 on 22 April 1997 .

Born in Providence, Rhode Island, Scott Hamilton moved to New York and joined a Benny Goodman group that also included cornetist Warren Vaché. This was the beginning of a fruitful musical partnership with Vaché that lasted for years. They recorded together and played at several international festivals, including Cork 1990. Hamilton has also recorded with Ken Peplowski and Spike Robinson as well as leading his own groups.

A year previously in Mother Redcap's Scott Hamilton held the audience spellbound with a programme of fiery mainstream jazz, enriched by rhythmic and emotional variety.
---
RALPH SUTTON and WARREN VACHÉ
8.30 pm, Wednesday, 20th August
Old Belvedere Conference Centre, Anglesea Road, Ballsbridge, Dublin 4.
RALPH SUTTON is one of the finest exponents of the great piano traditions set down by Fats Waller, Willie "The Lion" Smith and Art Tatum. He is a member of the American Jazz Hall of Fame and has played with just about every major musician in the jazz world. He has complete mastery of his instrument and plays with full harmonic sense and a delightful wit.
WARREN VACHÉ has attracted critical acclaim worldwide for his cornet and flugelhorn playing. Stylistically he echoes the post-Louis Armstrong tradition, playing with eloquent charm and ably developing the fruitful grounds tilled by melodic players such as Bobby Hackett and Ruby Braff.
Vaché's amiable cornet style and Sutton's Harlem stride piano-playing go together like the proverbial peaches and cream. Both musicians combine masterly skill with a gift for sounding relaxed at any tempo. Sutton's two-fisted approach to the keyboard, with trills and ripples underpinned by a powerful left-hand beat, makes bass and drums unnecessary. So it is as a duo that they played together on Wednesday, 20 August, in the Old Belvedere Conference Centre, Anglesea Road, Dublin 4.
---
THE KEITH COPELAND TRIO
Keith Copeland Tommiy Halferty Ronan Guilfoyle
"The Irish Connection"
The American drummer Keith Copeland brought his trio to Brogans to launch his new CD "The Irish Connection" released on Steeplechase, one of the world's biggest independent jazz labels. Recorded in Dublin in 1995, it was released in Europe, Japan and the USA in December and made its first appearance in Ireland in Brogans!
The trio, which grew out of the Jordanstown jazz summer schooI, made the recording prior to the '95 summer schooI and when Nils Winther, the owner of Steeplechase, heard the tape he was so impressed that he immediately offered to release It on his label. Over the past twenty years Steeplechase's roster of artists reads like a veritable who's who of jazz and the appearance by Irish musicians on the label is another milestone in the international recognition of the music here.
Keith Copeland, who is simply one of the world's finest jazz drummers, is well known to Irish jazz audiences and the trio played a critically acclaimed concert in Whelans last year. The group played material from the CD as well as pieces from the album they are recording at present.
---
LYNNE ARRIALE
This young American pianist enthralled Jazz Festival audiences in Cork in 1996. She plays with a fine balance of dexterity, imagination, harmonic subtlety and depth of feeling, allied to a solid sense of rhythm.
A graduate of Wisconsin Conservatory of Music, Lynne Arriale won the International Great American Jazz Piano Competition in 1993. She has toured Europe and Japan and recorded with her own trio. Her repertoire includes tunes by Thelonious Monk, Chick Corea, Dizzy Gillespie and Jimmy Rowles, as well as her own compositions.
Her CDs include With Words Unspoken, featuring Drew Gress (bass) and Steve Davis (drums), on the DMP label, listed among the Critic's Choice for 'Best CD of 1996' in 'Jazz Times' magazine.
On Wednesday, 1st October, Lynne Arriale led a trio with the great American drummer STEVE DAVIS, with her since 1993, and our own leading bass player DAVE FLEMING.
---
Guy Barker
The Dublin Jazz Society presented the welcome return of one of the most exciting trumpeters this side of the Atlantic - namely GUY BARKER.
He played on Wednesday, 29th OCTOBER at 8.30pm in the Old Belvedere Conference Centre (Anglesea Road, Ballsbridge, Dublin 4), accompanied by THE RICHIE BUCKLEY QUARTET, featuring Richie Buckley (tenor sax), Myles Drennan (piano), Dave Fleming (bass) and John Wadham (drums). This is the same group that backed him in April 1996 in Mother Redcap's, where the inspired duetting of Barker and Buckley held the audience spellbound.
Guy Barker, a virtuoso trumpeter and composer, was born in London and began his career in the National Youth Jazz Orchestra. He studied at the Royal College of Music and has played with John Dankworth, Mike Westbrook and father-and-son team Stan and Clark Tracey. Singers he has accompanied include Frank Sinatra, Mel Tormé and Georgie Fame.
Recent CDs by his own groups, featuring some of his original compositions, include 'Into the Blue' (Verve, 1995) and 'Timeswing' (Verve, 1996).
"Always a versatile trumpeter, Barker is as at home with re-creations of Bix Beiderbecke's music as with utterly contemporary jazz, but he is justly celebrated for his fleet, sure-footed but blistering work in the hard-bop field."
[Chris Parker in 'Jazz: The Rough Guide']
---
Dusko Goyovich
Old Belvedere Conference Centre (Anglesea Road, Ballsbridge, Dublin 4) on TUESDAY, 2nd DECEMBER at 8.30pm. Yugoslavian-born trumpeter and composer Dusko Goyovich was accompanied by The Jim Doherty Trio, featuring Jim Doherty (piano), Dave Fleming (bass) and John Wadham (drums)
Dusko Goykovich's last visit to Ireland was in 1992, when he played with Louis Stewart (guitar) and Ellyn Rucker (piano) at the Cork Jazz Festival. Born in Yugoslavia, he studied at the Berklee School of Music in the early '60s. While in the USA, he played with Maynard Ferguson and Woody Herman. Returning to Europe, he led his own groups and played with the Kenny Clarke - Francy Boland Band until it disbanded in 1973. After that, he co-led a Euro-American twelve-piece band with trombonist Slide Hampton. He has also worked with Mal Waldron, Jimmy Woode and Philly Joe Jones.
Essentially a bop trumpeter whose influences include Dizzy Gillespie, Clifford Brown and Miles Davis, he has also used elements of Slavonic music to add a distinctive touch to his own compositions. His CDs include 'Swinging Macedonia' (Feb. 1997, Enja) with guests Mal Waldron and Nathan Davis, and 'Celebration', with Kenny Drew, Jimmy Woode and Al Levitt. His latest release, 'Balkan Blue', is due out in November 1997 (also on Enja label).
---
Tuesday, 3rd MARCH at 8.30pm Downstairs in RENARDS JAZZ BAR (South Frederick Street, off Molesworth St, Dublin 2)
KEN PEPLOWSKI
Ken Peplowski swung the evening away in the company of The Noel Kelehan Trio, with Noel Kelehan (piano), Dave Fleming (bass) and John Wadham (drums).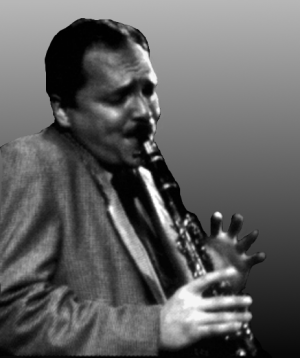 Ken Peplowski was welcomed back to Ireland by the Dublin Jazz Society. He last visited in May 1996, when he delighted audiences in Mother Redcap's. Born in Cleveland, Ohio, in 1959, Peplowski was known as a child prodigy on clarinet by the age of nine. He moved to New York in 1981 and played in symphony orchestras as well as jazz groups. As a clarinettist, he was naturally influenced by Benny Goodman with whom he played in the '80s.
On both clarinet and tenor sax, he is an outstanding mainstream soloist with impeccable technique and a solid sense of swing. His music comes out in an effortless flow and is full of the sheer joy of playing.
His best-known CDs include 'Illuminations' (1990, Concord Jazz) on which he leads a quintet with Howard Alden on guitar; 'Groovin' High' (1992, Concord Jazz), a three-tenor session with Spike Robinson and Scott Hamilton; and 'Steppin' with Peps' (1993, Concord Jazz) with various artists including trumpeter Randy Sandke.
---
TOP JAZZ DUO FROM THE USA
on European Tour
playing with THE NOEL KELEHAN TRIO
(Noel Kelehan/piano; Dave Fleming/bass; John Wadham/drums)
RANDY SANDKE, born in Chicago in 1949, is one of the second generation of dynamic swing musicians who have kept that style of music alive and healthy. But surprisingly he did not emerge as a jazz trumpeter until the 1980s, when he played with Benny Goodman, Bob Wilbur and Peanuts Hucko.

Sandke has performed at festivals, clubs and concerts around the world. He was a member of Buck Clayton's last big band and the veteran trumpeter was a strong influence on him. Sandke's two Buck Clayton Legacy CDs, All the cats join in (1993) and Encore Live (1994), are beautifully arranged re-creations of Clayton's Jam Session titles.

JOEL HELLENY, born in 1956 in Paris, Texas, cites Vic Dickenson and Lawrence Brown as his favourite trombonists, but his warm, robust style is all his own. He began learning trombone at the age of eight and by the time he went to college, he was playing professionally in local clubs.

In 1979, Helleny moved to New York where he joined Roy Eldridge at Jimmy Ryan's club. He went on to play with Benny Goodman, Lou Rawls and Natalie Cole, then with Buck Clayton and Frank Wess, among others. He has recorded with Kenny Davern, Warren Vaché and Scott Hamilton. His first CD under his own name is Lip Service (Arbors Jazz, 1996).
---
Wednesday, 6th MAY, at MOTHER REDCAPS (upstairs), 8.30pm
3 GIANTS OF JAZZ!
GEORGE MASSO (trombone)
HARRY ALLEN (tenor sax)
JOE TEMPERLEY (baritone sax)
FROM USA on European Tour — ONE NIGHT ONLY!
playing with Hugh Buckley (guitar), Dave Fleming (bass) and John Wadham (drums)
GEORGE MASSO, a graceful, elegant trombonist, was last heard here with Roy Williams in Mother Redcap's in November 1996. He was born in Rhode Island in 1926. After playing lead trombone in the Jimmy Dorsey Orchestra in the late 40s, he left professional music to concentrate on teaching. In the 1970s he became a full-time musician again and played with Bobby Hackett, Benny Goodman and the World's Greatest Jazz Band. In recent years he has toured extensively, leading his own groups and appearing at festivals around the world.

At the Cork Jazz Festival in 1992 he played with Spike Robinson and the Noel Kelehan Trio. His CDs include Just for a Thrill with Dave McKenna and Bucky Pizzarelli (Sackville 1990) and Let's be Buddies with Dan Barrett (Arbors 1994).

HARRY ALLEN, born in Washington DC in 1966, studied music with Kenny Barron and Sahib Shihab at Rutgers University, New Jersey, where he surprised his fellow-students by listening to Ben Webster instead of the more fashionable John Coltrane. After graduation he continued in the swing revivalist vein, playing with Bucky and John Pizzarelli, Major Holley and Oliver Jackson. It was Jackson who took him on the first of many European tours.

Harry Allen led a quartet at the Cork Jazz Festival in 1993 and played with Frank Tate's All-Stars in Dublin and Cork in 1996. His smoothly melodic tenor-playing shows a variety of influences including Paul Gonsalves, Zoot Sims and Scott Hamilton. CDs include I Know That You Know (Mastermix 1992).

JOE TEMPERLEY was born in Scotland in 1929 and played tenor sax in the bands of Harry Parry, Jack Parnell and Tommy Whittle before joining Humphrey Lyttelton as a baritone player in 1958. His fluency and rich tone on that instrument later made him the ideal replacement for Harry Carney in the Duke Ellington and Mercer Ellington bands.

He moved to the USA in 1965 and since then has played with everyone from Buddy Rich to Wynton Marsalis. He has accompanied some of the finest singers in jazz, including Ella Fitzgerald, Betty Carter and Joe Williams, and his film soundtrack credits include Cotton Club and When Harry met Sally. He plays regularly with the Lincoln Center Jazz Orchestra as well as touring the U.S. and Europe. CDs include Concerto for Joe (Hep 1993-4).
---
Wed, 15 July
8.30pm, MOTHER REDCAPS

A DUBLIN JAZZ SOCIETY PRODUCTION

world-renowned exponent of boogie-woogie piano-playing
A X E L
Z W I N G E N B E R G E R


Axel Zwingenberger has the reputation of being one of the best living exponents of boogie-woogie piano playing. Born in Hamburg, Germany, in 1955, he studied classical piano from the age of six. He began playing boogie in 1973 after hearing old records by Albert Ammons, Meade Lux Lewis and Pete Johnson. After a number of public appearances in Germany, he travelled to the USA to record an album, 'Let's Boogie-Woogie All Night Long' with the great blues shouter Big Joe Turner.

In the 80s he toured Europe with the Lionel Hampton Big Band, did a two-month solo tour of South Asia and performed regularly at the Viennese festival 'Stars of Boogie-Woogie'. His record series 'Axel Zwingenberger and the Friends of Boogie-Woogie' - now available on CD - helped to establish his reputation by teaming him up with artists like Sippie Wallace, Champion Jack Dupree and Red Holloway.

Zwingenberger plays classic eight-to-the-bar boogie, the left hand laying down a pattern of repeated chords while the right hand takes care of the melody, throwing in lots of trills and decorative figures. He has given more than 3,000 concerts in over 40 countries around the world. In 1990 he played in Dublin, Galway and Cork with his brother Torsten on drums, and in 1991 he was the opening attraction of Dun Laoghaire Arts Week when he played solo in the Royal Marine Hotel as a guest of the National Jazz Society.
---
Monday, 8th JUNE 1998
8.30pm, Renards Jazz Bar, Dublin 2

A DUBLIN JAZZ SOCIETY PRODUCTION

Good vibes from
P E T E
A P P L E Y A R D
(vibraphone)

in the company of Hugh Buckley (guitar), Dave Fleming (bass) and John Wadham (drums).The Dublin Jazz Society welcomes PETE APPLEYARD back to Dublin! Born in Cleethorpes, England, he began his career as a drummer. In the early '50s he moved to Canada and changed over to vibraphone. He played with Calvin Jackson and led his own group in Toronto for a while, but the call of New York was irresistible and he worked there for a number of years with various groups. Back in Toronto in the late '60s, he played regularly at the Park Plaza as well as doing session work on radio and television. A few years later he joined the Benny Goodman Band and toured the world, playing with musicians like Zoot Sims, Slam Stewart and Bucky Pizzarelli. After Goodman's death in 1986, Appleyard formed the Benny Goodman Alumni - which was one of the hits at the Cork Jazz Festival in 1989. CDs under his own name include Barbados Heat/Barbados Cool (Concord, 1990).
---
Tuesday, 11th AUGUST 1998
8.00pm, JOHN FIELD ROOM, National Concert Hall, D2

A DUBLIN JAZZ SOCIETY PRODUCTION

U S A ALL STARS !
The RALPH SUTTON TRIO featuring
Probably the world's greatest stride piano player, the renowned
Ralph S U T T O N
The acknowledged master of the clarinet
Kenny D A V E R N
Top US drummer, guaranteed to swing with
Jake H A N N A
"One of the few left from our finest and most creative piano eras."
Milt Hinton

RALPH SUTTON, one of the truly great jazz piano players, will be welcomed back to Dublin by all jazz fans! He has been a master of Harlem stride piano for half a century and is the finest living exponent of the tradition set down by Fats Waller and Willie 'The Lion' Smith. As a young boy in St. Louis, Missouri, Sutton heard Fats on a local radio station and immediately bought the sheet music to learn the Waller piano solos.

In 1948, Sutton began playing as the interval pianist in Eddie Condon's Club in Greenwich Village, a job which lasted eight years. In the '60s, he formed The World's Greatest Jazz Band with Yank Lawson and Bob Haggart.

A member of the AMERICAN JAZZ HALL OF FAME, Ralph Sutton now spends most of his time working as a soloist and travelling around the world. With a style all his own, he is the complete keyboard practitioner, playing with the perfect touch, a predilection towards comprehensive swing, full harmonic sense and a delightful wit! In recent years, he has become an annual guest of the Dublin Jazz Society, always attracting an enthusiastic audience.

[Photo: Jay Andersen]

"Witty, sometimes acerbic, always eclectic, he is a classicist who has also explored avant-garde jazz to great effect."
Digby Fairweather

Anyone who heard
KENNY DAVERN's last concert with the Dublin Jazz Society in April 1997 will be eager for another chance to listen to this melodic, swinging clarinettist. Born in Long Island, USA, he started playing professionally at the age of 16. In New York, he worked with musicians like Eddie Condon, Wild Bill Davison and Buck Clayton. He made his international reputation in the '70s when he teamed up with Bob Wilber to form Soprano Summit. At that stage Davern doubled on soprano sax, but since the group disbanded he has concentrated on clarinet, of which he is an acknowledged master.

In the '80s Kenny Davern formed The Blue Three, with stride pianist Dick Wellstood and former Soprano Summit drummer Bobby Rosengarden - a format which is re-created in the current trio with Ralph Sutton and Jake Hanna.

[Photo: Anthony]

"Hanna's understanding of every area of jazz drums - from Baby Dodds to Ed Thigpen and beyond - makes him a riveting performer, and like Louie Bellson he functions equally happily in a big band or small group."
Digby Fairweather

JAKE HANNA, top US drummer, was raised in Boston and began playing the drums at the age of five. Althoug highly skilled in all aspects of his work, Hanna is one of the most self-effacing drummers in jazz, happy to urge a band along with subtlety and discreet dynamics. Any band he plays with is guaranteed to swing! He has played with Count Basie, Duke Ellington, Woody Hermann, Supersax, Eddie Condon, Bobby Hackett - the list is endless. His album Live at Concord, recorded with trombonist Carl Fontana, is currently available on CD. Based on the West Coast, Jake Hanna tours frequently, playing
concerts and festivals at home and abroad.
© Copyright 1998 Dublin Jazz Society. All rights reserved
Tuesday, 8th SEPTEMBER 1998
8.30pm, Mother Redcaps, D8
A DUBLIN JAZZ SOCIETY PRODUCTION

Groovin' High
with lyrical
tenor-sax player
S P I K E
ROBINSON
in the company of Gerry Roebuck (piano), Dave Fleming (bass) and John Wadham (drums).
SPIKE ROBINSON created a sensation about 16 years ago when he emerged as a fully-formed professional musician at the age of 52. Up to then he had been an engineer in Colorado, playing tenor sax in local clubs in his spare time. His retirement from the day job allowed him to resume a musical career which had begun in the US Navy in 1948 and included British club dates with Victor Feldman in the early '50s.
Spike now lives in England and plays at top jazz venues throughout Europe and the USA. He is a frequent visitor to Dublin and a regular at the Cork Jazz Festival (including this year). A lyrical tenor-sax player in the tradition of Stan Getz and Zoot Sims, he has a deceptively casual approach which hides a tremendous technique. He draws his programme from a vast repertoire of tunes and his warm personality has endeared him to audiences everywhere. Spike Robinson's appearance in Mother Redcaps on 8th September will be one of the major events in the Dublin Jazz Society's 1998 calendar.
Spike has played on many occasions with Louis Stewart (guitar) and recorded with him –
for example, A Real Corker (Capri 1994) with special guest Red Mitchell (bass), and Three for the Road (Hep 1989) with Janusz Carmello (trumpet). Spike's many other CDs include Nice Work! (Capri 1989) with Ellyn Rucker (vocals/piano), One Man In His Time with The Jim Doherty Trio (Cargo 1991), Groovin' High (Concord 1991) with Scott Hamilton (tenor sax) and Ken Peplowski (clarinet), and Plays Arlen (Hep 1992) with George Masso (trombone).
© Copyright 1998 Dublin Jazz Society. All rights reserved
---
A DUBLIN JAZZ SOCIETY PRODUCTION
Marty Grosz
Laconic, satirical wit playing rhythm guitar livelier than Eddie Condon's ever was . . . featuring music in the FATS WALLER tradition in the company of The PROF. PETER O'BRIEN TRIO (Peter O'Brien/piano; Dave Fleming/bass; and John Wadham/drums).
on Wednesday, 24th FEBRUARY 1999, 8.30pm,
in RENARDS Club (downstairs), South Frederick St (off Molesworth St), D2 Adm. £12 at door; DJS Members £10
"Marty Grosz - a unique personality, one of jazz music's great comedians." - says Scott Yanow, 'All Music Guide to Jazz'
"He packs his show with well-crafted songs from the '30s and '40s, written by the likes of Victor Young, Frank Loesser, Fats Waller, Sammy Fain and Walter Donaldson. And he delivers them humorously but respectfully, gently satirising jazz-song conventions . . ." - says Chris Parker, Music Critic, 'The Times'
Marty Grosz is not only a brilliant acoustic guitarist but also a singer and comedian. His vocals are in the Fats Waller tradition and his spontaneous monologues are often hilarious.
Born in Germany in 1930, he grew up in New York and began strumming a ukulele at the age of eight. A few years later, he changed to guitar. In the early 1950s, he led a Dixieland band with pianist Dick Wellstood and the veteran New Orleans' bassist Pops Foster. A visit to Chicago turned into a 20-year residency, playing with many of the local jazz stars, including Albert Ammons, Art Hodes and Floyd O'Brien.
Marty Grosz returned to New York in 1975 to join Bob Wilber and Kenny Davern's 'Soprano Summit'. He toured and recorded with that group and also with Dick Wellstood's 'Friends of Fats'. In the mid-'80s, he joined another Wellstood group, the 'Classic Jazz Quartet', and wrote most of its arrangements. He is now busy doing freelance tours. His CDs include 'Unsaturated Fats' (Stop Off, 1990) and 'And Destiny's Tots' (Jazzology, 1992).
---
Tiny Bell Trio

Dave Douglas - Trumpet, Brad Shepik - Guitar, Jim Black - Drums
Temple Bar Music Centre, Friday 9th April 8.00pm

Over the last decade, The Knitting Factory in TriBeCa has become the fulcrum of adventurous new music in the Manhattan scene, and trumpeter Dave Douglas is arguably the brightest star to emerge from this musical hothouse. Along with his Tiny Bell cohorts, Jim Black and Brad Shepik, Douglas has been busy forging a musical concept that defies convention, delivered with wit, energy and breathtaking virtuosity. Forget everything you've been told, this is truly a sound for the new era.

Crucially, Tiny Bell haven't abandoned jazz tradition for the sake of innovation, and drummer Jim Black gives the trio a compelling groove with his minimalist, hybrid drum kit. Guitarist Shepik is a real one off, with a unique grasp of Arabic, North African and Baltic influences, and the music of Eastern Europe is a recurring theme in the trio's repertoire. Dave Douglas is, by any standards, a phenomenal trumpeter and composer, with the desire for innovation that has been the hallmark of all great jazz artists.

A member of the influential New and Used, Douglas rose to prominence with John Zorn's Masada in the early '90's, and his compelling grasp of the jazz idiom, from Don Cherry to Lee Morgan, defines the contemporary New York sound. With Tiny Bell Trio, Douglas stamps his authoritative voice an everything from Thelonius Monk to Herbie Nichols, Klezmer to be bop, and this amazing pocket jazz trio is literally in a class of its own.

"..Firmly established as an Improvisational hero.."- Downbeat
"..Douglas is an exciting new talent in his own right.." - Gramophone
Tuesday, 13th APRIL 1999
8.30pm, STAKIS HOTEL, D2

A DUBLIN JAZZ SOCIETY PRODUCTION
Return to Gig Calendar

PEACHES AND CREAM!
The best of jazz vocals and guitar
HONOR HEFFERNAN & LOUIS STEWART
with Michael Coady (bass)
Honor Heffernan and Louis Stewart go together like the proverbial peaches and cream. Honor's intimate vocal style and Louis's mellow guitar combine to make up the most delectable duo in Irish jazz.

HONOR HEFFERNAN has been singing and acting since 1971. Her jazz career took off in 1981 when she began singing regularly in Dublin with the jazz pianist Jim Doherty. Since then, she has sung with top Irish musicians like Noel Kelehan, Stephen Keogh, Richie Buckley, Dave Fleming, John Wadham, Mike Nielsen and, of course, Louis Stewart.

Honor is one of the regular attractions at the annual Guinness Cork Jazz Festival. She has worked in Norway with the Knut Mikalsen Trio and the Sandvika Big Band conducted by trombonist/ arranger Rob McConnell. She has also sung with the BBC Big Band and recorded two concerts for radio with them.

Honor's clear voice, perfect diction and sensitive feeling lend themselves especially well to ballads. Her two solo albums are Stormy Waters (1986) and Chasing The Moon (Cargo Records, 1991). The latter includes some of the songs she has made her own, such as 'Down Here on the Ground' and 'Weaver of Dreams'.

Photograph by Grainne Farren

"Behind his driving swing and articulation at faster tempos and his continuous flow of post-bop ideas lies a sophisticated harmonic thinker, but ultimately Stewart is a teller of tales...'
Charles Alexander, Jazz – The Rough Guide

LOUIS STEWART began teaching himself guitar at the age of fifteen, inspired by recordings of Barney Kessel. After playing with Noel Kelehan in Dublin, he attracted international attention when he won the Press Award for the outstanding European Soloist at the Montreux Jazz Festival in Switzerland in 1968. He went on to play with the Tubby Hayes Quartet and the Benny Goodman Big Band. Since then, he has played with George Shearing, Stephane Grappelli, Martin Taylor, Spike Robinson and many other jazz stars. He enjoys a particular affinity with Norwegian musicians such as Per Husby and Knut Mikalsen.

In 1998, Louis Stewart was awarded an Honorary Doctorate in Music by Trinity College Dublin. His CDs include Overdrive (Hep 1994) and two albums with George Shearing, That Shearing Sound (Telarc, 1994) and Paper Moon – The Music of Nat King Cole (Telarc, 1995).
---
ESB Dublin Jazz Week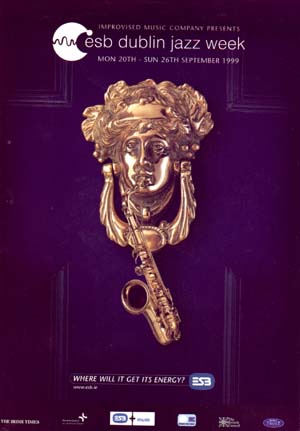 | | | | | |
| --- | --- | --- | --- | --- |
| | Headline Concerts | Lunchtime Concerts | Masterclass Series | Jazz & Cinema |
| Monday | Al Foster Quartet | N/A | N/A | Buena Vista Social Club |
| Tuesday | "Avian" By Ronan Guilfoyle | Justin Carrol Three | Norma Winstone and Tommy Halferty | Jazz On A Summers Day |
| Wednesday | Louis Stewart & The Gordon Beck Trio | Norma Winstone & Tommy Halferty | Composition & Arranging for Jazz Ensemble - Michael Mossman | Texas Tenor - the Illinois Jacquet Story |
| Thursday | Django Bates Quiet Nights | Gordon Beck | Blues To Bebop - A Listeners Guide | Jim Hall - A Life In Progress |
| Friday | Michael Mossman & The Night In Havana Orhestra | The Improvised Music Ensemble (TIME) | The Improvising String Player - Ernst Reijseger | Robert Altmans Jazz 34 |
| Saturday | Eliane Elias Trio | N/A | Jazz Dance - Perry Louis & the Jazzcotech Dancers, From Soup to nuts - Jazz Theory - Mark Levine | N/A |
| Sunday | UMO Jazz Orchestra | Ernst Reijseger - Solo Cello | Jazz Theory 2- Mark Levine | Anatomy Of A Murder - Music By Duke Ellington |
---
Back
© Copyright 1995 Happy Norwog Publications. All rights reserved