Junior's love of Music
Junior got his love of musci from his mothere margaret who played the concertina. She was one of the ten children and they all played music. Her Mother was Bridget Barry from Inagh and was a cousin of the blind Uillean piper Garret Barry. His grandmother was a good lilter and through her Junior Learned everal of Garretts tunes. Junior's moher started to give him lessons on the whistle and the concertina from around the age of six, other people who gave Junior a love of music were Pat Barron, a travelling dancing master and fiddler. Junior played for pat Barrons dancing and got tines from him.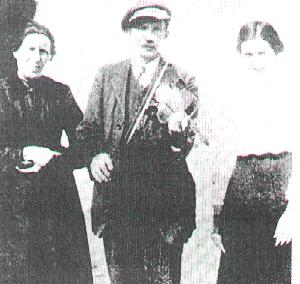 Junior's early years
Junior got his first music lesson on the fiddle from Thady Casey - holding the fiddle, tuning it, use of the bow - but it was John Scully Casey from the Crossses of Annagh who was the most influential fiddler on Junior's style. Junior described Scully as a great fiddler and had the best ornamental style he ever heard. He passed this styke on to Bobby his son whose music is full of grace and beauty and draioc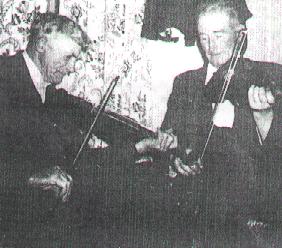 Music was everywhere in the environment when Junior was growing up. Markham's Cross was a place of regular crossroads dancing. The Crosses of Annagh and Casey's of Quilty. In later years he played in Gleesons of Coore. He spent the best part of 70 years playing in Gleesons. Junior composed a tune called "The Hills of Coore"
Juniors love of storytelling and songs
Pat Murrihy, a neighbour and a great storyteller had great impact on Junior as a child. A lot of Junior's stories including most of his Fenian Tale were passed on from this man. Junior told stories about fairies , seeing the dead, the devil, ghost stories. He told stories about Fionn Mac Cumhaill, Gatach, Diarmuid agus Grainne, Tir na nog. He had lots of stories of local history and local cures.
Junior lobved songs and singing especially songs in irish. He loved the singing of Seosamh O hEanaí, Tim Dennehy, Lilis O Laoire, Seán Mac donnchd, tom Lenihan who was a great friend of Juniors all his life. Junior composed some songs especiially about people and things that were close to his heart. Junior's favourite female siongers were Sarah and Rita Keane and máíre Ní Scolaí.
Junior and Tom Lenihan