Welcome to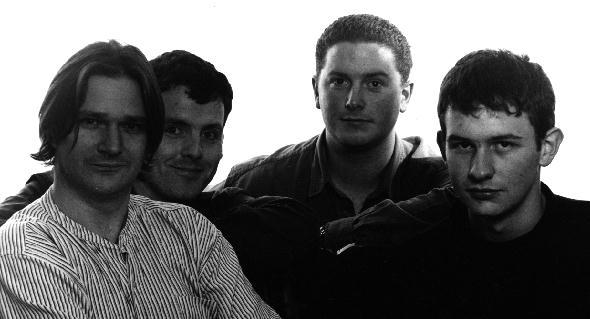 ---
Cian is a four piece Irish traditional group, comprising of Flute, Concertina, Guitar and Bodhran. Their music captures the spirit and feel of the Irish Idiom, and each performance is full of energy and passion.

They have enjoyed success to date - performing through-out the country, in venues such as; The Harcourt - Dublin, The Quays - Galway, St John's Art Centre - Listowl, The Queens - Ennis, The Lobby - Cork. They have also performed at Lis Ard 98' & the Tour de France.
---
The four members are no strangers to the Trad scene;
Brian Duke - Flute;
Brian is recognised as one of the finest players through-out the country. He has won three All Ireland Fleadhs, toured the USA and guested with the Chieftains.
Padraig Rynne - Concertina;
A young man with unimaginable talent having won Five All Ireland Fleadhs and Four Oireactas championships. He has toured the U.S. and Australia and is probably the finest concertina player in the country.
Tim Murray - Guitar & Vocals;
A guitar player with his own inimitable style of accompaniment. Tim was a former member of the group Danu, with which he recorded and toured. He has also recorded on Martin Murray's " Dark Horse " with Matt Molloy and Tommy Hayes. Through touring abroad, he has guested and shared the programme with Donal Lunny - Richard Thompson - Skydance - Joan Baez - Mairtin o' Connor.
Damien Quinn - Bodhran & Percussion;
A master of the bodhran, and lively on stage, has recorded and performed with the Donal Lunny band of the late eighties, recorded with the Chieftains, Manus Lunny, Eimer Quinn and Calua. He also has a bodhran tutorial coming out this summer.
---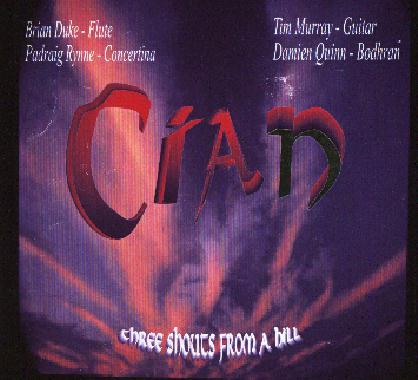 Cian are happy to announce the launch of their new album called "Three shouts from a hill ".

Here for the first time we have a Flute and Concertina collaboration, that has certainly worked a treat. It is a wonderful mix of obscure and original Reels, Jigs, H\pipes, Slow Reels, Songs and Airs. The vibrant harmony between Duke & Rynne combined with the driving rhythms of Murray & Quinn has produced an excellent album which leaves you wanting more of the extraordinary sound of Cian.
---
Sample the new Album by clicking on the track of your choice Sample 1 Sample 2 Sample 3 Sample 4 Sample 5
---

will be touring throughout Ireland in February to promote their debut C.D.

Keep up to date with our tour dates in Ireland, Europe, USA and the rest of the World
---
Join our mailing list , which will keep you up to date with the latest and greatest changes here at

---

11 Bromley Way, Ardkeen Village, Waterford, Ireland.
Managment: Tim Murray Tel/Fax +353 51 843127 Email Tim Murray
---
Send comments about this web site to Tim Murray
---
You are visitor number
since January 15th, 1999.
Copyright© 1999

cianmusic@tinet.ie