The weekend to Glengarriff started for me at 6am, a beautiful bright morning, the sky had a beautiful pink hue for a short while & even though the Nikon D50 was ready to fire off shots, my brain had yet to fire one, so I don't have a dawn shot!

First in the car was one of our newest members Yvonne with her Samsung Pro 815, then Tess with her Canon 350D & finally Maura & her Pentax MZ 5n, (slide film).

We had barely gone a mile, before our first shot of the day appeared, a Pheasant, I can tell you the Road Runner would be left standing, No Pheasant shots...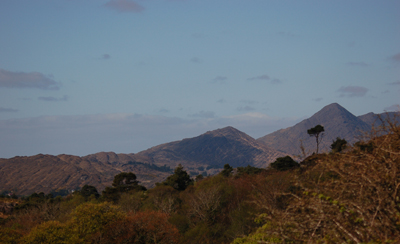 Coming from Bantry into Glengarriff we saw the spectacular Caha Mountains, with the well known Sugarloaf Mountain. The light made taking shots impossible, so we headed for Quills in the village to meet Richard at 9.30am. We also met Mick, who like Dave Wyer & Ciaran had been there since Friday. We set off to Garnish Island with its Italian gardens as our first port of call, Richard joined us girls on the ferry ride across.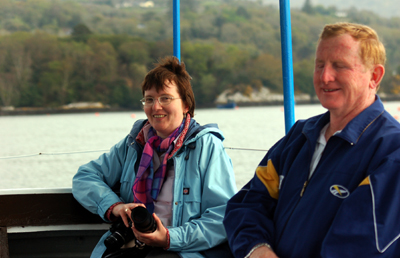 Peter (Skipper) kindly allowed us plenty of opportunity to get shots of the basking seals, sounds easy but not on a vibrating boat, so the method was, tripods clenched between knees off the floor or handheld. A note here for those who know Maura best, I had brought my Fuji S5100 for her to use.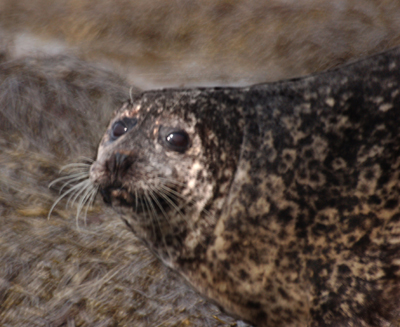 Garnish was beautiful , the plants in flower were colourful & accessible. Tess & myself went between lens 55mm to the 300mm, annoying after awhile!
In the meantime Maura was happily going between her Pentax & the Fuji, increasingly using the Digital. Yvonne's Samsung had a fixed lens. A very pleasant 4 hours later we stopped for lunch & realised we had lost Richard!!
After we left Garnish, Maura suggested we aim for Barley Lake, which Tess has been to as well, being told it was well worth the horrors of the Crappy road, for the view we set off. Unfortunately it started to rain & we decided to turn back, not an easy thing to do, on a single car road. The rain was intermittent, so Maura again suggested a look at a waterfall in the Glengarriff Forest Park. Tony met up with us there, after arranging to meet at The Cottage Bar for dinner. Tony headed for another waterfall & we went into the park itself, between the light rain we got shots of a lovely footbridge, stream & moss covered trees.
After this we decided to travel the side roads at the base of Hungry Hill heading towards Adrigole & to Tess' delight came across gambolling lambs & it brought back fond childhood memories for Maura.
The Cottage Bar Restaurant served lovely meals & we met up with Mick, Mark, Eric, Anthony and Tony. Mark & Eric had managed to get to Barley Lake & agreed with Tess & Maura that the views were fantastic. After lively chat, where Anthony told us of his "encounter" with the Grim Reaper who he saw out on his afternoon stroll along the roadside. (Anthony in his car was so taken aback that he refused to look in the review mirror, "just in case" .... ) A good deterrent for speeding!
Exhausted we went to our B&B, (Where Imelda, the owner thought I was Tony's SISTER, which made his decade.... )
Sunday morning was glorious, blue skies & sunshine. We enjoyed more chat over the breakfast table & discussed suggestions on where to go on the return journey to Cork. On our way out of Glengariff, we took shots of the Caha, Sugarloaf & Hungary Hill Mountains, we took a side road or two (highly recommended), you can come up with real treasures this way. The weather just kept on getting better, and we called in to Ballynacarriga Castle near Dunmanway, after losing it first & asking a local where it was.... don't ask! The last of our journey was pitted with stops as things caught the eye.
A thoroughly enjoyable weekend made better by the company.
Margaret Philpott
Tess Coss