nuacht * cúlchaint * up for the match * sean nós * scannail * réigiúin * an fhuinneog * ealaíon * logainmneacha * idir tú is codladh na hoíche
Cairde Cuisle Help us lift off
Glac síntiús Subscribe
Glac fógra Advertise

Cuisle, f. 1. Vein. An fhuil ag rith trína chuislí, the blood coursing through his veins. Cuisle na beatha, the great artery. Cuisle na héigse, the fount of poetry. Scaoil cuisle na féile ann, he had a generous impulse. 2. Pulse. A chuisle mo chroí! My heart's pulse, my darling!
Seo chugat Cuisle, iris náisiúnta nua don chainteoir dúchais, don fhoghlaimeoir, don díograiseoir, don té atá fiosrach. Iris don fhocal beo. Iris duitse.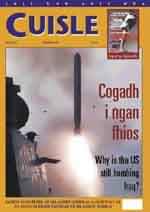 Cuisle is a new venture in Irish language publishing. A contemporary monthly magazine with a professional layout and design, it will cater for a wide range of tastes with articles on current affairs, the environment, sport, Gaeltacht life, entertainment, arts and culture, travel and new technology. Based in the Connemara Gaeltacht but with a national focus, it was launched in September 1998.