lst July,1999

Last Friday we received a telephone call from an irate reader who lives in Donnybrook. The time was about 4.00 in the afternoon. Raw sewage was running down Donnybrook Hill. Last Friday was one of our few hot and sunny days. I drove up to the top of Grange Hill, at the lights I got the smell and it was bad. Halfway up Donnybrook Hill there were trucks and men hosing down the footpath. On the way back down I passed people walking up the hill. I'm sure they didn't know what they were on, and maybe it's just as well they didn't.
We rang the County Council and eventually made contact with a spokesman who told us that the Council were not responsible for the mess. The problem was caused by local builders. But they cleaned it up as fast as they could, the spokesman informed us. With another 1,700 houses planned for the Douglas area in the future I feel we haven't heard the last of this type of problem.
In a newspaper last week I read that in England a convicted serial rapist known as the Railway Rapist was sentenced to 3 life sentences by the judge. And then the judge stated that the offender should serve a minimum of 7½ years before parole is considered. Was this a newspaper misprint or is the law really an ass?
I almost forgot to mention that the Council's spokesman told us that the contracts are being drawn up and that work will begin on Donnybrook/Scart Hill in mid-July. That's good news. I hope the new surface will be as smooth as Maryborough Hill, which is like a carpet. With regard to litter - did you notice Douglas West on Sunday morning? Filthy!! As most of you know St. Columba's Church is closed for renovations until September and Douglas GAA club is now being used as a place of worship on Sundays and Holy Days. I've mentioned it numerous times but here goes again. Last year I spoke to a Councillor. "Why", I asked him, "can't Douglas be swept on a Sunday?" His reply was, "It isn't in the estimates". My answer to that, and excuse the pun, rubbish. What would it cost to sweep the village on Sunday? The Council take £1,300,000 out of Douglas every year. Perhaps our new Councillors might take a walk through Douglas village on Sunday morning. If anybody can get something done it's our local representatives.
Welcome to our new readers in Ballinlough, Blackrock and Carrigaline. You can now get your copy of Douglas Weekly in Blackrock Credit Union, Ballinlough Credit Union and Carrigaline Credit Union, not forgetting the TSB in Carrigaline. If you have a retail outlet and would like to stock Douglas Weekly (it's free), give us a call at 896496. What more can I say except, "Howdy neighbours".
Last Thursday on UTV I watched a documentary entitled "Malcolm and Barbara, A Love Story", made by film-maker Paul Watson. For four years he lived with Malcolm and Barbara. The reason? Malcolm was diagnosed with Alzheimer's Disease at the age of 51. A loving couple whose lives were shattered by this terrible disease. I'm sorry I didn't videotape it and send a copy to our political leaders. Are we doing enough for the victims of Alzheimers and even more so the carers, who end up physically, emotionally and mentally drained. In the documentary poor Barbara took to the drink after a while and then when she was approaching a breakdown had her husband hospitalized, where he was pumped full of drugs to sedate him. A harrowing film and one that has left a lasting impression on me. On a related matter, are there any Alzheimers hospital units in Cork, and what support do the carers get?
I think I've solved the Drumcree Stand-off. The solution? Dig a tunnel under the Garvaghy Road and the Orangemen can walk to Drumcree Church under the road. Get Queen Elizabeth to officially open the road and then the Orangemen can walk "the Queen's Highway". And the decommissioning impasse? I've also solved that. The problem is the Semtex. Why not give all legal demolition work in Ireland to the IRA? Then IRA would mean Irish Reconstruction Association. Move over Solomon, Michael has arrived.
And finally, the B52 Reporter tells me that the LONG SHOT is coming. Watch this space.
Bye for now,
Michael O'Hanlon.

---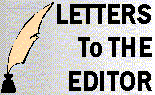 Dear Editor,
We would like to express our heartfelt thanks to Michael O'Hanlon for highlighting our plight on the Douglas Weekly a few weeks ago.
Due to this article, local man Damien O'Leary kindly volunteered his professional services and cleaned the said background. He did an excellent job and comes highly recommended. Keep up the good work Douglas Weekly.
Very grateful residents of Galways Close, Douglas.
---