15th February, 2001


Alan Dukes was back on Questions and Answers last Monday, and the good news is that the 'Beatle' hairstyle is gone!! Also gone is John Bruton (who?), stop it Michael!! Speaking of Michael, the man from Limerick is now leader of Fine Gael. I read a piece in the newspaper last week where the writer, a former Labour party PR man, described Michael as a good, honest, decent man. The same words used to describe John Bruton before the knives came out. Back in 1979 Jack Lynch was a good, decent, honest man, but like Wild Bill Hickock, he didn't watch his back!! Enda Kenny told us that he had youth on his side and vision (and more hair than Michael). All he needed was to be able to play the saxophone and we would have our own Bill Clinton. Anyway Michael, good luck in your new position, don't sit with your back to the door, sleep with one eye open, and if any member of your party tells you that you're a good, decent, honest man ... pack your bags!!
Speaking of politics, a well known and respected business man in the Douglas area tells me that he is thinking about standing as an Independent in the next general election (South Central). He feels that the politic situation in Ireland has reached an all time low, corruption, sleeze, tribunals, and the opposition seem strangely silent, as if they also have something to hide. I think that in the next general election we will see quite a few Independent candidates standing, they could hold the key to who forms the next government. I'll let you know as things develop.
Are the roads in the Douglas area some of the worst you could hope to see? Tramway Terrace Road (the road from Pipers old grounds to the Fingerpost) is in a shocking condition. There is no control over development, how much more of it can we take? Douglas is bursting at the seams, and the road are like some you'd encounter on the East African car rally, not to mention the poor cyclists who take their lives in their hands when survive to avoid craters, potholes, etc...
I read last week that the people of Glanmire want their own UDC (Urban Distant Council). In Douglas, if you have a pothole outside your gate you have to ring the council office in Carrigaline!! Not good enough, I've advocated having our own UDC in Douglas since I started the Douglas Weekly, however, I believe that some politicians wouldn't favour that move, because they would lose their power base in Douglas. Passage West has its own town Council, an excellent old folks organisation, Kinsale has a UDC, Crosshaven has its own Council office, and what have we in Douglas? Nothing!! If you don't believe me, look up in the phonebook under Cork County Council offices, and look under 'D' for Douglas. Go to page 104 of the phonebook and under the Cork County Council logo it states "Working for ALL the people of Cork County". Now start at the top of the page, which states, 'Headquarters' and finish at St. Oliver's Cemetery (how appropriate!!) ... and no mention of the second fastest growing urban area in Ireland, Douglas.
I drove down to Monkstown today (Tuesday afternoon) at about 5.00pm. I drove over the worst stretch of road from Tramway and past the roundabout (more potholes) to be met by two Gardai doing a check point, no doubt for road tax. If I was a Garda I would go on sick leave rather than ask people if they had road tax. I don't blame the Gardai, but would whoever sent them out please walk or cycle (don't drive, you'll wreck your car!) that route and then justify having to pay tax for something which is a disgrace, a bloody disgrace!
Well done to local man Gary Weldon who appeared on 'Winning Streak' last Saturday night. Five time world karate champion and Gary, if I ever go into politics, would you watch my back?
That time of the year is coming around again, the Douglas Rose selection night. The Cork festival committee have moved it back one month, so now the Douglas final will take place on Sunday, March 25th (instead of April). We had already decided to have a Mothers Day show on that night with Dickie Rock in the Rochestown Park Hotel, then we decided, let's make it a big night with the Rose selection on first, then followed by the Mothers Day special. So we booked one of the best bands in Cork, the Kieran Kramer band, to open the show, followed by the Rose selection, topping that with himself, Dickie Rock. Rose application forms are available from the 'Weekly at (021) 4896496. Tickets will be on sale shortly.
Organiser of Home Design 2001, Peter Crowley, let me into a little secret yesterday. Top girl band, and now in the charts, Switch, will perform live at the exhibition which begins on Friday, March 9th. Also performing live will be Fiona Kennedy. This will be our third year having a Douglas Weekly stand at the show and I know its going to be bigger and better than last year (the show, not the Douglas Weekly stand!) Local craft furniture will also be on display for the first time at the show.
Good luck to Bill and Marion who have opened a Launderette and a Dry Cleaners in Main Street, Passage West. What impressed me were the opening hours, 8.00am (drop in your clothes on the way to work) and open until 7.00pm (collect them on the way home from work). Most importantly of all, two lovely, happy, smiling people to greet you when you walk through their door. As security man, Bert, from Douglas Village Shopping Centre says, "A man without a smile shouldn't open a shop" How right you are Bert, keep smiling!

Bye for now,
Michael O'Hanlon.


---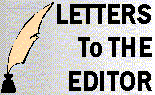 ---