22nd February, 2001


It was great to see the residents of Douglas involved in the clean up last Saturday, especially the young people. I keep on writing that Douglas is now such a huge place (and the second fastest growing urban area in Ireland) that it needs to be cleaned seven days a week. I hear that the council have plans to do something about that in the near future. I drove out to Ballincollig last Sunday and the town was spotless. Entering the town there's a lovely floral display under the "Ballincollig" sign. It doesn't cost a lot of money to make a village or town pretty or attractive. Step by step it can be done. One shop or house is painted, then a few hanging baskets. When the shop owner next door see's his neighbours improved premises, he does the same, and it goes on and on. Before you know it we have a beautiful village. The footpath in Douglas West is a disgrace, I walked it yesterday and it really needs a complete resurfacing. A couple of trees lining the area wouldn't go astray. This was recommended in the Brady Shipman report of'92. Not too much of this report has been implemented so far. It cost about £50,000. One could buy and lots of trees and hanging baskets for that money.
It is true that a fast food premises in the city centre will not allow its black employees to serve food to its customers? This can't be true!! This is Cork, in the year 2001, not Alabama, 1959. Is it true the owner stated that his customers told him that they did not want black people to handle their food? How decency goes out the door when the punt comes knocking. Did the owner meet a deputation from a newly formed group, "The Cork Association for people who don't want to be served a black person"? Did they put a burning cross in his garden? Years ago I had a takeaway and I employed a coloured person to serve the customers. Nobody ever complained or passed a comment, and if they did my answer would have been "Get a life, a multi-coloured one!!" or, "Move to Little Rock, Arkansas!!"
Who's the happiest man in Douglas? Teddy Daly, of course, Tranmere Rovers' biggest fan. Three goals down to Southampton in an FA Cup match, in the second half Tranmere got four goals to win 4-3 at home - the stuff that dreams are made of! Good luck to Aldo and the team in the next round. Teddy, have you got your ticket booked for Wembley?
The British army are once again testing depleted uranium shells in Scotland. On the minute they're lobbing them into rivers and lakes. These were the shells that caused all the controversy in the Balkens. If the explosion doesn't kill you, the cancer which goes with them will, as the Italians discovered. Why don't they test them in England? Or the French when they test their H-Bombs, they take them to the South seas, where there is a huge increase in cancer amongst the locals who live near the test site. Scotland is one of my favourite holiday destinations and it saddens me to see it being poisoned by men playing war-games. William Wallace (Braveheart), where are you when your country needs you?
A women gets seven years for stealing money, and a man gets two years for abusing children, is money more important than a child's innocence? Yes!! Order more millstones now!!
Watching the Sky News headlines last night I was thrilled to learn that George W. Bush has a new puppy, his name is Barney. A companion for George's other dog, Spot. What a clever name for a dog, Spot. Do we have to put up with this man for four years? Who elected him, the entire audience of the Jerry Springer show?
Paul McCarthy and his staff at McCarthy's Delicatessen, Douglas Village Shopping Centre have the best display of food in Douglas. The food on display is like an artform. Take a look and I'm sure you'll agree that nobody else in the area puts on such a fantastic presentation. Well done Paul.
Another new restaurant opening in Douglas. David McGreal is opening a Thai food restaurant in Tramway House (originally Harold's restaurant). I love Eastern food, so I'll be dropping in for a sample. Yet another fine restaurant to serve our needs. Incidently, I had a very nice lunch a few weeks ago in the Grange. Excellent service, pleasant staff and a very nice meal. We're spoilt for choice in Douglas, and it's getting better all the time.
Finally, a little joke. What's got four legs and an arm? Answer: a Rottweiler!!

Bye for now,
Michael O'Hanlon.


---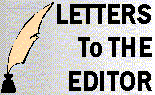 ---