1st March, 2001


At the Brit Awards the winner of the Best International Male solo artiste award was Eminem. He's the guy with the mask and the chainsaw who'll never top the bill at the Grand Ol' Opry. Although what's the betting that Pavorotti will want to do a duet with him before the year is out? Eminem could record the old Beatle classic, "I Saw Her Standing There", in honour of his mother!! Oh God, Elvis, why did you leave us?
Last week Ray Burke told us that he gave money and help to everybody, the poor, lonely, downtrodden, mass cards, raffles, drinks all round. The man's generosity knew no bounds. I'm sorry I never got to meet this icon of goodness as he brought joy to the huddled masses in their hour of need. I've met a lot of politicians in my travels and a few more socially. I've never been offered a pint or a packet of crisps from any of them (it might change should they read this article), but my heart has been lifted, and my faith in politicians has been restored to hear that a man named Burke has brought a Ray of sunshine into the lives of the people who had nothing . God bless you ray, may the wind be always at your back (excluding the Cliffs of Moher).
The newspapers tell us that in a few months 96FM will have competition in the Cork area since RTE local radio went off the air. Honestly, would you think that a radio station having about 3% listenership compared to 52% listenership in the other station is competition? I think not. When Cork was granted its first independent licence it went to Radio South. The format was approved by the IRTC, music, chat, gardening programmes, specialist music programmes, etc... In other words, a complete mix. However, things didn't go so well, and a couple of Austrialian radio doctors were called in, and their prognosis was urgent surgery, or the patient would die; and Radio South was reborn as 96FM Hits & Memories, a worldwide proven successful format. Add a couple of bob in prize money and even my 78 year old mother listened, hoping her phone would ring, everyday writing down on a copy book, 63p this hour, but the phone never rang! Good luck to Red Hot FM, catering for the 15-34 age group. Loads of Westlife, Eminem, Samantha Mumba, offer £1000 if the DJ rings you the listener, and who knows, my mother might be luckier this time!! Radio Ga Ga, how are ye?
All this excitement is taking its toll on me, and I've decided there's only one thing to do, have a break. So, this weekend I'm going away to a hotel by the ocean. I've always wanted to open the bedroom curtains to a view of the Atlantic. The last time I went away I got one teabag in a teapot in Doolin, Co. Clare, and I'd swear it was used by the tree Americans who just had breakfast before us. Multi-channel was RTE I & II. So this time I'm either off to West Cork or Dingle, and next week I'll tell you how I got on. I might even tell you about the time we booked into a B&B outside Ennis and were met by a life sized photograph of the Pope outside our bedroom door, and what the landlady told us as she showed us to our room.
Next weekend the Homes Exhibition 2001 comes to Douglas. The venue, as usual, is the Rochestown Park Hotel. Starting on Friday, the exhibition ends on Sunday. Organiser Peter Crowley told me that there will be 90 stands at the show, and this years one will be the best yet (and who am I to doubt the word of a West Cork man!!) Anyway, as usual the Douglas Weekly will have a stand, and I'll be armed with rolls of film. Hope to see you there!
Michael Kilcoyne, the Chairperson of the Consumer Choice magazine had a very good editorial in this months issue. This is it ...
"It has been said that a nation can be judged on how it cares for its people by the way it looks after its old, its sick and its handicapped.
We are now one of the richest nations in the western world in terms of our output and living standards and we are, for many people, a prosperous nation. But, for the old, the poor, the handicapped, and others who find themselves on the margin of society, we are a nation that does not care.
Ireland now has the biggest revenue and budget surpluses ever, and yet the Sinnott family from Cork had to go to the High Court so that Jamie, their autistic child, could get an education. When the family won their case and damages, the Department of Education decided to use taxpayers money to appeal this case to the Supreme Court to prevent Jamie, and other children in similar situations, from receiving their entitlements guaranteed in the Irish Constitution.
Is it not time that Government officials who use their money to appeal cases to the Supreme Court be held accountable rather than allow them to hide behind the cloak of Government policy?
All of us in life have to be accountable for our decisions, why should it be different for senior civil servants who in this instance are senior officials in the Department of Education? It is very easy to spend other peoples money."

Finally, my Weekly joke ... A man calls a lawyer and asks, "How much would you charge me to answer three questions?" Lawyer: "Four Hundred pounds". Man: "That's a lot of money isn't it?" Lawyer: "I suppose it is, now, what's your third question?"
Bye for now,
Michael O'Hanlon.


---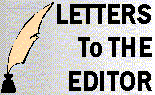 ---