8th March, 2001


Does anybody out there need £33,000 now? If you do, ring Michael Noonan, TD., immediately. He's been trying to give it away now for some time, but nobody wants it. Call Michael, he'll ask you a question, then he will give you a choice of four answers on who gave it to Fine Gael - was it (a) a prominent businessman; (b) a telecommunications company; (c) a man who liked the Michael Collins movie; or (d) Ray Burke. Answers will be put into a drum, and potential winners can make a donation now. That sound from Glasnevin Cemetery is the big fellow spinning in his grave!!
Speaking of cowboys, I called down to the Touchdown last Wednesday night to observe the line dancers in action. There are fantastic. It's also a good way to keep in shape, check it out!
One of the letters in this weeks 'Letters to the Editor" page is from a visitor to Douglas. Sometimes it takes an outsider to open our eyes to the litter problem in Douglas. At last, things seem to be happening to solve this ongoing curse. Everybody has a part to play in making Douglas a nice place to live in. We must be vigilant.
A woman dropped in a very good letter yesterday, the subject she wrote about was 'bus shelters'. Unfortunately she forgot to sign her name and address. We cannot publish any letters without a name and a contact telephone number. So if the writer is reading this perhaps she might contact us.
I had planned on going away on Friday for the weekend, but as Barry Roche once said, "The Gods laugh when men make plans", so I left Douglas instead on Saturday. Driving through Skibbereen I saw the lucky Lotto shop which has had winners whose total prize money exceeded £6,000,000. I stopped, went in, and stood in line for a £6 quick-quick, when a voice from the street outside called in, "Bring it back to Douglas". It was Douglas Court Shopping Centre receptionist Marion (no luck Marion, see you on Thursday with the Douglas Weekly's!)
Speaking of Douglas Weekly's, as I was dropping them down to Douglas Village Shopping Centre last Thursday, a man stopped me and asked me for two copies. He said, "One for me, and one for Father Vincent Hodnett in Blackpool." I'm sure you all, like me, remember the jovial Vincent from Rosscarbery, who was with us here in Douglas for such a short time. Always a wave and a smile from Vincent as he sat in Teezers Restaurant with his cigarette and coffee and telling everybody, "Man. Utd. won again last night." Vincent, if you're ever in Douglas, drop in for a chat.
Speaking of Rosscarbery, my wife and I stayed in the Celtic Ross Hotel on Saturday night. Who would of though a few years ago that hotel staff in a West Cork town would have come from Canada, South Africa, India, Spain, Scotland, and the receptionist Lorraine is living in Frankfield! My wife loved Rosscarbery, even suggesting that we sell up and move West!! I'm too old to start a Rosscarbery Weekly, so you're stuck with me for a while longer. Greeting to the staff at the Celtic Ross, thanks for the bottle of wine, the steak was lovely, and the music in the bar was most enjoyable. See you soon.
Do you ever stop to think how lucky we are here in Cork? Living so near to the coast, Crosshaven in 15 minutes, Youghal in 40 minutes, Inchadoney in 40 minutes. On Sunday we drove to Inchadoney and it was packed with people, surfers, hotel guests, visitors, day trippers, locals. The sun was shining, we had coffee, real ground coffee, a full pot for £3.20, which gave us two cups each. A beautiful hotel, 5 star, £100 a night for B&B. I would have liked to have stayed the night, but the 'Weekly called, and there was work to be done as usual on Sunday night. On the way home we stopped in Clonakilty for a snack. We called into a hotel, but lunch was over. However, the receptionist recommended "Gearoidins" restaurant in the main street. We only wanted a snack and so ordered two toasted sandwiches, they came served with side salad and chips. The sweet selection was mouth-watering, the staff were quick, efficient, spotlessly clean, friendly - top class! Well done Geraldine Kingston. Cork is the best county in Ireland.
It's finally come around again, the Home Design 2001 Exhibition. This weekend the Rochestown Park Hotel is the place to be. I must admit, I love this show, meeting so many people, old friends and new, and most importantly, the buzz that one gets and this fantastic show.
Finally, tickets for Mothers Day and the Douglas Rose selection night are now on sale. Sunday March 25th will see Cork's best band, the "Kieran Kramer Band" and Ireland's best band, the "Dickie Rock Band", together for one show. - when we pick a Douglas Rose to represent us in the Cork final in Jurys. Tickets are on sale from Blacktrack Music Store, Douglas Court Shopping Centre and Laser Discs, Douglas Village Shopping Centre, not forgetting also from the reception at Rochestown Park Hotel. The Douglas Weekly stand will also have tickets on sale. A reader asked me recently, "How's Dickie Rock singing now? The last time I saw and heard him was in Majorca in the 60's" I answered, "He's better now than he ever was", and thats the truth. See you there.
Bouquet of the week: to the Douglas Gardai. An open trailer load of rubbish had been parked opposite the Texaco Service Station on the South Douglas Road for the past few days. Some of the huge bags had been ripped and rubbish was falling out. We rang Douglas Garda station yesterday. The replay was, "We'll get a car up immediately". Ten minutes later the squad car arrived, the Garda took the trailer Reg Number and this morning the rubbish is gone. Well done to the Douglas Gardai.

Bye for now,
Michael O'Hanlon.

P.S. My 'Weekly joke: Q. What's the difference between a dead dog on the road, and a dead lawyer on the road?
A. There are skid marks in front of the dog!!


---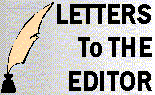 ---