15th March, 2001


We all remember as children many years ago our parents or grandparents told us stories when we went to bed, and the one good thing about those stories was that they all had a happy ending. Now that I'm a grandparent I find myself continuing with that tradition . The following is not a true story but a fairy story. One time, not long ago, a group of people lived and worked in a big house somewhere in Dublin. A few of them had fairy godfathers who gave them everything they wished for and things were getting better all the time. However, they too had heard fairy tales and they believed in them. One day a kind man called them together and asked them did they believe in the greatest fairy tale of all? There was silence from the people in the room! The kind man told them to pray for rain, heavy rain, and when the rain has ceased they should look to the sky, and look for a giant mix of colours. The kind man suggested that they form a search party and seek out this thing in the sky. "What is this thing called, O' kind one?", they asked. "It is called a rainbow," he answered, "and at the end of it you will find a pot of gold.". "But," he cautioned, "If you do not spend the gold immediately, it will turn into a monster and haunt you every night, and you will forever curse the word rainbow." The crowd formed a party and eventually found a rainbow, and a pot of gold lay at the end of it. They were so afraid that they decided to hide the pot of gold, so they buried it in a foreign land, a land noted for its lovely flowers and fine cattle. There it lay, undiscovered for many years, while the seekers of rainbows prayed for more rain. But it never came. Then "the kind one's" words of warning came true and when the gold was discovered, but the crowd that buried it told the masses that it dd not belong to anyone they know. "Somebody else must own it," they cried. So now the gold lies in the ground because nobody would touch it, and the kind and wise one laughs at the greedy crowd who live in fear of the monster who will soon come knocking on their door. (Do not tell this fairy tale to anybody of a nervous disposition).
The following is not a fairy tale!! Car tax is set to increase again!! Up to 6%. You've noticed I haven't called it road-tax. To call it road-tax would be an abolition of the truth. And you know what? We'll take it on the chin, because we're fools to believe that car-tax goes on the roads. Did I read last year that only 9% of car-tax money collected goes on roads. Perhaps the other 91% goes on "chasing rainbows".
Did I hear it correctly? The government is going to outlaw cigarette 10 packets. They figure it will stop people smoking. I think not. People will buy 20 cigarette packs instead, thereby giving the state more in tax. Cut down on people drinking, no more half pints, glasses or bottles. From now on, only pints! On second thoughts make it quarts only. That'll stop them smoking and drinking.
The daffodils are in full bloom and certain parts of Douglas are beautiful. Lets keep it that way. Some people assume that they have a right to take these daffodils, wrong!! If you're caught taking them from Council or Corporation property you're in trouble. So if you want flowers, buy them! Leave the other ones for us to admire.
During the next few weeks you will se adverts in the national newspapers seeking Irish people to work in London. Nothing unusual about that you may say, but the people placing the adverts represent the London Metropolitan Police. The starting rate of pay in Ireland for a Garda is £13,000 per annum. In the UK the starting rate is £23,000 - Big difference. Could we now see Paddy the Peeler walking the streets of London?
The biggest night of the year is on the way. Sunday 25th March is Mothers Day and we have put together a show that will take some beating. The Dickie Rock band and the Kieran Kramer band provide the music for the Douglas Rose Selection night at the Rochestown Park Hotel. I've spoken to most of the Rose contestants and they are a lovely group of girls. The judges on the night are going to have a tough job. I wish them all well.
Congratulations to local man Jim O'Flynn. His company 'Munster Specialist Cleaning Service' is going from strength to strength. I've seen his cleaning machines at work here in Douglas at the recent weekend cleanup. So Councillors, we could do with a couple of these machines in our area. It's time we spend a few bob on Douglas, and don't forget the Douglas Weekly motto, "Support Local".
Finally, congratulations to Frank O'Reilly who was re-elected chairman of St. Columba's Hall, and to Brendan Heffernan, elected Vice-Chairman. The Hall is in good hands, wasn't it always? Happy St. Patrick's Day, drive carefully, belt up, and hope to see you in Crosshaven at the 'Merries on St. Patrick's Day.

Bye for now,
Michael O'Hanlon.

PS. The winners of The Little Sisters of the Assumption Mission in Brazil competition, St. Patrick's Eve Social in Jurys Hotel are Mary Fitzpatrick,. Bishopstown, Eleanor O'Riordan, Monkstown and Tom O'Mahony, Kinsale Road.

My joke of the week: Mahatma Gandhi, as you know, walked barefoot most of the time. which produced an impressive set of callouses on his feet. He also ate very little, which made him rather frail, and with his odd diet, he suffered from bad breath.
This made him what?
A super-calloused fragile mystic plagued with halitosis!


---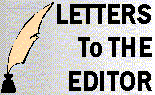 ---