17th May, 2001


Some of the most popular programmes on television are usually shown on Thursday night. They are shown on the Discovery channel, 'FBI Files', 'Medical Detectives' and 'The Prosectors'. I watched one of them last week where a teenage girl was raped by a middle aged gunman. A man was eventually caught, charged and sentenced to three life sentences, plus 34 years (he was freed after 9 years when it was proven that he did not commit the crime). Last week in Ireland a sexual predator/rapist Lawrence Murphy was sentenced to 15 years for committing a shocking crime against a woman.
Murphy, who is aged 36, will probably only served about 10 years, assuming he gets a reduction of 5 years for good behaviour. So in the year 2011 we should have this beast walking the streets of Ireland again. Women deserved to be protected from evil people like Murphy. He does not deserve a second chance, if ever there was a case for a life sentence, this was it. Does anybody know what the maximum sentence is for this type of crime? Because if it's only 15 years, it needs to be changed, now!

I was very impressed with on of last weeks letters written by "John". He had lived in Canada during the sixties before moving to California at the end of the decade. He wrote a very good letter on the drink culture of Ireland and then went on to mention the litter problem in Cork and Douglas. He wrote exactly what I have been saying for years.... "educate the children". At the end of his fine letter he writes, "Educate the teachers, to educate the children on the evils of litter". He finished his letter with "Start here, educate the teachers".
All the litter bins, advertisements, threats, fines, long term plans in the world will not solve the problem. It will take a Minister of Education to introduce civic pride into the school curriculum. Everyday, for half an hour, brainwash the children (as we were in the fifties) with a sense of pride in our country and how we should keep it clean. Educate the teachers, to educate the children. You're right John, it's the only way.
Did any of you see the condition of Douglas village on Saturday afternoon? Appalling!! I did see one man picking up rubbish and putting it into a plastic man. Well done, we need more like you.

What did you make of the Eurovision Song Contest? They are going to have to change the voting system, it's becoming a farce. Countries voting for their neighbours, the songs are only secondary. The best song was the French entry, and the Irish should have come second. But, they didn't, and now, according to the Eurovision Broadcasting Union, "Ireland, you are the weakest link, goodbye!" Although I have a feeling that the EBU will let us in again next year, and after all, "What's another year"?

There's a lovely little garden centre in Crosshaven run by Barry and Betty McGovern . It's situated up a little path right behind the Sunday market building. Birds singing in the trees, a stream running through the centre make it a little oasis in Crosshaven.

What about Bertie Ahern and his partner Celia Larkin? They made the headline's again on this evenings news. Palestinians being killed daily in the Middle East, tribunals on people who were once pillars of society, job losses beginning to increase in Ireland. I wonder do people really care who Bertie is with at state functions? I've never met anybody who's losing a nights sleep over Bertie and Celia's relationship. There are more important matters that should concern our church leaders. The word 'priority' springs to mind.

I met County Council foreman George Dulea the other day in a local shop. I mentioned to him that there was a pothole in Shamrock Lawn and it was beginning to increase in size. "No problem," says George. 45 minutes later Council workers turned up and within a few minutes the pothole had been attended to. Well done lads!

Congratulations to the Silver Key in Ballinlough on the beautiful job which has made this well known establishment a must for anybody who wishes to eat and drink in such pleasant surroundings. I called over there last Saturday and it was filled with families having lunch on Communion Day.

Finally, I hope the weather will be good this Saturday for Communion Day, as it was last Saturday.

Bye for Now,
Michael O'Hanlon.

---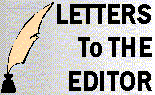 ---