26th July, 2001


Almost every evening on the television news we watch a game of charades, tribunals, tribunals, tribunals. Men in £1000 suits smiling for the cameras, laughing at the system, the majority of them suffering from a terrible loss of memory. How many of them are tax exiles? I often wondered about that word "exile", so I looked it up in the dictionary, and it states "exile = banish". They were not banished, they made their millions in Ireland, and then took their money to a different land, so as not to pay tax in the land of their birth, and then we have some old man in his 80's who has worked since he was 15. Now he's lying on a trolley in a hospital corridor because there are no hospital beds available. A man who paid his taxes for 50 years, never appeared before a tribunal, and yet the government want to spend £500,000,000 on a football stadium, while the elderly become a liability. What have we become? When we had less we cared more, now Bertie's ego is more important than the elderly's dignity. Priority has become a dirty word in the land of the 'Celtic Tiger'.
The lack of childcare facilities in the Douglas area has reached an all time high. The society in which we live has seen enormous social changes. In the old days, father went to work, mother stayed at home with the children, one income families were the norm. But nothing stays the same. Contraception, huge mortgages, women decided when and how many children they would have. We saw the male lose his dominant role in the home. No more 15 kids, tied to the kitchen sink while the man spent his time in the pub seven days a week, with this Sunday dinner kept hot on a pot of boiling water on the cooker. Nowadays, the hotels are full for Sunday lunch. The old days are gone, and the only thing I miss about them is the good music.
Nowadays, check out the local take-aways between 6pm and 7pm, they're full. Husband and wife working, some through choice, a lot more through necessity. Some are lucky, a granny or a grandad will babysit while the parents work, but for most young couples the only alternative is the creche. But do we have enough of them in Douglas? Hundreds of new houses are being built in our area, and these couple will have children, and they will need facilities.
A few months ago we made contact with the EU Dept of social affairs for information on creche facilities in the other EU states, and we published the childcare services in countries such as Denmark, Holland, Germany, etc... State run creches, the services were excellent in most of the EU states, until we came to the land of the 'Celtic Tiger'. Need I say more? Sometimes I despair at the lack of political clout in area with a population of close to 50,000. Perhaps an Independent TD might achieve a lot more for us than all the parties put together. If Jackie Healy Rae wanted a state run creche in Kilgarvan, would he get it?
The government wants to ban smoking in pubs and pubs and increase the price of cigarettes by 50p every year. What does the state take from a packet of cigarettes? Hundreds of millions of pounds. By putting 50p on every 20 pack annually they'll rake in more millions. I have the answer, ban the sale of cigarettes altogether. If the Talaban can ban sport in Afganistan, surely we can ban smoking. The biggest cancer killer in Ireland is colon cancer, which our eaten food passes through. How safe is the food we're eating, with all the additives, colouring, preservatives, etc...?
How many families were ruined by a cigarette, compared to whiskey? How many road deaths were caused by somebody smoking a cigarette? Are 'cigo's' sadder than 'wino's'? How many young people have their stomachs pumped after a few cigarettes? I'm not stating that smoking is good for you, but tell the truth, if you found your 14 year old teenager smoking a cigarette or drinking a bottle of vodka, which would cause you greater concern? I thought so. So the answer is ban smoking, drinking alcohol. We'll all live longer and end our days on a trolley in a hospital corridor, watching repeats of 'Live at Three' on a giant screen!!

Finally, well done to Marian Collins, her friends and all who raised over £3,000 to help a Priest build a chapel in India. The priests in St. Augustine's Church have kindly allowed the priest to say mass in the above church on Sunday at 12noon. After the mass Marian and her friends will make the presentation of the cheque to the priest. I'll be there with my camera to record the moment. You're all welcome to come along. Well done to Marian and her friends.
See you on Sunday,

Bye for now,
Michael O'Hanlon.
---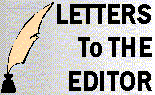 ---