27th September, 2001


By now most of you will have heard that the Kinsale Road is not to have a materials recovery facility (MRF). The people spoke, the politicians listened, and on the day they voted against the plan to build the facility on the site. But, and there is always a but, the city manager has applied to the EPA (and these three letters are very significant, Environmental Protection Agency) to extend the life of the landfill (dump in plain English) until the year 2005. I heard the promises at the last Council election, "The dump will be closed in 2002, lovely walks, wildlife park, pitch & putt course" All it was going to be short of was Adam and Eve!!

On Monday morning I opened the front door and I got the smell of the dump (landfill). What it must be like for the residents on the South Douglas Road and the Kinsale Road is another matter. In the late seventies I lived in Greenhills Court, so I knew what it was like to live so close to a mountain of rubbish ... And here is where we return to the three letters EPA. Has this agency actually been to the area? Have they stated, "It's not too bad, there's another few years in it yet"? I maintain that it should be examined by officials from the Department of Health because there is no way that vile mountains of rubbish are not a threat to residents health. It's like something one would see next to a shanty town outside Manila. And to the official and politicians who ask us, "But where will we put our rubbish?" My replay would be, "That's what you're paid and elected to do, that's your job". In the words of Harry S. Trueman, "The buck stops with you". You told the people that the dump would close in 2002, 460 days to go ... the countdown begins.

One bit of good news for the residents of the South Douglas Road is that they are finally to get a paedestrian from the Palace Anne Lawn vicinity to the post office across the road. Long overdue, but most welcome, and if it does make life easier and safer for a lot of elderly residents it's an added bonus. And to the people who say that it would create traffic hold-ups, so what? A few minutes of our time is nothing compared to an elderly persons right to cross the road in safety. Speaking of cars, a blue BMW was driving way too fast on Inchvale Road last Sunday morning at 11.40 as I was going down for the Sunday newspapers. He was doing about 50mph towards Alden or Oakview.

Many years ago when my children bought their owns cars I gave them some words of advice which were, "Behind every parked car in a housing estate is a potential three year old. So drive accordingly, and remember, a child's head is the same height as a car's bonnet, need I say more?"

Going back to rubbish, this time it's litter. I have nothing but praise for the people who go out every Saturday and play their part in keeping Douglas tidy, and it was great news when we heard that Douglas had won an award for its attempt to make it a cleaner, brighter and more attractive place to live in, and credit to the Council and Corporation for their input, and not forgetting the business people who made financial contributions towards the cost of this transformation. A few weeks ago I wrote that we were about 90% there, but Sunday was letting the name of Douglas down. Last Sunday Douglas was as bad as I have ever seen. In fact, it was so bad I returned home for my camera. They say a picture tells a thousand words, and I take no pleasure in showing them, but if we are serious about making Douglas look good, then it's a seven day a week job!! Douglas Village, East and West, on Sunday was not a pretty sight. A couple of hours cleaning up on Sunday morning wouldn't cost a lot. A few weeks ago I mentioned the litter at the bus stop and taxi point outside Douglas Court Shopping Centre. It's good to see that Douglas Court Shopping Centre staff have put a litter bin next to the bus stop, and now there is vast improvement in that area.

A reader asked me to mention one of life's unsung heroines, midwife Dolores Moynihan of St. Finbarr's hospital maternity unit, take a bow. You and the rest of the staff have been so kind and helpful to all the patients who have been in your care, and at such a hard time it's nice to know that there's somebody around with a kind word and a smile. So well done to Dolores and all at the unit, you're a credit to your profession.

Bye for now,
Michael O'Hanlon.

PS. Happy 21st Birthday to Jennifer O'Regan from Donnybrook and Douglas Renault.
---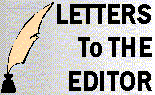 ---