15th November, 2001


Am I the only person who never watched "Big Brother" on TV? Now if somebody came up with a different idea for a reality TV show, such as "Big Tribunal", I would definately put it on the top of my list. Put a group of politicians, builders, property developers, solicitors into a room for two weeks and gradually weed out the ones who tell the truth, until eventually, only th biggest liar is left. He's the winner, and he gets a bag full of old money and a guarantee that he'll never see the inside of a court. You noticed I mention 'He', because women never seem to be involved in any of these tribunals. Something else I've noticed recently is when a woman sells her body to a man, she's a prostitute, and he's a client. I looked up the word 'client' in the dictionary and it states, "one in whose interest a lawyer acts". So what does that make a politician who sells his vote outside the council chamber? Does the word 'prostitute' spring to mind?
Did I hear that Ray Burke went on his honeymoon with his wife and a few grand. The newlyweds went to Mexico in 1972. Ray told the tribunal he had the extra few bob with him in case he came upon a potential business opportunity in Mexico. Whoever said, "You can't mix business and pleasure", got it wrong. Not forgetting these hugely profitable political chicken supper fundraising nights. Nights such as a quiz night, raising £80,000, tables of 4 for £20, a raffle for a bottle of whiskey, a giant teddybear, an out of date tin of afternoon tea biscuits, a £10 petrol voucher, and the night should raise enough for the lucky recipient to buy a villa in Santa Ponza, all you need are about 4,000 avid quiz goers, and you're a winner.

A piece in the Sunday paper caught my eye, "Report slams Irish tourism standards". It states that tourists believe that accommodation is expensive, food is poor, hygiene is bad and children are bored because they have nothing to do. They also complain that they are more likely to get their breakfast served by a Latvian than by a Leitrim Colleen. I know a few Latvians, but I must confess, I never met anybody from Leitrim, although I saw Larry Cunningham once on the Show Band Show (was Larry from Leitrim, or did he only sing about it?) My son tells me Leitrim is a lovely county, after all, my son and Larry Cunningham can't be wrong!
German visitors would prefer to be served by Irish people, but if there were none available, then a fellow German would be their second choice, on the basis that they would be assured of excellent service. Yes folks, the history of German efficiency has left its mark on the world, but give me a Latvian singing "Lovely Leitrim" any day. Finally, the report concludes, "That tourists do not like the staged Irish experience", so good bye Bunratty Castle, Noel V. Ginitty, Hal Roche and Foster & Allen, and not forgetting Aran sweaters. That's it, our culture is gone, we're like the rest of the them, Europeans.

A reader told me that there was a speed check by the Gardai on Donnybrook Hill last week, so perhaps the residents letters to the 'Weekly were read by the powers that be. Well done to the Gardai, because at the end of the day it is true what they say, "speed kills"!

I know a lot of our readers love to see the wedding photos in the 'Weekly, and it's only by chance that I happen to come across a wedding whilst I am driving through Douglas in the afternoon. Sometimes we get a telephone call to tell us that A & B are getting married in a certain church on Saturday at 3pm, and I drive up about 3.45pm to snap them coming out of the church. You can drop your wedding photographs into the 'Weekly office in St. Patrick's Mills, or if I'm around I'll drop up (or down) to snap the happy couple.
It's nice when local business people put a little something back in Douglas, and as most of you know, Jim Hanley of Hanley's Garden Sheds and Furniture has been supplying us with a huge Christmas tree since we first put one up outside the garda station. Now Jim tells me he will be supplying one to St. Columba's church, and to the new infants school in Frankfield, not forgetting Douglas Village Shopping Centre, who supply the lights, and Sean Fitzgerald of Daily's, who sponsors the electricity, and finally, George and his crew from the county council, who erect it every year. What's the word I'm looking for, ah yes, community!

Congratulations to Blanche and Siobhan who organised the hugely successful fashion show in Carrigaline Court Hotel last week. They raised £2,500 for the special olympics squad. I drove down and the place was packed, what's the word again? Community! Don't ever lose it.

Also, congratulations to Claire Caulfield of "All That Blooms" flower shop in Ballinlough (next to the Silver Key bar). Claire has just been appointed an Interflora stockist. Claire, a suggestion, how's about a singing delivery flower man, totally original, a bunch of roses in one hand, a guitar in the other, knocks at the customers door and sings, "I've got some red roses for a blue lady". I know just the man for the job!

Bye for now,
Michael O'Hanlon.

P.S. No FEEDBACK from Ronald so far !
---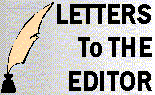 ---