6th December, 2001


We left Dingle on Sunday morning and decided to take the lower road back to Killarney through Anascaul. The sun was out and it was a beautiful day, a big change and improvement from the day before. Passing through Anascaul I spotted a little pub called The South Pole, named after a local man (his name escapes me) who crossed the Arctic with Scott. A book about his life is available from most good bookshops (try Douglas Books). A few miles on we came upon a road signpost for Inch. The last time we were there was back in 1975. Inch was the setting for the David Lean movie 'Ryan's Daughter', and it has lost none of its natural beauty. In 1975 we took our two children and stayed overnight in Inch Bay Hotel. The kids were four and five year's old and when we put them to bed they climbed out the bedroom window and were running around on the hotel's flat roof until an approaching customer told the receptionist about the little children running around on the roof!! Needless to say, their cocoa was cancelled that night and if you believe that, you'll believe anything!! Come to think of it we never did learn who organised the breakout.
There was a bus full of American tourists making their way to a craft shop which was almost on the beach. There was a big sign which advertised that coffee was served all day, but when I asked for two cups, the owner told me that her staff hadn't turned up for work so she couldn't open the coffee bar. I bought a Sunday Independent, giving her £20, she gave me £8.80 change. "I gave you £20," I said "Are you sure," she replied "I think it was a £10 note." I wanted to say, "I drove 100 miles to catch you for a £10, but I didn't.. Eventually she gave me the £10 with a look of "I'll know you the next time." We walked upto the hotel, but it was shut, a local told us the bar would be open in about half an hour but we headed for Killarney.
Killarney was buzzing, even on a Sunday there were a lot of weekenders. We finally got a cup of coffee and moved on towards Kenmare. We took the back road and about a mile out the road we came upon a signpost for Torc waterfall. Walking in we met Paul Daly originally from Gartan. Park. Paul,, with his wife Margaret and son James took some snaps of them and started to climb and climb and climb. Halfway up my wife said "I've had enough, I'll wait for you here." I kept on going and going hoping that around every bend I would meet the breath-taking view. But no luck but I kept on going until eventually I split the sole of my shoe on a sharp stone. Here I was, miles up, with P.J. Carrolls contribution to my lifestyle taking its toll, one very wet sock and then I saw a wide bend ahead, at last I thought, wrong Michael, nothing but more moss and a path to nowhere, so I turned back. I finally got down to where my wife had rested but she was gone, replaced by three Americans who had a message from my wife to me, one of them said "Your wife said to tell you that when you've spoken to the angel Gabriel come back down," which I did and we carried on towards Kenmare. What a magnificent route, the sun was shining and the scenery was awesome. It really is God's country. We arrived in Kenmare about 2.00pm. Quills had a sale and my wife tells me I got a bargain in paying £29.99 for a pair of Dubarry leather shoes (and three pairs of socks for a fiver). Next stop, something to eat. The main street has a lot of pubs & restaurants. We looked into one, which seemed to be packed, always a good sign, and when we walked in it didn't seem right. Everybody was sitting together, I went to the waitress to order but no joy. We had walked in on a funeral party. I asked the waitress to recommend a good restaurant "The two next to each other across the road are excellent." "Isn't that very nice of you to recommend the opposition," I said. "Why wouldn't we" she smiled "We own all three!!". it was called O'Donovan's and it was excellent service. Friendliness and cleanliness, and an excellent meal, we had a drink while we waited for the menu, and I asked the barman who was singing the lovely songs on CD in the background. "A Corkman", he replied "Jimmy McCarthy". Finally we ordered two cups of coffee which came with four complimentary fingers of fruit cake. Nice touch, doesn't cost a penny, but a touch that would make you want to go back. Lovely town but it was time to move on through the Healy Pass to be met by a beautiful view of Bantry Bay and down into Glengarriff and home to Douglas. Total cost, including fungi presents for the grandchildren, about £200. Verdict - great break, and overall great value, a reader - a widow, did ask me to enquire why a single person has to pay more for a B&B than the usual £50pps (per person sharing). I don't know, but if anybody involved in the hotel trade reads this, can they tell the reader why she pays more when she's on her own. There's a big market out there of single people, are you tapping it?
P.S. To Ken, who sent me the e-mail regarding what you think of me, we cannot and will not publish letters without a full name, address and telephone number. However, since this was a personal opinion of Michael O'Hanlon, perhaps you would give us permission to print your full name and address and then I will print your letter with a right to reply to it. But Ken, have you the bottle, the courage of your convictions or do you wish to remain anonymous behind a dot.com. I await your reply with eager anticipation.
Bye for now, Michael O'Hanlon.
---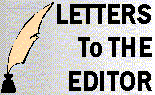 ---