13th December, 2001


Last week a friend of mine who lives in Blackrock Road, drove to Albert Road to buy a sandwich for his lunch. He parked his van outside the post office and proceeded into buy his sandwich. How long was he in there? Perhaps a few minutes. When he returned back to his van there was a leaflet on his windscreen, courtesy of Cork Corporation. It read "Approved for clamping"!!! Here was a man who went into buy a sandwich, not causing traffic chaos, not double parked, not interfering with traffic flow, and he gets this stuck on his windscreen. He looked around but not a Warden, a Garda or anybody to be seen. I gave my opinion on what happened. City Hall is only a few yards away. The ticket might have blown out of an office in City Hall and the wind carried it to his windscreen. Well, it's within the bounds of possibility, isn't it?
I can understand clamping in certain circumstances, double parking in Academy Street, blocking or taking a disabled driver's parking space. The usual obvious no parking under any circumstances areas. Whatever happened to the £15 fine? I'm told if one does not display a parking disc correctly, one can be clamped. A reader told me that a friend of his drove into town recently, the time was about 8.00pm. He parked in a disabled driver's place and when he returned later that nigh, his car was clamped. Now listen to this, he was under the impression that the law to no parking in a disabled driver's place didn't apply after 6.00pm. That's right, dummy. Disabled people never go out at night!! They stay in for night after 5.30pm because they want able bodied people to have access to their facilities when the sun goes down. Never mind clamping their wheels, clamp their heads!! Not that it would make any difference, there's nothing inside!!
Speaking of town, and the city centre, a reader booked a meal for eighteen co-workers in a well known city centre restaurant. the booking was placed six weeks ago, with the sitting at 8.30pm and they proceeded into the restaurant at 8.25pm that night. Nothing set up!! They had one table that would seat twelve and the manager offered the remaining six a table elsewhere. "No way", said the party. Eventually they dragged over a table that seated the eighteen together. One of the customers ordered a vegetarian meal, which eventually came with meat on the plate. I could go on but the eighteen people spent almost £400, including drinks. Eight bottles of house wine and the night was coming to an end. One of the party had brought a bottle of champagne to toast the Christmas season. She asked the waitress for a corkscrew. Back came the reply "There's a £7.50 corkage charge"!! "What for?" asked the customer "Glasses and service" came the reply. "We'll use our wine glasses which we have in front of us" said the customer. No way and the bottle went back into the bag and they left, never to return to.....!! I've been to restaurants where a waitress heard a birthday being mentioned. Ten minutes later, a cake with candles was brought out and a complimentary bottle of bubbly. Like the last line from the Pete Seeger song 'Where have all the flowers gone?' the line is 'When will they ever learn!'
Every year the same good people help to supply, erect our Christmas tree. Jim Hanley provides the tree, George Delea and his lads from the County Council put it up, Aidan Crowne from Douglas Village Shopping Centre provides the lights and SeŠn Fitzgerald of Daly's sponsor the electricity supply.
I finally got my telephone book this week. We had to ring Eircom, they put us through to the Golden Pages, two days later after a An Post van delivered the books to the weekly office. I asked the driver why we never got one. He told me that An Post had lost the distribution contract. I told him, "We didn't get one either to our house in Shamrock Lawn". 'Nuff said. Give it back to An Post quickly.
I heard great reports about the annual Christmas outing for shoppers organised by Douglas Village Shopping Centre. I spoke with several of the trippers who told me that it was a day to remember. So Aidan and Bronwyn take a bow. On Monday night I called down to the Tesco supermarket where General Manager, Tom Singleton and his crew had organised another great night for their shoppers. Live music was introduced this year for the first time and Donie Caulfield entertained everybody for another great night. Well done to all concerned, it's nice o give something back.
Congratulations to Clonakilty on another great win in the International Tidy Towns Competition held recently in China. I know that someday, SeŠn O'Riordan and his tidy towns team in Douglas have big things planned in 2002.
Finally good luck to all the teams in the final of the singing competition this Friday in Douglas G.A.A. club.

Bye for now,
Michael O'Hanlon.

P.S. We hope to switch on the Christmas tree lights on Friday at 7.00pm at the Finger Post. Carol singers are welcome. See you there.
---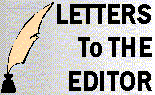 ---