24th January, 2002


The last time I went to the movies it was to see 'Michael Collins'. At the time people told me that one had to see it on the big screen and I suppose they were right. On Monday night I returned to the cinema to watch the new Ridley Scott (The Gladiator) movie, 'Black Hawk Down'. It's set in Somalia about ten years ago. The U.S. marines attempt to abduct a notorious warlord. He's hidding out in the capital, Magidishua, they're told it will only take about fifteen minutes, but it does not go according to plan. It's a good blood and guts was film (and I mean blood and guts in every sense of the word). some reviewers here in Ireland have called it jingoistic American gung-ho propaganda. Hey, it's cool to be a reviewer who finds fault in every U.S. war film. They usually love French avant garde movies with sub-titles (that nobody else goes to see). But do we care? To quote a well known American actor "The hell we do, pilgrim".

Speaking of blood and guts the consensus seems to suggest that a general election is on the cards sometime in May. "Get it over before Liam Lawlor gets tired of spending a week at the tax payers pleasure and begins to sing like a blackbird". Mary Harney snapped up I.F.A.'s top man, Tom Parlon (Minister of State at the Department of Agriculture?). Somebody else has the captain of the Wexford hurling team in their sights (I thought those days were gone!!) Seemingly not. Did I hear ex Boyzone lead singer Ronan Keating's name being banded about? What we need is a political Louis Walsh to do a programme called T.D. stars, eventually whittle the number down to six, call in Terry of Carr Communication (did you see her on Q & A on Monday night? Isn't it great what ¤50,000 worth of plastic can do?) (She doesn't look a day over 60!!) (What she's only 35!, sorry Terry it must have been the studio lights). Next call in a retired T.D. (check out the senate, that's their retirement home). He'll teach them to speak for an hour without saying anything, this is an art which takes years to perfect but with perserverence it can be done. Then to boost the ratings for the show the producer discovers a potential candidate who has lied (well, not really lied, has just been economical with the truth.) The endings would be as follows; the producer walks into the room and says "One of you has lied, I want that person to stand up and leave". They all stand up at the same time and walk out. What an ending!! It would top the telly ratings.

Speaking of popstars is it true that this new band are to record the old Mary Black song "As I leave behind Nadine".

The last time we had local elections in the area (council) I faxed a list of ten questions to each candidate and almost all of them replied. This time we're going to do the same with our South Central candidates. If there are any questions that you would like answered, write, e-mail, telephone or call in and we will put them to the candidates. And we will print the replies. I have a few questions I would like answered, but I'm keeping my powder dry! Local issues, national issues, anything that concerns you will be put to them.

I spoke to Douglas community Garda, Dermot O'Mahony about the problem of door to door rogue traders. Dermot told me that they crop up about every four or five months. These con men prey on the most vulnerable in our society, the elderly. They call and offer to clean, fix gutters, chutes, etc. for and agreed price. Then when the job is finished, they tell the house-holder the job took longer, was more trouble and the bill is tripled. Dermot's advice is do not entertain these people, say no and close the door. If you need repairs or cleaning work done on your house, get a reputable local trades man or ask somebody you know to recommend an honest person to carry out work on your home. Dermot's parting words were "It's a scam, get a local, well recommended tradesman". Good advice folks, heed it.

To the reader who sent us an e-mail regarding the lack of letters in the Douglas Weekly, that's not really our fault. We publish every letter we get (on condition the sender includes his/her name, address and telephone number, not necessarily for publication). But we cannot force people to write letters. On my rounds I meet so many people who ask me to mention this and that. Lack of amenities, traffic congestion, and I always ask them to please write a letter to us.

Finally that time of the year is coming around again. The Douglas Rose night takes place on Friday, April 5th at the Rochestown Park Hotel. You all know the rules, over eighteen and under twenty-five years of age and single. You do not have to live or work in Douglas but the winner on the night will represent Douglas in the Cork final in Jurys. Further details from 4896496.

Bye for now,
Michael O'Hanlon.
---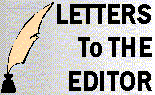 ---