7th March, 2002


Regarding the piece I wrote last week concerning the condition of the entrance into the Grange/Frankfield community centre. A reader and member of a local indoor bowls club told me that both he and fellow members felt ashamed when visiting teams called to take part in competitions at the centre. Chairman of Grange/Frankfield Community Association, Michael Burke range me on Monday to tell me that the association have finally taken over control of the entrance and that residents and visitors to the centre will see a huge improvement taking place very shortly. It seems that for years and years nobody quite knew who owned the land on which the entrance was, now that all of the legal aspects have been sorted out, the saga has reached a satisfactory conclusion. Michael also told me that they have an ongoing problem with acts of vandalism to the centre. Teenagers smashing the windows of the centre, just for fun!! It costs €35 to replace one pane of glass. this cost has to be borne by the residents. I'm tired of writing about mindless acts of vandalism.

We now live in a society and an age where we and our children are better educated than ever before. Through the internet we have access to the world in seconds. Our children are taught to the highest standards at all stages of schooling, but do they know right from wrong? Do we teach them about respect for other people's property? Do we we teach them to give up their seat on a bus to a woman or an elderly person? There is more to education than 2+2=4. As parents we also have a duty to know where our children are and what they are doing when they leave home. School teachers also have an obligation to educate our children in social rights and wrongs. Perhaps a visit by a community Garda to the schools to talk to the students would not be wasted. Either way, we as parents and adults must tell our children what is wrong in such anti-social behaviour as breaking windows in a centre which is there for us all. But then perhaps the culprits don't know its wrong because nobody ever told them right from wrong.
Here in the weekly office, we got a nice phone call last week from Passage West to thank us for highlighting the fact that residents in the area had not received mail for two days due to a shortage of postal delivery staff! The caller told us that the delivery service resumed on the day after a local councillor made several calls. So well done to the caller to Deirdre Forde, M.C.C. and An Post for their prompt response to the situation. All's well that ends well.

A reader and a Nemo Rangers supporter was in jubilant mood when I met him on Tuesday. He told me last weekend Nemo had won all their senior games, senior, intermediate, junior A, B & C, five games and five wins, well done Nemo. Get Croke PArk ready for the big one!!!

Did anybody see any television adverts for the fifteen cent levy on plastic bags? I didn't. But like the abortion referendum it's not plain black and white. The retailers will give you a bag at no cost if you purchase solely fresh meat, fish, ice or poultry, loose fruit or vegetables. So what's to stop you buying two apple, getting the assistant to put them in a bag and then buy the rest of your goods whilst using the bag containing the two apples to carry the other groceries. Sounds like an Irish solution to an Irish problem. Remember C.J. Haughey as Minister of Health in the '70's? Condoms on prescription only.

By the time you read this you will have cast your vote in the referendum. Will it be yes or no or more of the same? I believe nothing will change, and that as the years go by we will have more and more referendums on one if not the most controversial subject ever to touch us all, abortion. it's one time I'm glad I'm not a legislator.

It's the time of the year for estate grass cutting and there is a strong possibility that the grass in shamrock Lawn will not be cut this year. The cost increases each year because less than half the residents pay towards the cost. The committee are in the red since last year. Every year the same people pay and the other half don't, so we are paying twice as much as we should because our neighbours don't give a cent. In American towns smaller than Douglas, they print the names of the people who paid and thank them in the local paper. Good idea, what's that word again, ah yes, community ..........!

Bye for now,
Michael O'Hanlon.

P.S. Good luck to Michelle Burke on Friday as she walks up the aisle.
---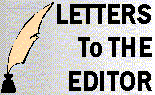 ---