11th April, 2002


If I go down, I'll bring Comisky with me". Words spoken by Fr. Sean Fortune a few years ago - and now from the grave he has kept his promised threat. I watched the BBC documentary, which was shown on RTE two weeks ago, and one scene from it sticks in my mind. Bishop Comisky arriving by car, getting out and singing, "I will survive", then the BBC reporter arrives with the microphone, and the Bishop is gone in a flash, telling the interviewer that he has to say mass. The next scene was this week, the mass for the founder of the Christian Brothers. The chief celebrant was Cardinal Connell, with his comment to a reporter, "It's a beautiful day", whilst grown men were outside the church crying. Then the press conference on RTE on Monday night saw a different man, the aloofness and arrogance was gone, an inquisition of church leaders by the people, and the people demanded answers. We all want answers. No more €100 an hour P.R. consultants to write your scripts, talking of love, forgiveness, healing, openness. I heard one priest mention, "Healing the scars". Scars cannot be healed, they are with you for life.

Did you watch 'Questions and Answers' on Monday night? One of the speakers was Fr. Sean Fagan, from the Milltown Institute, and that man made more sense in five minutes than all this P.R. rubbish I've heard in the last few weeks. According to Fr. Fagan there is now a new directive from Rome, courtesy of Cardinal Ratzinger, who seems to be so conservative he makes Maggie Thatcher sound like Fidel Castro. The new directive from the Cardinal is that all complaints of Paedephilia are to be kept secret and reported only to Rome, where they will be dealt with by a jury of priests. However, Irish law dictates that you are obliged to report to the Gardai any criminal sexual act upon a minor. So where does that leave the Bishops? I only speak as a father and a grandfather, but to the Bishops I say, "As a man, do the right thing, give those evil people up to the civil authorities, because it's the right thing to do. If you do not then you are as bad as they are. All it takes for evil to triumph if for good men to do nothing. Incidently, come home Eamon Casey, all is forgiven."

Last Friday night was another great night in Douglas. The occasion was the selection of a Douglas Rose to go through to the Cork finals. Congratulations to Lisa Kenny, who represented Douglas Village Shopping Centre, winning on the night to become our Douglas Rose. A special word of thanks to all the other lovely girls, who made the night one of the best ever. There are quite a few people we would like to thank... the local businesses, who continue to support this community based night, Claire Caulfield of 'All That Blooms' flower shop (next to the Silver Key bar) for the lovely red roses and the bouquet for the winner, the three judges, Helen O'Sullivan, Simon Coveney and Carol Anthony, who had such a difficult task picking a winner, and then presenting the winner with a fabulous gown from their bontique 'Havana' in town, plus a complete makeover for the Cork final. Our MC on the night was the incomparable Noel Welch, who always does a great job, Brendan Kelly, who backed the girls who sang with music. The band were the fantastic 'Lightning Strikes'. It was the first time I've heard them and they were superb. A special thanks to duty manager Jim Casey and his bar staff at Rochestown Park Hotel, who were always on hand to ensure everything runs smoothly, and Liam Lally, who continues to support our Douglas Weekly rose night. Finally, a very special thank you to the friends, family and supporters who turned up on the night. I spoke with Jim Casey the following day and Jim complimented the great support and conduct of everyone who was at the show. This was our 4th year holding this event and I can honestly say that it is all of you who continue to make this annual event such a great success!!

Speaking of entertainment, my friend Gary O'Donovan or the Rochestown Inn tells me that they have some great live music shows lined up for the 'Inn during the next few months. I'll be checking it out during the next few weeks, so when you see me coming through the door, say 'cheese'!

Speaking of music, my son ordered two DVD's through the internet, both live albums - Glen Campbell Live in Concert last year. This guy is 65 years old and is as good, if not better, than ever. The other live concert DVD was in Reno Nevada from last year. The artist is folk songwriter and singer Gordon Lightfoot. I know an old friend of mine, Ann Kearney, now married to James Kelleher in Passage West, was a great Gordon Lightfoot fan. Anne, get this DVD, you'll love it! The voice is as good as ever, and the backing group is awesome.

Finally, can I make an important point. In the past week a couple of my advertisers have telephoned me to ask whether the Douglas Weekly is involved in any other publication bearing the Douglas name. The answer is NO, and the Douglas Weekly is not connected with the Douglas Tidy Town committee in trying to sell advertising, and nobody has the right to use my name, or that of the Douglas Weekly, in trying to sell advertising, except the Douglas Weekly staff, and you all know where we are situated, in St. Patrick's Mills, the heart of Douglas.

Phil Goodman called in to the office to tell us that she and some friends are having a coffee morning in aid of the Cope Foundation in St. Columba's Hall (another heart of Douglas) on Friday morning, April 19th at 11.00am - music is by Phil's husband Steve, put the kettle on Phil, I'll be there, and one question, 'How does Steve sound at 11.00am in the morning?! I can't wait!!

Bye for now,
Michael O'Hanlon.
---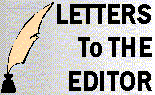 ---