9th May, 2002


I usually write this piece on a Tuesday night/Wednesday morning, but as I have plans for Wednesday, I decided today (bank holiday Monday) was as good as any to write.
On Wednesday afternoon I'll take a half day and drive to Killarney. Appearing in concert that night in the Holiday Inn are four of Nashville's top songwriters - Pat Alger, Tony Arata, Kent Blazy and Kim Williams. These names will not mean a lot to most of you, but between them they have written seven number one's for Garth Brooks, including "If Tomorrow Never Comes", "The Dance", "The Thunder Rolls", "Unanswered Prayers", and many more. They have also worked with, and written songs for, Patty Loveless, Trisha Yearwood, Emmy Lou Harris, Reba McEntire, Hal Ketchum ... the list goes on. Kent Blazy played guitar for two years with Canadian songwriting legend and singer, Ian Tyson (Four Strong Winds). It should be a fantastic show. I'll write a piece about the concert next week. If I don't deliver the 'Weekly's on Thursday (it might be George), I'll be on the Cork Road from Killarney. Keep it country!!

Speaking of music, a few weeks ago I met Denis Carroll and Dan O'Leary of the City of Cork Male Voice Choir. They told me that the choir, which numbers about 45 members, were about to embark on a series of concerts to Prague. The Douglas Weekly is proud to sponsor their travel bags for the trip. The pleasure that these guys (and gal) have given us, and hopefully will continue to do, cannot be appreciated until you have heard them singing live, no miming or backing tracks for this group. They're playing the in Lough area this Friday night. We in the Douglas Weekly hope to bring them to do a charity concert in October. Watch this space.
I almost forgot to mention that a reader asked me if there was a gospel choir in the Douglas area - this man's wife would love to sing gospel. Can anybody help?

Last Thursday when I was delivering 'Weekly's to Broadale a resident and reader stopped and told me of his concern about road safety and children's safety, and how some parent's don't stop and think about safety. The man gave me an example ... when a car driver is coming from the direction of the community park to turn left up the hill, instinctively the driver will look right to check for oncoming traffic. Now put the time at 2.30pm on a school day, and hundreds of children are coming out of school. I've seen a few parents waiting across the road from the main entrance, and some children run across the road, very dangerous!! Parents and teachers, please tell your children to go down to the pedestrian crossing which is controlled by the lollipop lady. I've said it before, there's more to education than 2+2!!

My piece last week on Maryborough Hill certainly brought a response. A telephone call from a rather irate man told me that I had got my facts wrong (I'd better watch what I write because he told me that our telephone conversation was being witnessed, or words to that effect). He then suggested that I contact some people in the County Council and they would give me the correct facts. By telling me that I had got my facts wrong, I can only assume that he possesses the correct facts. If the caller would like to post, email or drop in the drop facts, the Douglas Weekly will print them in the 'letters' page.

How long are the residents in the area waiting for a footpath? 10 years, 20 years, 30 years? What is holding it up? In another few weeks the school children will be on holidays, walking up and down the hill to Douglas village. The fine weather brings parents out with infants in buggies and prams. I walked the hill with Deirdre Forde and Micheál Martin two weeks ago, and the Minister saw how dangerous it was. It is a tragedy waiting to happen. Sort it out now!

The best of luck to Cogan's Childcare centre on their new premises which opened this week. It seems that there will never be enough creches in Douglas. This latest facility is situated in Inchvale House, the large building next to the boys school in Douglas West.
Finally, good luck to all the candidates in next week's election. Don't forget, your vote could matter, so do vote!

Bye for now,
Michael O'Hanlon.

---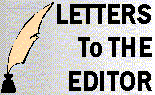 ---