13th June, 2002


Well, I finally got to see Brian Wilson in concert. We spent the weekend in London. It all started last Saturday morning.
Our flight was with Aer Lingus and it was due to leave Cork at 12.05pm, but when we boarded and were seated the captain announced that a flashing light was indicating that there was a slight problem with one of the engines, and that an engineer was about to check it out. Half a hour later a few passengers got a little bit angry and agitated - things such as missing connecting flights in Heathrow, appointments were mentioned - but the hostess explained that the passengers safety was paramount, and that the plane could not take off until everything was checked and passed. Finally, at 1.30pm the plane took off, and an hour later we were in Heathrow. We took the train into London, and a tube to Waterloo brought us to our accommodation, the Travel Inn, Belvedere Road, London. The hotel has a sign hanging in the foyer which states that if the patron is not 100% satisfied then they will give a complete refund. It was 100% perfect. The cost was £74.95 per room, per night. Breakfast was £6.95, and it was self service - all one could eat, or a continental breakfast for £3.95, rashers, sausages, scrambled eggs, fired eggs, tomatoes, mushrooms, hash-browns, all the toast you wanted, cereal, orange juice - great value! The rooms were spotless (about 600 rooms!), the bar staff were very friendly - one pint of Heineken and tonic water cost £3.30 (that's Sterling). Some shops were accepting Euro's - 60p to a Euro.
In the bar we got talking to a Cockney couple, and of course the talk was about the World Cup. The man was on a high because England had beaten Argentina, the hand-of-God (Maradona) episode had been avenged. His partner told us that she had never been to Ireland, even though her grandfather, Cornelius O'Driscoll, had come from Cork!! There must be a huge potential tourist market out there for people with Irish blood in their veins, especially in England. A taxi driver told us that American tourists are down by 60%.
I made contact with a friend of mine who runs a social club in Romford, Essex, and we spent Saturday night out on the town with Tom and Mary Flynne. We went for a meal in an Italian restaurant called the Topo Gigio, where the man at reception, Vivio, asked me what part of Ireland we were from. We told him and he took a crumpled business card from his wallet, it read Gerard Wallace, Jeweller, North Main Street, Cork. So, Gerard Wallace, if you read or hear about this, Livio sends you his best wishes.
After the meal Tom took us for a drive around London and eventually brought us back about 40 years when he took us to the Galtymore Irish dance hall in Cricklewood. I must admit, I loved it, it was like the 'Arc' was a long time ago. Brendan Shine was the attraction on the night. Tom told me that a few years ago one could not get in when one arrived at the hour that we did (about 11pm), but time takes its toll, and the men of the fifties who built the roads, railways and bridges were dying out, and the area known as 'little Ireland' was now part of a different social ethnic culture. A lot of the patrons were in their late 50's and early 60's, an era coming to an end. As I said, a history lesson I really enjoyed. Tom told me he knew a friend who was showing the Tyson/Lewis fight, but Italian wine, and Brendan Shine, made me decline, so they dropped us back to the hotel and we bade them farewell.
We spent Sunday afternoon checking out the sights - the House of Commons, Trafalgar Square, bought some presents, and then the rain came so we went back to the hotel and had lunch. The concert was being staged in the Royal Festival Hall, about 300 yards from the hotel - a huge concert hall with bars, on different floors, a music store, merchandise stands, etc... The concert began on time at 7.30pm and Brian Wilson appeared on stage with a ten piece band to a raptourous applause.
The show came in three parts - one was a mixture of some old Beach Boys numbers, mixed with some songs from his solo albums, then a break. In part two he did the whole 'Pet Sounds' album, and finally part three they finished off with the classic Beach Boys hits, "Help Me Rhonda", "Fun, Fun, Fun", "Surfin' USA", "Surfer Girl", "I Get Around", and "Barbara Ann", etc... Twice during the concert Brian stopped and told the band, "Stop, stop, you got it wrong, start again!" A round of applause from the audience showed their appreciation of a perfectionist - no miming or backing tracks from Brian Wilson!
At the end of the concert I asked my wife what she thought of Brian Wilson. Her reply was, "He reminds me of the artist Salvador Dali, complex, unique and original. I told her that he was known as the Mozart of pop music, a brilliant band, excellent sound, and a night never to be forgotten.
We didn't fancy dragging cases and bags through tube stations on our way to Heathrow, so we asked the hotel receptionist what was the cost of a taxi to the airport. She told us to get a cab, as they were a lot cheaper than the black taxi's. She booked a cab for us, collection time 9.00am, Monday morning. 8.59am next morning he arrived at reception. On the way to the airport he told us his name was Sean O'Farrell, his father was from Limerick, and his mother from Glasgow - the perfect Celtic match. He then he sang the complete Irish song, "Shake hands with your uncle Mike, me boy" as we drove to the airport. He told us the story of his life on the way to the airport and that he hadn't been back to Limerick since he was 13 years old (he was 63!). A lovely man who made the journey to Heathrow a pleasure.
The flight was again delayed by approximately one and a half hours. I'm sure it was the same plane, but we made it back to Cork for 2.30pm.
Verdict: London is a great place, different in every sense, but one would need a week, and a guide, to really get to see as much as possible. In the words of general McArthur, "I will return".

Bye for now,
Michael O'Hanlon.

A reader told us that a child was recently bitten by a dog in the Douglas area. Please see page 6 regarding the law on dangerous dogs.
---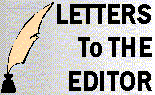 ---