25th July, 2002


Last week was a very busy one for yours truly. On Thursday night it was down to Crosshaven for a Ford week night. It was really the place to be. I never realised that so many people read the Douglas Weekly. I left the marque at about 10.30pm to go to the loo, and I must have taken about 15 photographs on my way, shouts of, "Michael, have you got your camera with you?" greeted me every couple of minutes. I finally made it back to the marque after about an hour. So, if your photo isn't in this weeks issue, don't worry, there's a backlog - watch this space!
The next day, Friday, we had a wedding, when my nephew Rory O'Hanlon from Ballincollig, married Valerie Scanlon from Turners Cross. Another late night on Friday.
On Saturday evening it was down to the Rochestown Inn, where Gary O'Donovan and staff laid on a huge birthday party to celebrate their first year running the 'Inn. Gary, those spicy sausages were hot, but a cold beer from the bucket of ice was magic! The weather was beautiful and a great family day was had by all. Don't miss Jim McCann in the Rochestown Inn this Friday night.
After leaving the 'Inn, I called to Douglas GAA Club where the man from Galway, Brendan Byrne, was celebrating his wedding anniversary with his wife Geraldine. Again more photos. Donie Caulfield was playing the music, and I would love to have stayed, but the two previous hectic nights had taken their toll, so one pint of shandy later I was only fit for bed. It's a tough job, but somebody has to do it!
Last week, when I was getting a cup of coffee in O'Brien's Irish Sandwich Bar, a woman with two children called me over. She introduced herself and asked me if I could do anything to highlight the lack of amenities in Douglas for teenagers, specially 13 to 15 year olds. I have been writing about this situation for the past few years. We have a huge young population in the Douglas area, and it will continue to grow. I know some people have been seeking skate-boarding facilities for the past year, but nothing has happened. If anybody has any suggestions I would be happy to print them. Somebody told me that the County Council take about €4,000,000 in rates, service charges, etc... from Douglas every year. What goes back? About 10%, the rest probably goes down to make West Cork more beautiful for the Americans, who never came! The local sports clubs and association do great work with the children and teenagers, and the generosity of the clubs in providing their halls for residents meetings is greatly appreciated. I called to a businessman friend of mine the other day and he asked me to print this question, "Has Douglas lost it's sense of community spirit?" That's a tough question. I remember when we first moved to Shamrock Lawn, over twenty years ago, we had a very active and vibrant residents association - and once a year, at Christmas time, we had a party for the residents. A great idea, where people made friends and enjoyed a night out with most of their neighbours. But alas, the same few people were doing all the work, collecting the grass cutting money, the estate clean-up, some people never paid ('that's the Council's job', they said), some people never turned up at the clean-up (again, 'it's the Council's job', they said). To be fair to the Council, they can't do everything! The local lads do as much as they can do. We should practice a little self help. Anyway, eventually the association died. Twenty one years later we now have another three estates within Shamrock Lawn, Elm Drive, Oakview and Alden. Perhaps it is time we all came together under one umbrella group with representatives from Elm Drive, Oakview and Alden joining representatives from Inchvale to form a Shamrock Lawn Residents Association. After all, two voices are louder than one. Think about it and if you care about our estate be in the Douglas GAA on Thursday night, July 25th at 7.30pm. Let's have a voice for our estate. Even if you don't live in Shamrock Lawn, whether it be Broadale, Frankfield, Donnybrook, Grange, Rochestown, you may make new friends and that's what life is all about.
Speaking of community, the last two weeks in Douglas have been sad ones. We lost some of our friends, neighbours, people we knew well on casually. Our sympathy to the families of Joe Miller, George Lynch, Brendan Cremin, R.I.P. On Sunday my wife told me that Denis Murphy was prayed for at mass. i did some checking up, and I learnt that my landlord at Douglas Mills had died on Saturday evening. I first met Denis Murphy a few years ago when I began doing interviews with people I felt had a story to tell. I called to the office to ask Denis if he would talk to me and tell the readers about the history of the Mills and the Murphy family. He agreed and i called down with a dictaphone a few days later. Denis told me about his father, who played a prominent part in the fight for our freedom many years ago. He told me stories of his life, his experiences in the mill down through the years, people he had met, some he had liked, some he didn't. It was a great interview. I took it back to the office to have it typed. I called back down to Denis a few days later to have him check it out. Denis read it and at the end he said "Jesus, did I say all that; if that's printed, I'll have to go and live in the Australian outback." "Tear it up and I'll give you a sanitised version later on." I never did another version with Denis. Denis was very eloquent. He spoke at Frank Downey's 70th birthday party, where he paid tribute to the mill workers. At the launch of Billy O'Callaghan's book "Tales of Old Douglas" Denis was a natural speaker. That great voice flowed like a mountain stream, always entertaining, never boring.
Last year, I called down to ask Denis if he had any property I could rent. The Weekly was growing and it was time to move. A week later I had the offices next to Denis's office. I'd like to think we became friends. He had a great sense of humour. One day I was in the office and he called in and asked me to come into his office. 'I'm going to make you a millionaire" he said. "A lonely hearts section in the Douglas Weekly!!" "The London Times has a huge section filled with lonely people, and you could do the same." We spoke for about an hour over a cup of tea (Denis always has a china cup for a cup of tea). I knew Denis was ill and receiving treatment and when we'd pass in the hall I'd ask him how he was "I'm going to beat this, you know." Well, Denis you fought the good fight, you never gave up. I admired your gallant courage. At the church on Monday night I saw Ministers, millionaires and mill workers. I met Tom Doran at the gate of the church and I asked him if he had worked in the mills. Tom's reply was " 15 years and Denis was a great, great boss". Then he swallowed, and turned away to walk behind the church. With the passing of Denis Murphy, Douglas has lost a gentleman and a friend, and Douglas Mills will never be the same again.
Bye for now, Michael O'Hanlon

PS: To the youngsters, Jordan, Daire, Aimee and Melanie who I photographed on the green on Sunday. The picture is blurred so if you call to my house with your posters I'll snap you again.
PSS: Good to read that the Pfizer workers are to get a rise, due to the fact that most of their customers also do. Think about it!!
---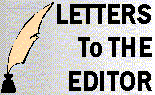 ---