14th November, 2002


A lot of American gospel songs have some great lines in them, such as, "When the roll is called up yonder, I'll be there", and on your last day, there's another great line, "You've got to walk that lonesome valley, you've got to walk it by yourself", and then of course, in New Orleans funerals, a jazz band play, "When the saints go marching in". It's like they're celebrated the departure of a loved one to a better place. It's a kind of joyous occasion. Here in Ireland, funerals are a lot more conservative and sombre. We remember our friends and family members in a quiet way. I writing this piece because I recently heard that a regular visitor to Douglas GAA club on Friday nights, down through the years, has passed away. Gary O'Sullivan always made us laugh with his jokes and northside humour - in the interclub singing competitions, Gary would make his entrance, and within minutes everybody would be hysterical with laughter, and then he'd finish with his party piece song, "Seven Spanish Angels". Even when he was ill and his eyesight was failing, the jokes would still come, and we missed him when he could no longer come our to the club and sit with us and make us laugh. What a wonderful legacy Gary left us, he made us laugh. Thanks for the happy funny memories, Gary RIP, my sympathy to Gary's wife and family.

I saw a bit of the Mick McCarthy interview on last Friday's Late Late Show and I have to say that I was impressed with Mick's dignified manner. The whole saga reminds me of the Hans Christian Anderson fable, "The Emperors new Clothes". We all cheered Mick when he came home with the team, 100,000 supporters turned up to welcome them, and then Mick slipped and stumbled and ended up on his knees. Did we say, "Here Mick, take my hand, let up lift you up and support you"? We did not, we put the boot in and kicked him when he was down. There are more important things than winning a bloody game - like doing the right thing. It's like the old blue song, "Nobody knows you, when you're down and out". The press fuelled the fire of discontent - how they can influence what people think, overnight. At the end of the day, I believe there's more to life than winning at 'the beautiful game'. Decency has got the red card this time, and principals have got the boot.

I read that Miss Ireland is going to represent us in the Miss World finals in Nigeria. Several girls have opted out due to the fact that an Islamic court in Nigeria has sentenced a woman to death by stoning because, wait for it, she had sex outside of marriage. Our girl mentioned something about, "not wanting to get involved". Wait a while Miss Ireland, Jerry Springer is getting ready to parade you and another few idiots in front of the world's cameras, while a band of men in robes are out collecting stones to batter off some unfortunate woman's head. Did I read somewhere that Islam is the fastest growing religion in the world? Was it a religious court that sentenced her to death? All men, no doubt. But, not too long ago in Ireland, young single mothers were told to bring their newborn babies to the side door of the church after dark, for Christening. But at least the only people who 'got stoned' were the fathers who went to the pub!! So Miss Ireland, pack your bag, come home, and hold your head up with dignity, there's more to life than your picture in a tabloid.

I was driving through town on Tuesday and I was stopped in traffic at the lights, just before the turn onto Parnell Place. I glanced to my left and saw a sight that brought the memories back. The cold storage building is in ruins. Older readers will remember it as an ice cream retail outlet, but it was never ice cream. It hadn't the creamy texture of real ice cream, rather a big wedge of white ice between two wafers. Now the building is in an awful condition, the windows are gone, as is the roof. It's an ugly blot on the South Mall. People should not be allowed to let their buildings fall into such condition, especially on the once beautiful South Mall.

Speaking of terrible conditions, dis anybody see the state of the footpath in Douglas West. It's a disgrace - dog dirt, broken footpaths, weeds, and people trying to attract customers to their businesses on that street. It will probably be repaired a month before the next council elections - now Michael, don't be cynical. Did you know that if the present government lasts the full term, it should end just as we get back our money from the government savings scheme. No Michael, you're really being cynical, politicians don't work like that, do they?

On Sunday I was watching the Top 50 holiday destinations in the world, on BBC1, and I was shocked!! Myrtleville never got a mention, some people have no taste!

My friend, Leonard Lynch, and his wife Martha (Leonard and his brother Bill run the O'Brien's Irish Sandwich bars in Cork City and suburbs) have just returned from a trip to China. Leonard was spotted by a Douglas Weekly reader. My source told me that Leonard was standing on the Great Wall counting the passers by. Could we soon see an O'Brien's Chinese take-a-way opening on the Wall? Think about it Len, over one billion sandwiches a day - you'd put Bill Gates in the 'half penny' league. And please God, someday I'll be able to tell my grandchildren I knew Len when he was only a millionaire! And finally, there is no truth to the rumour that O'Brien's are giving away one terracotta soldier with every BLT sandwich for the month of December. Welcome home Len and Martha, put the kettle on!!

Bye for now,
Michael O'Hanlon.
---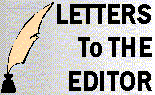 ---