1997 Killarney Historic Stages Rally
NUTT CAPS PERFECT YEAR
---
[ Homepage ] [ Photos from the 1997 Killarney Historic Rally ]

Magherafelt man Dessie Nutt confirmed his position as the top driver in Historic Rallying in 1997 when he won the Killarney Historic Stages Rally before Christmas. The Porsche 911 pilot lead throughout the day, he and his co-driver Elkin Robinson keeping everything in control over the twisting stages in South Kerry and Cork. Nutt had already won the Tarmac and British Championships in 1997, the win in Killarney bringing his season to an ideal conclusion.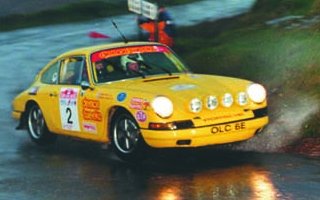 John Keatley challenged Nutt early on, but was unable to keep pace with him and settled for second place after clipping the rear of the 911 off a wall on Kilmackillogue.
Stephen Hall and Drew Wylie fought it out for third place throughout the rally, Hall taking the place by seventeen seconds in the end.
In the Post-Historic category Lloyd Hutchinson scored a surprise win in his Mini Cooper S, setting some amazing times throughout the rally. Ian Corkhill took second while Edward Gibbons just held off the challenge of fellow Killarney & District Motor Club member Todd Falvey to take third place.
Cathal Rogers went one better than his second place finish in the Classic section in 1996, winning the category outright on the 1997 event. Rogers was aided by the spectacular exit of initial leader John Shanahan. Joe McGurk and Pat Mullane made it an Escort 1-2-3.
Results


Historics
1: Dessie Nutt/Elkin Robinson (Porsche 911)..............1.13.32
2: John Keatley/Maurice Beckett (Porsche 911)............1.14.43
3: Stephen Hall/Geraldine McBride (Triumph TR4)..........1.15.45
4: Drew Wylie/Graeme Jennings (Lotus Elan)...............1.16.02

Post-Historics
1: Lloyd Hutchinson/Kevin Flanagan (Mini Cooper S).......1.15.28
2: Ian Corkhill/Howard Allison (Ford Escort).............1.16.50
3: Edward Gibbons/Ben van Deventer (Hillman Avenger).....1.18.02
4: Todd Falvey/Dan Barry (Ford Escort)...................1.18.08

Classics
1: Cathal Rogers/Eugene Donnelly (Ford Escort RS)........1.09.48
2: Joe McGurk/Arthur Kierns (Ford Escort RS).............1.10.24
3: Pat Mullane/Sean Mullane (Ford Escort RS).............1.11.59
4: Kieran O'Neill/Hugh Giles (Opel Kadett GT/E)..........1.12.30


---


[KDMC on-line] [Editor: Padraig Reddington.] [Design: Brian Duggan and Sean Duggan]

---