STUART MILES - TRAVELLING FARRIER
Stuart Miles is a farrier who lives in Mountshannon and works throughout the county.
Stuart says : "Summer is my busiest time. I can work a twelve hour day in the height of the tourist season. I have customers all over the county, and further afield, and I try to plan my working week to minimise the amount of time spent driving. This is difficult, because there will always be the customer who rings me at 7 am, needing a horse shod by 8 ! I try to be as accommodating as I can be. People expect you to turn up when you say you will, customers hate to be let down. I try to avoid giving my customers an exact time of arrival - you never know how long the job before will take.
I usually leave from Scariff with my apprentice at about 9 am. Every day in the summer begins with the horses on the Galway - Clare - Burren Trail, a tourist trail - ride. The horses' feet are checked each day, and shoes replaced or tightened as necessary. This can take anything from half an hour to a couple of hours.
Most of the shoes I use these days are factory - made. I still make shoes when time allows - I enjoy the work and am teaching my apprentice the skill. Sometimes it is difficult to buy ready - made shoes to fit, especially for very small ponies. I buy most of my materials from a travelling Farrier Supplies lorry, which I meet once a month. I buy a month's supply of horseshoes and nails in all sizes, iron for making shoes, new rasps and anything else I need. I've had my basic shoeing tools - parers, pincers, hammers etc., for years. I buy good - quality tools, made to last. I carry everything I need in my van, - a portable forge, anvil, vice, drill and all the shoeing and forge tools I need.
I know horses well, I've been around them all my life, and I did a lot of showjumping in my younger years. I competed at Wembley and Hickstead - I have a gold medal from Hickstead. I don't ride at all these days.
It's hard work, and you feel it at the end of a long day. We might have ten or twelve calls to make on a busy day, shoeing horses and ponies, paring the feet of young or unshod animals, replacing lost shoes, checking the feet of lame horses for infections etc..
We shoe a few working animals - forestry and farm horses - but not many nowadays. Riding school and trekking horses, show-jumpers, hunters, race horses, trotting ponies - leisure and sporting animals mainly. I'll hot-shoe at no extra charge, but most people prefer cold-shoeing nowadays, probably because it's quicker.
I travel abroad regularly. Last year we shod horses in France, Italy, Slovenia and Hungary. I have friends, in Hungary at the moment, who travel with horses and wagons, and I visit them and shoe their horses about three times a year."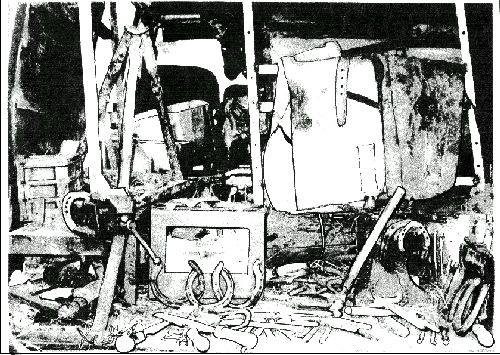 Stuart Miles's van, showing portable forge, vice, anvil, horseshoes and a complete set of shoeing tools