WELCOME TO
Moriarty's Farmhouse
Irish Bed and Breakfast Accommodation
---
VENTRY, DINGLE, CO. KERRY, IRELAND  ·  E-Mail: mrty@eircom.net
Tel: +353-66-91-59037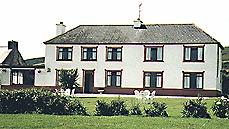 Brid, Ted and family welcome you to their comfortable home in the heart of Ventry parish on southwestern Ireland's Dingle Peninsula, with commanding views of Ventry Harbour and rolling mountains. To our right there's Mount Eagle lake and Paudi Ó Sé's famous pub, offering excellent pub grub and traditional music during the summer months 2km further on is the Stonehouse Restaurant. To our left there's Rahanane Castle, Thady's Restaurant and Paud Quinn's Ventry Inn, which also offers excellent food and music. The lake, the castle,Thady's and both pubs are located only 1 km from our home.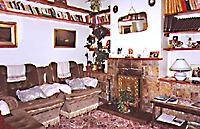 On arriving at Moriarty's Farmhouse, guests are welcomed to the lounge for a cup of tea or freshly brewed coffee and homemade scones. They can then browse through an extensive collection of books on Ireland, Kerry, and the Dingle Peninsula. These help the appreciation of the beauty, traditions, and folklore of the area. Whatever your interests — walking, cycling, antiquities, sailing, crafts, motor touring, golf, fishing, horseriding — we can help. We can also provide expert help with tracing your family roots locally.
We are ideally situated for walkers. We offer help and advice, and have mapped out several spectacular walks around our area. Water sports feature well, too, on Ventry Beach (a nearby "Blue Flag" beach), as does horse riding and fishing.
OUR FARMHOUSE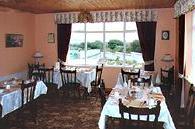 All six of our bedrooms have en-suite facilities, with sea views, tea and coffee facilities, clock radios, hairdryers, and electric blankets. In addition, each of our bedrooms has a television. Our rates are very reasonable, and are detailed on our Rate Page.
Our dining room is large, spacious, and tastefully decorated with pictures of local interest. In the morning you can choose your meal from our breakfast menu.
We are situated in a peaceful and tranquil area, surrounded by fuchsia and montbretia-lined hedgerows. We are located only five miles (eight km) west of the town of Dingle, just off the Dingle-Slea Head road. There are signs pointing the direction to Moriarty's Farmhouse at Ventry church and Paudi Ó Sé's pub.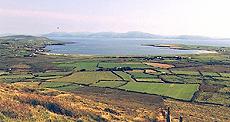 The farm consists of 113 acres, 56 arable and the rest mountain and rough grazing (bog). The rough grazing area is deemed a NHA (National Heritage Area) habitat, a flora and wildlife preserve.
Our main farming enterprise is beef – suckler cows . Guests are free to wander along the fields and mountain if they wish. There are magnificent views of the countryside and sea from the mountaintop, most especially on a fine summer's morning when the sun is beginning to rise.
We are members of Bord Fáilte—the Irish Tourist Board, and the Irish Farmhouse Holidays Association.
To all who visit us, we extend our warm and sincere hospitality, so that your stay, whether brief or extended, will be a most enjoyable and memorable one.
---
To make a booking, ask a question, or enquire about availability, please contact us by e-mail or telephone.