Trail Riding Week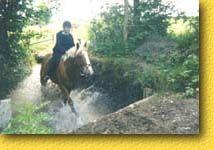 Full six days of trail riding with a total length of 90 miles. Through unspoilt, beautiful countryside, meadows, forests, mountains & rivers, with ample opportunities to visit the historical, archaeological and scenic places of the area. Every day you will ride through a new territory, explore your ability as a rider and develop a friendship with your fellow trekkers and of course, "your horse".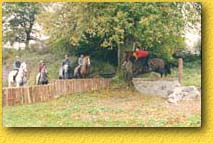 Don't be afraid: We have horses and ponies for every level of experience. And one thing is for sure, you will be a real expert when you "kiss your horse goodbye". The day starts with a hearty Irish breakfast and then...saddle up. During the day there will be a snack and in the late afternoon a fine tea meal will be provided, e.g. a succulent barbeque on a family run organic farm.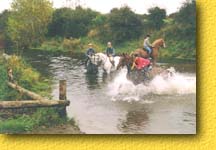 In the late afternoon you return to your accommodation; and if you still have an appetite for activities, we are happy to offer you a range of options (charged extra): Cross Country Course, Polo Crosse and a 70m x 40m all-weather outdoor arena for horsey action. Clay pigeon shooting, fishing in a beautiful private lake, game shooting, croquet, motor racing are some other challenging and entertaining activities. To finish the day in style you may enjoy a dinner in one of the local restaurants, where the produce of the area is transformed into a delicious meal. Afterwards a visit to the pub is a must: here you meet the locals, listen to their yarn and - with a pint of the black stuff - you may even join in their sing song and music.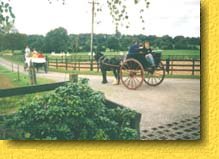 You love horses but you are too old, too young, disabled etc.? No Problem! We at Flowerhill House provide the necessary transport to follow the same trail as your friends on horse-back. You will be transported in a trap, a pleasant and comfortable way to enjoy every minute of the trail.
Prices.
Trail Riding :-
Saturday evening to Saturday evening:

Full Board at Flowerhill House - £590, Euro - 749.15.
Full Board at Shannon Oaks Hotel - £850, Euro - 1079.27.
Daily Trail Ride £50.00, Euro - 63.48 inc. lunch

---
Flowerhill House
Killimor,
Ballinasloe,
Co. Galway,
Ireland.
Tel: +353 (0)905 76112 Fax: +353 (0)905 76462
Email: flowerhill@tinet.ie