---

CARNAUN NATIONAL SCHOOL

---
The Lambert Families of Castle Lambert and Castle Ellen.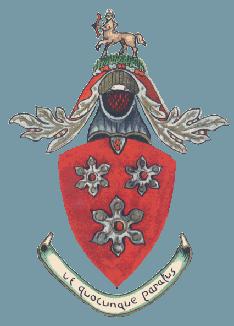 In the past the Lamberts owned the land in Carnaun School Area. They lived in Castle Lambert (One mile west) and Castle Ellen (one mile east). We often wondered how life was when they lived here and what happened to their families afterwards.
Snippets of information came down to us through the 'folklore' of the area. We heard how Giles Eyre Lambert was attacked during land agitation, 1869, and that there was a famous trial. Walter Eyre Lambert was a founder member of the famous Galway Blazers, 1839. Isabella Lambert was the mother of Sir Edward Carson the great Unionist politician. Walter Peter Lambert ('Watty' as he was affectionately known by the Athenry people) sold Castle Ellen in 1923 to 'The Land Commission' and moved to Oughterard by Lough Corrib with his daughter Doreen. Now and again we heard that Lamberts came to visit their old homes but they were gone again before those of us who were interested could meet them. "If only they visited the School".
Now with the help of I.T. and the Internet, in a time of researching our heritage and in a year of the Peace Process and Reconciliation in the North of Ireland this project is very important to us. Imagine our surprise when we surfed the Internet to find Andy Lambert's database on the Lamberts. http://www.motor-software.co.uk/home This was a great start. Since then we have found out quite a lot about the Lamberts - and we hope to put it and our research of the locality together in the form of a book very shortly. We will need help with this in many ways but especially through articles from interested people. We also hope to invite all Lambert descendants to Athenry in the near future with a view to re-starting a great friendship. Call us if you think we are doing the right thing! We welcome and need your views, suggestions and constructive criticism!

Finbarr O'Regan. Principal Teacher.

Click here to view a picture of Castle Ellen House - May take some time
Castle Ellen House
Mary Connaughton interviews Johnny Cahalan.12.10.'98.
My neighbour Johnny Cahalan lives in Castle Ellen Gatehouse and six generations of his family lived and worked for the Lambert of Castle Ellen. He is very helpful to us when we want to know about the history of the area. We invited him to the school last Monday to show him what we had done on the history of Castle Ellen and to get more information on our project from him.We showed him our Internet Page on Castle Ellen and the Lambert Family database which we had downloaded from the WWW and also loads of old documents our teacher had gathered over the years.
Johnny talked about the people mentioned in 1901 census [my part of the project]. He talked about Doreen Lambert who lived in Castle Ellen as a child. He also told us about the people who lived in Pollach in houses built by the Lambert and about stable men and coachmen and all the servants. He had with him an old notebook used to record the Athenry Church of Ireland Parish Fund 1912 - 1921. It had a record of those who attended church in St. Mary's in the Square in Athenry. (This old building is now going to be our new Heritage Centre).
Many of the Lambert descendants call to Johnny when they visit their ancestral home. He was very interested in our project and promised to help us a lot more.
Mary Connaughton.
1901Census - Castle Ellen area
A census is a survey conducted by a government to collect information about the society it governs. A population census determines the size of the population and such information as the age, occupations and sex of people. A census is conducted by most governments at regular intervals.
In 1901 the earliest return for our country was compiled. It includes such data as the religious denomination, the education and language of the people.

Townland: Castle Ellen

| | | | | |
| --- | --- | --- | --- | --- |
| Surname | Christian name | Occupation | Age | Language |
| Maxwell | Jane | Servant | 41 | English/Irish |
| Watts | Tara Anne | Housemaid | 22 | English/Irish |
| Cahalan | Pat | Farmer | 80 | English/Irish |
| Cahalan | Miko | Herdsman | 55 | English/Irish |
| Cahalan | Honoria | Daughter in law | 55 | English/Irish |
| Cahalan | Mary | G. daughter | 17 | English/Irish |
| Cahalan | John | Grandson | 15 | English/Irish |
| Cahalan | Pat | Grandson | 14 | English/Irish |
| Cahalan | Kate | G.daughter | 10 | English/Irish |
| Cahalan | Thomas | Grandson | 8 | English/Irish |
| Boyd | Andrew | Gardiner | 56 | |
| Boyd | Jane | Wife | 55 | |
| Boyd | John | Son | 22 | |
| Hunt | Johanna | Kitchenmaid | 22 | English/Irish |
| Clancy | Michael | Coachman | 31 | English/Irish |
| Cusack | Mathias | Stableman | 19 | English/Irish |
Jane Maxwell was a servant, Tara Anne Watts was a housemaid, Johanna Hunt was a kitchen maid and Michael Clancy was a coachman. Mathias Cusack was a stableman and they all worked in Castle Ellen Big House.
Pat Cahalan, Miko Cahalan, Honora Cahalan, Mary Cahalan, John Cahalan, Pat Cahalan, Kate Cahalan, and Thomas Cahalan all lived on the back road into Castle Ellen.
Andrew Boyd, Jane Boyd, and John Boyd were all living in the Gatehouse were Johnny Cahalan now lives.
None of the Lambert family are named in this census as they were away on holidays at the time.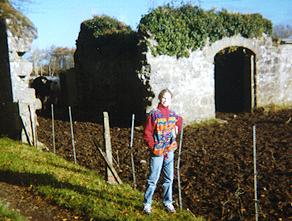 Old farm buildings at the back of Castle Ellen
(Note the cut stonework)
---
SCOIL NÁISIÚNTA CARNÁIN

BAILE ÁTHA 'N RÍ

---