Funshin Cottage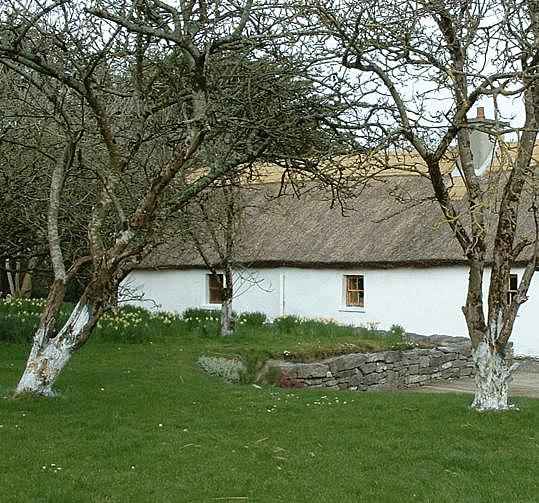 Funshin More
Burren
Co. Galway.
Tel: +353 91 637071 (Land line)
or +353 87 2339714 (Mobile)
E-mail: funshincottage@eircom.net


---
Summary
Self-catering cottage provides a uniquely Irish holiday experience in a tranquil rural setting.


Description
Funshin Cottage is an original Irish thatched cottage located in the beautifully scenic Burren region in south County Galway, Ireland. The cottage adjoins the owners dwelling on a 0.50-hectare site. Built in 1861, it has recently been restored to include some of the comforts of modern living, while still retaining its 19th century charm. Longer (more than 17m) than usual, the cottage contained an extra function room compared to other cottages of the same era. This vaulted "parlour" was the scene for the local dances and parties for many of the people and families in the community to celebrate successful harvests.
The cottage consists of a living room, kitchen, large bedroom, double bedroom and bathroom. Most rooms contain the original timber ceilings and rough plastered limed walls, and the earth floors have been replaced with insulated deal timber or quarry tiled floors. Many of the original windows remain, and so also the thatched roof, recently re-coated in local reed.


Layout


Upon opening the front door, you immediately enter into the living room with it's solid fuel stove, then the tidy kitchen to the right and bathroom behind that, with the cosy double bedroom at the north end of the cottage. From left in the kitchen, walk into the large "parlour" bedroom where you will find two original wrought iron beds. We have made this unique place comfortable for 4 people, with a locally hand crafted wooden kitchen, traditional furniture, new utilities like washing machines, cooker and so on.

Click on the floor plan opposite and see pictures of the rooms.
Specification
Original Irish Thatched Cottage

This thatched cottage offers modern conveniences combined with the traditional aspects of an original Irish cottage, which includes:



2 bedroom thatched cottage - (1 double and 2 singles - sleeps 4).


Fridge/Cooker/Washing machine.


Bathroom with shower and toilet.


Oil-fired central heating with wood/peat stove.


Bed linen/towels supplied.


Private car parking.


Babysitting (advance notice).


Orchard and Garden.


Prices are fully inclusive of electricity and heating.

Directions
How to get there:

By car, it will take about 25 minutes from Kilgolgan, 40 minutes from Galway Centre (Eyre Square), and 30 minutes from Ennis.

Click here to get an idea of where we are.


Coming from Galway
There is a short-cut from Kinvarra, but in the interests of preventing people from getting lost, it is better to follow the instructions below.


From Galway, follow the directions for Limerick (N6, then N18 at Oranmore) until you reach the village of Kilgolgan.
You must then get to Kinvarra (N67 from Kilgolgan, direction "Kinvarra").
From the Merriman Hotel, continue on N67 for 3.6 miles. You will arrive at a junction with 2 minor roads to the left, and a sign saying "Welcome to County Clare" just ahead.
Take the immediate left road, direction"Ennis" and "Gort Golf Club".
Continue on this road (called the "New Line") for 1.8 miles. You will know you are getting close when you pass a white cottage on the right, with it's gable end facing the road.
Stay on the main road, and go another 50m.
Funshin Cottage is just the next house on the right, beside the owner's 2-story stone dwelling.
In case of emergency, call Phone Number.
Coming from Limerick
From Limerick, follow the directions for Galway, taking the N18 through Ennis and continuing until you reach the village of Crusheen.
After passing through the village, take the next left road, direction "Tubber" and "Boston".
Continue on this road for 13.2 miles.
Funshin Cottage is just the next house on the left, beside the owner's 2-story stone dwelling.
In case of emergency, call Phone Number.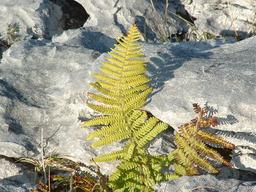 Co-ordinates
Linanes Shop/Pub 3km
Kinvara village 4 km
Ballyvaughan 15 km
Galway City Centre (Eyre Square) 30 km

Local Amenities

Kinvara is a picturesque village on the Atlantic coast, with a vibrant social life revolving around traditional live music and dancing. It contains many restaurants, pubs and shops to suit all travelers tastes.



Swimming at nearby Tracht Beach, with its European Blue Flag marque of water quality is a must, only 5 km away.



A full 18-hole Golf course is only 12 km away and the Gort Golf Club will always offer a warm welcome.



For the more adventurous, take a trip to Fanore (18 km), to enjoy the world famous surfing, or the challenging rock climbing at Aillide.



There are many walking routes in the vicinity, from the Flaggy Shore (2km) seaside stroll, to the cooling air of the woodlands of Coole Park (12km), to the exhilarating hiking along the Burren's Green Road, all tastes are catered for. See Burren Beo



Of historic interest are the fascinating Corcomroe Abbey (5km) and Kilmacduagh(8 km) monastic sites, and the more recent Thoor Ballylee, artistic home of the great Irish writer William B Yeats. See Gort Online



Ideally situated as a base for touring the West Coast from Lahinch to Connemara.


Rates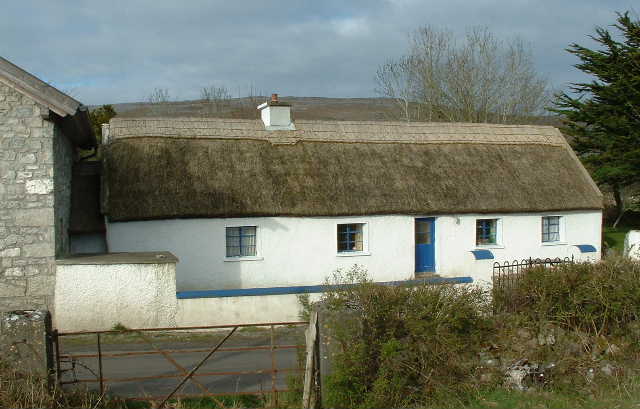 Policies
Payment Options: Cashiers/Registered Check, Personal/Business Check, Money Order, PayPal or iKobo.
The rental period begins at 15:00 hours on the day of arrival, and ends at 12:00 hours on the day of departure. Rates are based on 4-person occupancy. Please add €15 per night for each additional guest.

Deposits
€100 deposit fee is due at time of booking to hold reservation. If the fee is not received one week after booking, the booking will not be held. The balance of the rental amount plus €100 security deposit is due on arrival. Security deposit is returned on day of departure.

Booking deposits can be paid with your credit card (via PayPal):

| | | | | | |
| --- | --- | --- | --- | --- | --- |
| Season | Start | End | Daily | Weekly | Minimum |
| Spring | Jan-07-06 | Apr-28-06 | €50.00 | €300.00 | 3 nights |
| Early Summer | Apr-29-06 | Jun-30-06 | €65.00 | €380.00 | 3 nights |
| Summer | Jul-01-06 | Sep-01-06 | €75.00 | €420.00 | 3 nights |
| Fall/Autumn | Sep-02-06 | Oct-27-06 | €65.00 | €380.00 | 3 nights |
| Winter | Oct-28-06 | Dec-15-06 | €50.00 | €300.00 | 3 nights |
| Christmas | Dec-16-06 | Jan-05-07 | €70.00 | €400.00 | 3 nights |
Availability
Check availability here Funshin Cottage availability 2006.