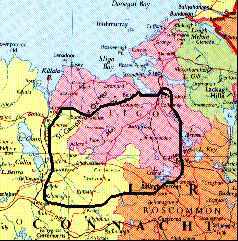 The diocese is made up of twenty three parishes, eleven each in counties Mayo and Sligo and one parish in County Roscommon.   (Please click image at left to see outline of diocese and a map of the parishes.)




According to tradition St. Finian established a church in Achonry (Irish Achadh Chonaire, the field of Conaire), Co. Sligo, in the sixth century and placed his pupil Nathy in charge of it.  The boundaries of the diocese emerged in the early twelfth century and it was formally established by the Synod of Kells in 1152 when the present Irish diocesan structure was laid out. (The image of St. Nathy is from a Collooney church window.)



St. Nathy and St. Attracta are the patrons of the diocese.   St. Attracta had her convent in Killaraght (Irish Cill Araght, the church of Attracta), where she was renowned for her charity and her hospitality.   A very old tradition associates her with St. Patrick, which would place her in the fifth century and close to the origins of Christianity in Ireland. (The image of St. Attracta is from a Cathedral window.)


Perhaps the best known Achonry born saint is St. Fechin, though he is more associated with other parts of Ireland and in particular with Fore in Co. Westmeath.

At present (1999) a priest of the diocese, Father Liam Swords, is writing a history of the diocese.   Two volumes, A Hidden Church, The Diocese of Achonry 1689-1818, and The Famine in North Connacht 1845-1849 have already been published by the Columba Press. 

There are no large towns in the diocese, but there is a number of smaller towns, Ballaghaderreen (the cathedral town), Swinford, Charlestown, Foxford, Ballymote, Tubbercurry, Collooney.

For more detailed information about present-day Achonry visit the &nbsp Diocese of Achonry &nbsp site maintained by Father Vincent Sherlock.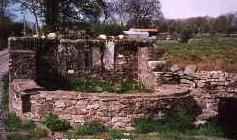 St. Attracta's Well
Monasteraden
Back to home page
Home page of Diocese of Achonry site