Fishing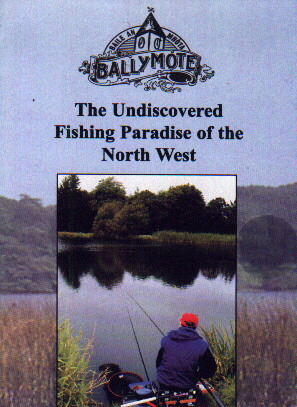 Ballymote & District Angling Club
(Treasurer: padraicrogers@eircom.net
Club Secretary: Pat Milmoe)
Places to Fish in Ballymote, County Sligo, Ireland.
Ballymote, situated 15 miles south of Sligo town, holds some of the most spectacular fishing waterways to be found in the north west of Ireland.
Here are a list of all the hot spots to fish when visiting the Ballymote area.
You can enjoy all course angling free of charge!
Owenmore River Cluid Stretch:
This stretch situated approx 2 miles outside Ballymote-Ballinacarrow road, holds bream, rudd, hybrids, perch. Bags of bream up to 100 lbs weight have been recorded on this stretch. A very accessible stretch with styles over all the drains.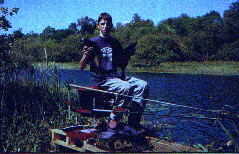 (Bream caught on Owenmore River at Templehouse bridge)
Owenmore River Competition Stretch:
Situated 3 miles from Ballymote, this stretch also holds large sized bream, hybrids, rudd, pike and perch. Best fished from June onwards. Big bags of fish have been caught on this stretch. This stretch is famous for its competition facilities and good fishing.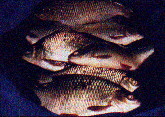 (Bag of Rudd caught on Ballinascarrow Lake)
Ballinascarrow Lake:
Just 1 mile east of Ballymote. This lake has large stocks of bream, rudd, hybrids and large carp, which have been seen but in all the years of people fishing the lake have yet to be caught. North-West Regional Fisheries are currently upgrading the existing facilities by adding stands, stiles, and a car park.
Ardrea Lake:
A small lake situated 2 miles north of Ballymote, holds large stocks of bream, rudd, hybrids, specimen tench, perch and pike. A very accessible lake with fishing stands on the roadside of the lake.
Cloonacleigha Lake:
Situated 4 miles west of Ballymote opposite Templehouse Lake. The lake covers approximately 30 acres. There is a slip way at the edge of the lake for launching boats. Pike over 20lbs are very common in this lake.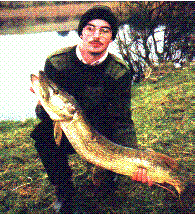 (20lb pike caught on Templehouse Lake)
Templehouse Lake:
Situated 4 miles south of Ballymote. This lake is best fished from Kilbrattan shore for bream, rudd, and pike after permission has been obtained from Mr Sandy Perceval at Templhouse. The lakeside of the bridge is famous for its bream fishing.
There are 4 boats with motors available for hire from Mr Sandy Perceval at a fee of 30. Sandy can be contacted at: (071) 83329. Fax: (071)83808. Email: sandy@templehouse.ie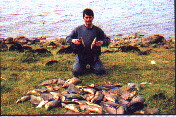 (Bag of bream caught on Templehouse Lake at Kilbrattan Shore)
Feenagh Lake:
This is a stocked brown trout lake in the Ballymote area, which is stocked annually by the angling club. Membership for the season is 12 seniors and 6 juniors. Recent years has seen Feenagh fishing its best. Brown trout up to 5 lbs have been caught last season. Row boats are available for hire on this lake for 6 per day and 3 per half day, available from Rogers shop in Ballymote. Contact Padraic Rogers, Club Treasurer, at: (071) 83318. Fax: (071) 83676. Email: padraicrogers@eircom.net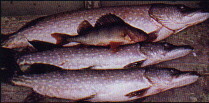 (Pike caught on Templehouse Lake)
Lough Arrow:
Famous for its brown trout, this 3123 acre limestone lake is one of Ireland's cleanest and most renowned fishing lakes. There are large areas of shallows with prolific hatches of fly and a wide variety of fishing. Enquire locally for boat hire (30 approx).
For Further Information Contact:
Pat Milmoe (Angling Club Secretary)
Phone: +353(0)71 89027 Home or +353(0)79 62013 Work.
Padraic Rogers (Angling Club Treasurer)
Phone: +353(0) 7183318. Fax: +353(0)71 83676
Email: padraicrogers@eircom.net
Noreen Cremin (Ballymote Enterprise)
Phone: +353(0)71 83698 or +353(0)71 83372.
Accomodation:
A large range of accommodation can be found in the area including B&B, self-catering and hotel.
For further information on accommodation contact: North Western Tourism, Temple Street, Sligo. Phone: +353(0)71 61201. Fax: +353(0)71 60360. Email: irelandnorthwest@eircom.net