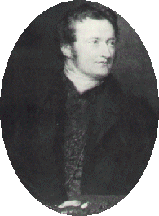 William Mulready
1786-1863

William Mulready was born in Ennis on April 1st, 1786, though he only lived in Ennis for his first two years. Moving first to Dublin, and four years later to London, finally settling at Compton Street, Soho, in London.
The Sonnet

Mulready's early pictures were mostly landscape, close in style and subject matter to those of Constable. His well-known "Landscape with Cottages" is typical of that time. Later he turned to subject painting in which he was to excel.


The Last Inn

Depictions of simple incidents or scenes from everyday life of village people were what he mainly dealt with. He was highly successful producing pictures which had an obvious appeal in Victorian times and among his best known works are "Idle Boys", "The Farriers Shop" and "The Last Inn".
James Leckie & Little Mary

He achieved some fame as a book illustrator, particularly through his drawings of textures for an edition of Goldsmith's "The Vicar of Wakefield", and also for illustrating Children's books, though his output rarely exceeded more than two or three pictures a year.
Head of Old Man

In 1815 he was elected a member of the Royal Academy at only 31 years of age. He was also honoured in France being given the Legion of Honour for paintings he sent to the Paris International Exhibition of 1815.
Mulready Envelope, 1840

In 1840 Great Britain issued the one-penny and two-pence stamps, stamped envelopes and lettersheets designed by William Mulready, representing a leap forward for Worldwide Communications.

William Mulready died on the 7th of July, 1863 in Bayswater, London, and is buried in Kensal Green cemetary where a monument to his memory was erected by his friends.
---
Further Reading & Links

Associate Professor Kathryn Moore Heleniak was awarded a post-doctoral fellowship at the Yale Center for British Art, and is the author of William Mulready (Yale University Press).