| | |
| --- | --- |
| | Click where ever you see this image to return to this page. |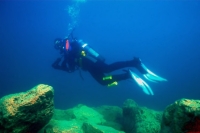 Naas Sub-Aqua club was formed back in 1974 when the sport was very new to this country. Today the sport is much more popular and the club in Naas has grown to its current size of 45 members and associate members. The club meets in the swimming pool in Naas every Saturday night where they train for 1 hour.
Training includes both bottle and general fitness training. It is aimed to make all the members fit, confident and safety conscious in the open water. The physical training is supplemented with theory, including dive physics, equipment, physiology and dive planning. The lectures are held every Saturday night before the pool session.
The club is affiliated with the Irish Underwater Council, which is also a member of CMAS, the worldwide federation of underwater sports. This body organises tests and training courses for all levels of abilities.
Being an inland club we have to travel some distance to get decent diving. We generally travel around 100 miles every second weekend to our intended dive site. We go diving from March to October, although a few hardier members do venture into the open water all winter long. The diving in Ireland is usually very good but as with all outdoor activities it is weather dependent.
Each October there is a fresh influx of new members into the club and during the year there are several holidays and weekend trips organised, which sometimes include trips to foreign climes.