www.killoughey.com
---
---
St. Brigid's Church, Mountbolus, Co. Offaly
1st Sunday of Advent
2nd December, 2001
---
Mass Times

Sunday: 11am

Monday to Thursday: Mass at 10am

Friday: Vigil Mass for Saturday's Feast at 8pm

Saturday: The Immaculate Conception of Our Lady - Mass at 11am

Saturday Vigil for Sunday: Mass at 8pm

Confessions

Saturday 7.30pm

First Friday of each month 7.30pm

Baptisms and Weddings

By Arrangement

phone + 353 (0)506 54035 - Fax + 353 (0)506 54791
---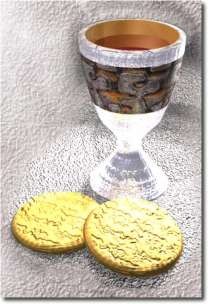 Masses:

Saturday: 8pm - Lil Monaghan, Annaghbrack
Sunday: 11am - John Daly, Cappagolan
Tuesday: 10am - Denis and Nora Healion
Wednesday: 10am - Kathy Sumner (nee Egan)
Thursday: 10am - Nancy Ryan
Friday: 8pm - List of the Dead
Next Saturday: 8pm - Tom, Mary and Elizabeth Guinan
Next Sunday: 11am - Liam Fogarty



---
This Saturday is the Feast of the Immaculate Conception of Our Lady (Holiday of Obligation). There will be a vigil Mass on Friday evening at 8pm. Mass on Saturday morning is at 11am.
---
The annual Sale of Work will take place next Sunday 9th December at 2pm in the Community Centre. It will have all the usual favourites like the Wheel of Fortune, Guess the Weight of the Cake and name the doll. There will be many novelty stalls along with those selling cakes, toys, books and vegetables. Santa will arrive at 3pm to meet the children. This promises to be a great day for all the family.
Tickets are on sale for the Christmas Draw which will take place during the Sale of Work. As usual there are great prizes to be won - so please give generously. Remember… if you're not in you can't win!
Anyone who would like to donate anything for the bring and buy stall can leave it in the Hall before the Sale. The hall will be open to receive goods after 11am Mass.

There will be a meeting of the Sale of Work Committee on Monday evening at 8pm in the Community Centre.

---
A meeting will take place in Ardaoibhinn this Monday with a view to making a Prayerful Preparation for Christmas. The meeting will reflect on the Gospel for next Sunday. Time: 8-8.45pm. All are welcome.

---
Indoor soccer continues on Thursday 6th December. U8's at 6.30pm U12's at 7.30pm

---
The Pre-Christmas Course will conclude in Gleann Ard on Wednesday 5th December with Cake icing decoration - with a cake to be raffled on the night. All are welcome to attend. Starting time 8pm.

---
Thanks to all those who brought along their envelope for the Parish Collection last weekend. If you forgot, please bring it along next week.

---
This Friday is the First Friday of the Month. Mass will be offered for those whose names are on the Parish List of the Dead. Communion calls to the sick will take place as usual during the week. If you know of anyone who would like to be included on the monthly sick calls please phone with the details.


---
Be Safe - Be Seen: Over the past number of weeks there has been a significant rise in the number of pedestrians killed on the roads. Please make sure that children wear bright clothing with reflective bands if they are out after dark. Adults walking on the roads should take similar precautions. Motorists should drive with extra caution. Pedestrians or cyclists may be just around the corner.

---


EURO

The euro cash changeover has been described as the greatest the world has ever seen. The introduction of euro banknotes and coins on takes place on 1 January 2002
Since 1 September heavily guarded lorries, ships, trains and aircraft have been travelling the length and breadth of the euro area, delivering huge quantities of euro banknotes and coins to credit institutions and, in some countries, retailers:

· 14.89 billion euro banknotes - enough to cover around 15,000 football pitches - with a value totalling €633 billion
· 51.629 billion coins with a value totalling €15.7 billion - equalling about 7000 lorry
loads. If stood upright and placed face to face they would form a line that circles the earth two and a half times

Windows and gateways are the main feature on the front of the banknotes, while bridges are the main feature on the reverse. The images are modelled on the typical architectural style of each period, rather than on specific structures.
· Classical for the €5 · Romanesque for the €10 · Gothic for the €20 · Renaissance for the €50
· Baroque and Rococo for the €100 · The age of iron and glass architecture for the €200
· Modern 20th century architecture for the €500

Cotton grown in the American South, Africa or on the steppes of Central Asia is the basic ingredient for producing the euro banknote "paper" which is made of 100% pure cotton fibre. The short cotton fibres that cannot be used by the textile industry are bought by the paper mills, which turn them into 100% cotton paper. This is what gives euro banknotes their special "feel" and instantly recognizable crispness, as well as durability so that they can be passed from hand to hand, in widely differing circumstances and environments, more than most other forms of paper. The cotton fibres are ground and bleached, and by adding water, paper pulp is created. Chemicals are added to create the desired tear resistance. Because secure paper is the basis for producing safe banknotes, some security features are part of, or inserted in, the paper itself, such as watermarks or embedded security threads. The watermark, for example, is obtained by varying the paper thickness during the paper-making process, resulting in some parts being lighter and others darker than the surrounding paper. Other features on the notes include the name of the currency - euro - in both the Latin (EURO) and the Greek (EYPO) alphabets; the initials of the European Central Bank in five linguistic variants - BCE, ECB, EZB, EKT and EKP - covering the 11 official languages of the European Community; the symbol © indicating copyright protection; and the flag of the European Union.



---

Please pray for the happy repose of the soul of Danny Lawless, Blueball whose funeral took place during the week.




---

---

---