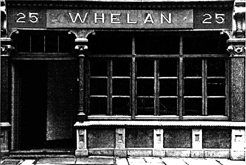 Whelans,
25 Wexford Street, Dublin 2.
Telephone/Fax + 353 (1) 4780766 email:whelanswex@tinet.ie

---

Feedback: If anyone has any feedback regarding the webpage, or is looking for information on when a band is next playing or has a comment to make about the running of the venue, ticket prices or just want to give out, plain and simple, the please email us: whelanswex@tinet.ie

News:

Last Update: 23/2/99

Recently we have received some very favourable press from the UK's TIME OUT :

"Another essential venue for visitor and local alike, Whelans features a highly eclectic mix of rock and roots in extremely congenial surroundings.The building itself dates back to the eighteenth century and, thanks to extensive renovation in 1989 which uncovered many original fittings, it's a good example of an old Irish pub, well worth a visit in itself. This is the place to go to hear everything from Russian Gypsy bands, English Folk and Irish trad to international rock, jazz and blues in a venue small enough for intimacy. Absolutely essential."

Time Out Guide to Dublin 1998

Also The Rough Guide said "this is perhaps the city's best place to see live music up close." More on the Reviews page.

Email list: If you like to be informed when we update the page, why not send us your email address and we will email you after every update. Our email address is listed above.

Menu

Clubs
Christmas Parties This section is not active yet but will be in June/July. (Its still a little early in our opinion). This year Whelans will be organising an all in package for the first time featuring the Cajun kings, Dinner and a late club.
Ticket Information - Opening Hours
General Information:
Whelans is a Music Venue, Bar, Restaurant, Off Licence and Nightclub in the heart of Dublin, Ireland. Whelans is famed for its intimate atmosphere and diverse choice of music ranging from Irelands finest Traditional through to International Rock, Folk, Jazz, Comedy, Country,.... you name it.
Whelans Opening Hours:
Venue: Doors open to the venue at 8.30 each evening except Sundays where the doors open at 9pm for the evening concert and 4pm for the legendary Cajun Kings Sunday Afternoon session (October to May each year)
Off Licence:
The Off Licence opens every day at 10am and closes each evening at 11pm.
Restaurant:
The restaurant serves food (surprise!!) Mon - Fri 12.30pm until 2.30pm. Bar food is available until 8pm Mon-Fri.
Late Clubs:
The Late Clubs in Whelans run every Thurs, Friday and Saturday until 2am. Doors open at 11pm. Admission is £3 Thursday, Friday and £5 Saturday.
Ticket Information:
For the majority of concerts at Whelans tickets are available on the night at the door. However some bands sell tickets in advance through HMV, Sound Cellar and Claddagh Records in Dublin and various outlets nationwide. These tickets are subject to a £1 booking fee. Credit card bookings can be made for these shows through Ticketline which has a 24 hour booking line: (01) 4569569. Ticket prices vary from night to night but are usually about £5/6 per night.