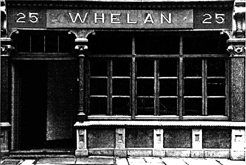 Whelans
Telephone/Fax + 353 (1) 4780766 email:whelanswex@tinet.ie
---
Reviews
Recently we have received some very favourable press from the UK's TIME OUT :
"Another essential venue for visitor and local alike, Whelans features a highly eclectic mix of rock and roots in extremely congenial surroundings.The building itself dates back to the eighteenth century and, thanks to extensive renovation in 1989 which uncovered many original fittings, it's a good example of an old Irish pub, well worth a visit in itself. The venue is actually a converted warehouse at the back, and while its relatively new, it's designed to complement the pub, and its own original use.There's a balcony upstairs, and murals from the Book of Kells downstairs, and its impossible not to be impressed. This is the place to go to hear everything from Russian Gypsy bands, English Folk and Irish trad to international rock, jazz and blues in a venue small enough for intimacy. Absolutely essential."
Time Out Guide to Dublin 1998
Also The Rough Guide said "this is perhaps the city's best place to see live music up close.Its intimate atmosphere makes it a particularly ideal venue for acoustic and roots music, and the list of International stars who've graced its compact stage is a mile long." Thanks very much:).
A good review in Rock N Roll Traveller Britain and Ireland. which we will get a quote from when we buy a copy.. Here's some of the press we have received over the past few years.
"The Venue is a gem - a compact Victorian Music hall , low lit and full of character, with upstairs balcony and a wealth of old wood furnishings."
Mojo Magazine(UK)
"It is unique in the city . Whelans is a great pub, a marvellous addition to Dublin's amenities."
The Irish Times
".... one reaches the back room, with it's pillars and skylight and balcony. A massive bloody great room that looks as if it's gone AWOL from Iveagh House or Dublin castle. The big room has to be one of the best performance spaces in any pub in Dublin."
In Dublin
"One of the best blues gigs of recent times, and a further feather in the cap for the best roots venue in the country."
The Sunday Tribune
"Delight in anticipating the packed-house electricity of the city's finest roots rockin' venue."
The Irish Times
"But this was Dublin 1994, not Italia `90 and , 12 minutes into Saturday nights games, the wits in the balcony of Whelans Bar in Wexford Street mimicking Pavarotti has added their own words to Nessum Dorma's closing crescendo: `It's a goal!, IT'S A GOAAAL!" they sang rapturously."
The Independent(UK)
Home