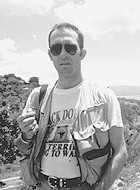 'Kevin Carter, kaffir lover forever' - Kevin Carter
KEVIN CARTER
South African photojournalist (b. Sept. 13, 1960, Johannesburg, South Africa - d. July 27, 1994, Johannesburg), recorded on film the racial strife and political chaos of his native South Africa, but he captured international attention and the 1994 Pulitzer Prize for a haunting photograph of a vulture patiently watching a starving Sudanese child. Despite his own comfortable suburban childhood, Carter rejected the inequities of apartheid in his native land at an early age. He was drafted into the South African Defence Force and then secured (1983) a job as a sports photographer with he Sunday Express newspaper. In 1984 the switched to the Johannesburg Star and joined other young white photojournalists who risked imprisonment and death to expose the evils of apartheid. Later he worked for

the Sunday Tribune, the Weekly Mail, and Reuters international news agency. Many of his photographs were picked up all over the world, notably his Pulitzer Prize winner, which was taken during a short foray into The Sudan, and his picture of an anguished South African neo-Nazi facing death at the hands of a dimly seen black police officer. Carter, who was increasingly depressed by the violence and suffering he had witnessed and despondent over the shooting death of his friend and colleague Ken Oosterbroek, took his own life.