Rallycross News
Report by Mary Lou McClintock.
C.K.M.C. WIN BEST CLUB AWARD.
On Sunday last, 31st January, Robert Moody and I flew out of Dublin airport (by plane of course) at 9.35 in the morning. We were on our way to collect an award from the British Trial and Rally Drivers Association, known to most of us as the BTRDA.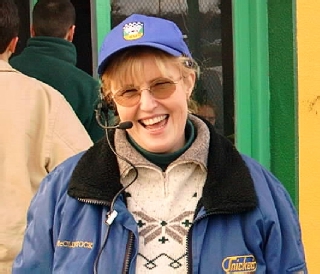 The award which Co.Kildare Motor Club has been given is for running the best round of the BTRDA Rallycross Championship which runs concurrently with the BRDA Rallycross Championship on what is known 'across the water' as the 'Irish Weekend'. Larne Motor Club hosting an event on the Saturday with CKMC's event on the Sunday.
Although this is not the first award which CKMC have won for Rallycross as two years running, 1994 and 1995, the club won the trophy for the best round of the European Rallycross Championship, we were however, very pleased and proud to accept the award from the BTRDA on behalf of the club and the team involved.

Even though the event took place in April '98 (I didn`t have the Internet then!!) on behalf of CKMC I would like to thank all the marshals, the staff of Mondello Park, and the drivers, without any one of these groups the event would not have been so successful.
| | |
| --- | --- |
| L to R: Ivor McClintock, Mary Lou McClintock, Thomas Kinirons, Robert Moody, Anthony Hennessey, Anna St. Claire, Alan Farrelly, Tom Moody. | Yes, I can say without any doubt that it is all down to - TEAM WORK !! |
The BRDA 'Irish Weekend' events takes place this year on Saturday 24th April in Nutts Corner (Larne Motor Club hosting) and Sunday 25th April in Mondello Park with Robert Moody at the helm as Clerk of the Course for Co. Kildare Motor Club.
Hope to see you all there!