FISHING IN THE NORTH WESTERN REGION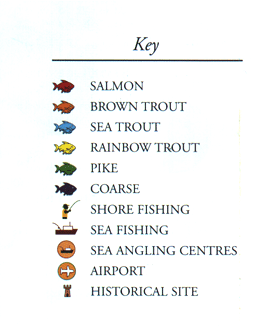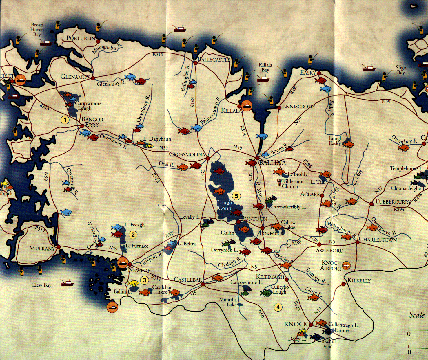 The North Western Fisheries Region extends from Pigeon Point, Clew Bay, Co. Mayo to Mullaghmore Head, Co. Sligo and includes the catchments of all rivers and lakes that flow into the sea between those two points. The region offers a huge varied of game fishing ranging from the world famous River Moy to small mountain loughs,. The region also has top class sea angling which is available from both boat and shore. While its coarse fish resources are relatively limited, a number of small lakes have been attracting considerable attention in recent years and others are being developed.
GAME ANGLING
COARSE ANGLING
SEA ANGLING
Top of Page
GAME ANGLING
The best known fishery in the region is, undoubtedly, the River Moy which produced a phenomenal catch of 12,305 salmon to the rod in 1996. Loughs Conn and Cullin, the main lakes on the Moy system, hold excellent stocks of brown trout and several of the Moy tributaries offer good trout fishing to dry fly.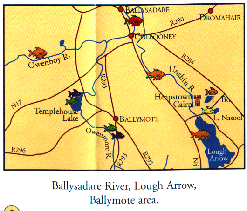 In the Sligo district, beautiful Lough Arrow is known internationally for the quality of its wild brown trout and, on Lough Gill, salmon fishing is available from 1 January. Scenic Glencar lake and the outflowing Drumcliffe River provide salmon fishing from 1 February and, later in the year, the Ballysadare River enjoys a prolific run of grilse.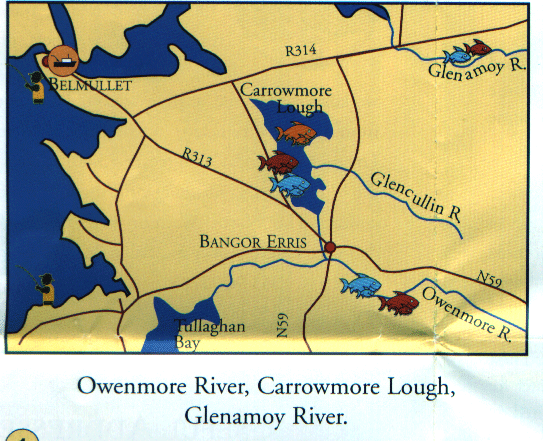 In the rugged West Mayo area, Carrowmore Lough, the most popular fishery, gets excellent runs of spring salmon, grilse and sea trout and the adjoining Owenmore River provides good fishing but access for visitors is very limited. The Glemamoy River gets a reasonable run of grilse from 1 June and sea trout from 1 July.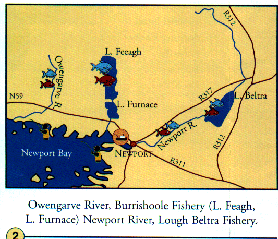 In the Newport area, the Burrishoole Fishery, (Loughs Furace and Feagh) gets a run of both wild and ranched salmon/grilse and the Newport River/Lough Beltra fishery is famous for producing spring salmon from opening day on 20 March.
Top of Page
COARSE ANGLING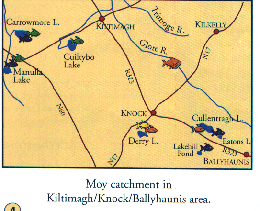 A number of smaller lakes in the Moy catchment - in the general Castlebar/Knock/Kiltimagh area - provide fishing for pike and perch.. Eatons Lough (Knock area) holds a good stock of bream and Lakehill Pond (same area) holds an excellent stock of tench. Also in the Moy catchment Levally Lake and Derryhick Lake (both near Pontoon) hold good stocks of pike.
The principal coarse fish centre in the region is Ballymote, Co Sligo, which is adjacent to the Owenmore River and surrounded by a number of coarse fish lakes - Cloonacligha, Templehouse, Ardrea and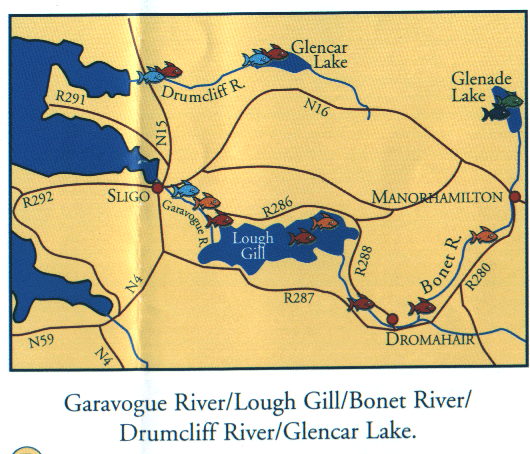 Ballinascarrow - which offer fishing for pike, perch, bream and rudd.
In Co. Leitrim, Glenade Lake and Corrigeencor Lake hold stocks of pike and perch while Belhavel Lough holds pike, perch and bream. Lough Gill also holds good stock of bream.
Top of Page
SEA ANGLING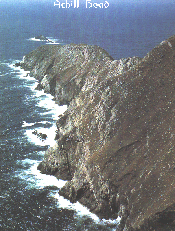 The most famous sea angling centres in the region are Killala Bay, Belmullet, Clew Bay and Achill. In recent years, centres such as Rosses Point and Mullaghmore, Co. Sligo have become well known. Shore angling is gradually becoming popular throughout the region and this activity is expected to expand further in the coming years.
A feature of this part of Ireland is the proximity of deep water to the shore with the Fifty Fathom Line and the Continental Shelf being within reasonable distance of many ports. However sheltered inshore fishiing is also available in large bays such as Blacksod and Broadhaven while sea angling is possible in the island-studded Clew Bay in virtually all weather conditions.
The region holds several marine records and has an excellent record of specimen fish captures over the years. A huge variety of species is available including blue shark, pollock, wrasse, cod, coalfish, monkfish, spurdog, bulhuss, conger, turbot, dogfish and skate.
Several major angling competitions are held throughout the main season and these attract large numbers of anglers from all over Ireland.
PERMISSION TO FISH
In general, salmon and sea trout fishing is privately owned and, in order to fish, a permit must be obtained from the fishery owner or angling club as appropriate.
ANGLING SEASON
The commencement and end of the angling season varies from one fishery to another. In general, however, the salmon angling season commences on 1 February and, in all cases the salmon season ends on 30 September. On Loughs Conn and Cullin the brown trout season commences on 15 February and continues until 10 October. On Lough Arrow the brown trout season does not commence until 1 April and finishes on 30 September.
Sea angling is available all year round with the exception of bass which is subject to a closed season from 15 May to 15 June.
Top of Page