N. O'Byrne's page on
WAYFARERS ASSOCIATION
Blackstairs Walk

Next walk: Saturday 15th May 2004

If you participated in previous Blackstairs Walk organised by the Wayfarers Association and would like to contribute comments or views, then


N. O'Byrne Please no


See report of the 1998 walk below, the only report received so far. Get your e-mail messages in now!
A Wayfarer Homepage can be found with this link. Wayfarers Association!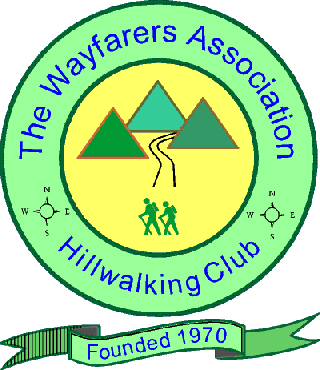 The Blackstairs Walk is a 27.6 Km. (17.0 Mile) mountain walk along the Carlow-Wexford border. The walk begins at Killanure (Grid Ref. S 890 537) of the R746 (previously L32) road from Bunclody to Kiltealy, and ends at Byrnes Pub in Glynn (Grid Ref. S 745 395).

See image below for location of checkpoints, some further information and organiser details.
The walk involves a cumulative ascent of 1,475 metre (4,810 feet) and takes an average of 9 hours to complete. A certificate will be awarded to all those who complete or participate in the walk.
---
General Information on Wayfarers Association Blackstairs Walk 2004
(Official info on 2004 walk may vary!)
CONDITIONS OF ENTRY
ALL PARTICIPANTS MUST:-
Be over 16 years of age. Participants between the ages of 12 and 16 will only be considered if their entry form has be co-signed by an adult and if they are accompanied at all times while on the walk by an adult who is an experienced hill-walker. Entrants under 12 are not allowed.
Be in fit physical condition.
Have reasonable hill walking experience.
Have wind and waterproof clothing, and wear suitable hiking boots.
Have a compass and Ordnance Survey Discovery Series Map No. 68.
Start the walk between 7.30 and 8.30 A.M.
Reach the Checkpoint at Scullogue Gap not later than 1.00 P.M.
Finish the walk not later than 6.30 P.M.
Carry their Control cards during the walk.
RULES:-
Stewards may refuse entry and shall not be obliged to disclose a reason.
Stewards may disqualify participants who do not reach the checkpoints within the allotted times, or who are unfit in their opinion to complete the walk.
Participants must follow the route designated.
Participants shall only leave the walk at a checkpoint, having first surrendered their control card and informed the stewards that they are doing so.
The organisers of the walk shall not be responsible for any mishap, injury or damage regardless of the cause.
In the event of an accident, Stewards at the nearest checkpoint should be informed as soon as possible.
Participants are requested not to leave litter, and avoid damage to private property, fences etc.
INFORMATION:-
A campsite is available at St. Mullins.
Two busses will leave at 6.45 for the start of the walk. One will leave from St. Mullins (the campsite), the other from Glynn. The bus trip will cost £3, payable on the bus. Participants are advised not to drive to the start as there is NO official transport from the finish back to the start. The bus should be used to the start.
A get-together meal at the hall in Drummond has been arranged for after the walk. The cost is €12 per person. As numbers are limited, you are advised to book early. Menu choice will be limited, and a vegetarian option must be ordered and paid for in advance.
Payment for meal can be made in advance of the date of the walk.
---
Entrance Fee:

€5 Bus to Start: €5 Meal: €12
Entrance fee and Bus fare to be paid on the day of the walk
---
Contacts / Details

Organisers:
2000 Mary Reilly and Donald Gill
2001 Emily Meade and Peter McIntyre (cancelled due to agricultural disease prevention measures)
2002 Emily Meade and Peter McIntyre
2003 Pat and Bernie Conlon
2004 Gerry Griffin and Geri Skehan

Telephone - 353-1-4962314

Programme
| | |
| --- | --- |
| Time | Itinerary |
| 06:45 | Buses leave St. Mullins and Glynn for the start of the walk. Bus fare 5 euro and entrance fee 5 euro collected on the bus. |
| 08:30 | Latest start time at Killanure. |
| 20:30 | Meal in Drummond Hall, Cost 12 euro to be paid before the meal. |
Accommodation
Accommodation is your own responsibility to organise. As usual, camping will be available at St. Mullins-
St. Mullins / Glynn

Craigenamanagh

Name

Telephone

Name

Telephone

Kathleen Kennedy B+B

353-51 - 24936

Helen Doyle B+B

353-503 - 24625

Rita Murphy B+B

353-51- 24807

Lilly Bolger B+B

353 - 503 - 24775

Mrs. O'Dwyer B+B

353-51 - 24665

Kiwi Lodge -

353-503 - 24588
self catering

Alice Fitzpattick B+B

353-51 - 24590

Breens of Borris

353-503 - 73231

Maura Fitzpatrick B+B

353-51 - 24542

The Anchor

Not recommended!

Helen Blanchfield

353-51 - 24745 self catering

Waterside

353-503 - 24246
For further information;

The Webmaster Please no

---

If you are interested you can take a look at this Routecard for the Blackstairs Walk provided by Simon Stewart
---

Report on the 1998 Blackstairs Walk
(The only one so far ever written about!)
BLACKSTAIRS '98 - Report

The Met Office had been promising good weather in the week prior to the Blackstairs Walk and how right they were! As a result the Wayfarers Association who organise the event were inundated with last minute requests for information. Thanks to the Internet we had one enquiry from the USA and one continental walker who was here on holidays also showed up. Looks like we've gone international!

The morning of the 1 6th of May dawned bright with an early morning mist, hiding what we knew would be a glorious day. Clad in shorts and T-shirts, and carrying copious amounts of water and factor 15, 132 happy trekkers set out from the start at Killanure

Led by a group of local lads, the pace was good and in the cool morning air and favourable underfoot conditions, walkers passed through the various checkpoints at a rapid rate. However the gods were soon shining from behind that mist and speed decreased as walkers temperatures increased.

Mount Leinster saw some take a break but it was at the Sculloge Gap that most took the opportunity for a well-earned rest. Never were bottles of Coca-Cola and packets of Tayto supplied by our sponsors so gratefully accepted and consumed! Fluid and salt replenished and water bottles refilled the various groups faced the trudge of the four false tops of Blackstairs Mountain itself Summit reached, the worst was over and they were treated to spectacular views of the Carlow-Wexford countryside.

Not helped by the heat, the rocky last section of the day's walking resulted in quite a few blisters but apart from these and a few minor grazes the only serious casualties were the patches of red skin missed by the factor 15. In all, 126 walkers reached the final checkpoint at Glynn (a few decided on arriving at the Sculloge Gap that sunbathing was a nicer option) and were proud recipients of their certificates, along with the Sheba, the collie, our first 4-legged participant.

One walker who always makes room in her calendar for this walk was particularly happy to finish this year, as she was 4 ½ months pregnant. We wish her well

Thanks to the good weather, numbers were slightly up on last year but it should still be a small enough number not to raise concern about erosion of the hills. After the walk and later at the meal held in the local community hall, a collection was held and the proceeds shared between the Dublin-Wicklow and the South Eastern Mountain Rescue Associations

As always, local hospitality knew no bounds. We were welcomed with open arms by the people of Glynn, St. Mullins and the surrounding area who turn a blind eye every year to the village green in St. Mullins being turned into a camp site for the weekend. What with the locals taking pan in the walk, providing excellent B&B's, cooking a sumptuous post-walk meal for 75 hungry walkers and joining in the crate in the two pubs we frequent, is it any wonder we feel so much at home when the Blackstairs time of year comes around? Hopefully the future holds many more Blackstairs Weekends. If only we could persuade the gods to shine each year as they did on the 16th of May 1998.

Alice Ring (Joint organiser 1998 and 1999, with the help of Brendan McCartie, 1998, and Alan Reilly, 1999)
---
Links
Further hillwalking stuff from Simon Stewart can be found here! Lots of info. etc.

Then there's my own contribution to hill-walking understanding My Hillwalking Slang Dictionary which can be found here. Check it out!

Finally there's My Own homepage which can be found here. You are more than welcome to have a look around! There you will find the Hillwalking Theory.
---
Future updates of this page may include more details of accommodation available, reports and photos from the walk, and other items from the Wayfarers Association Hillwalking Club.
---
| | |
| --- | --- |
| © 2004 N. O'Byrne Thank you for visiting | Most recent revision: Wednesday, 13 December 2006 |