INFO

CUISINE

LODGINGS

BUSINESSES

GROUPS

CLUBS

PERSONAL

SEARCH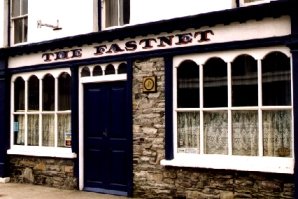 Fastnet Bar
Breakfast/Lunch Menu Until 6pm
Music On Selected Weekends
Traditional Family Run Bar
Example Menu

Full Irish Breakfast: served with orange juice and toast. £4.50

*****************
Starters
Soup of the Day, served with Brown Bread. £2.20
Seafood Chowder, served with Brown Bread. £3.20

*****************
Main courses
Sirloin Steak, served with Peppercorn Sauce. £9.90
Bacon, served with or without Parsley Sauce. £5.50
Ham & Turkey Salad. £5.50
Chicken or Chicken Curry. £5.50

All main courses served with vegetables, potatoes or chips.

*****************
Prop: Breda and Denise O'Donoghue.