INFO

CUISINE

LODGINGS

BUSINESS

GROUPS

CLUBS

PERSONAL

SEARCH

Goleen Community Council
The Community Council was set up at the beginning of 1999 in association with Muintir Na Tire. A steering committee of local representatives undertook the process of dividing the region into 8 areas, the nomination & elections. At the same time a detailed "Needs Survey," was distributed and the response was excellent.
The electorate numbered in the region of 1000 and was open to anyone over the age of 18. The Council is now made up of the 16 elected representatives and 11 representatives from organisations within the district including 2 youth members
There are many issues that are already being addressed by the Council. The Barley Cove Project, which is being assessed by the County Council, has brought up a number of important issues. The Community Council is attempting to retain and develop the existing GAA/Soccer pitch on the site as well as conserve and improve access to this naturally beautiful and endangered habitat.
There are a number of housing developments that are being proposed for the village of Goleen which will have a major effect on the limited water and sewage facilities of this small village and this has raised a number of concerns within the community. It is recognised that Tourism is becoming an important source of employment in the region as farming has declined in the South West of Ireland. A considered approach to these major changes will have to be undertaken by the community as a whole in order to retain some of the traditional aspects of cultural heritage.
The Community Council publishes a monthly newsletter, The Grape Vine, that helps to inform the populace of these and other matters coming before the council and a version of this is being made available on email. If you would like to subscribe contact me at OKStudios.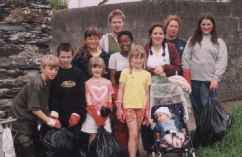 Local kids help out with litter collection