INFO

CUISINE

LODGINGS

BUSINESSES

GROUPS

CLUBS

PERSONAL

SEARCH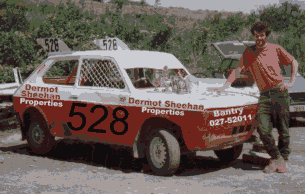 Dermot Sheehan Racing Team
The Dunlough Demon is at present a 1983 model, Fiat 127. Due to the special requirements of hot rod racing the Demon has been modified under the IHRMR Federation safety regulations. The car has a custom roll cage with all unnecessary accessories removed to reduce body weight for an enhanced performance. The Demon is a standard front wheel drive but has a modified factory spec. suspension system which is being constantly updated to deal with the rigours of competition.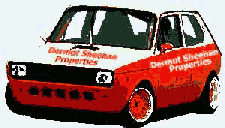 Over the last 2 season The Dermot Sheehan Racing Team has established itself as one of the leading contenders for the over all Class 1 Championships for 1999. Hot Rod Racing in West Cork is a growing sport that attracts interest throughout the county as a whole. There are 6 clubs at present in the Munster Area the newest of which is the Carbery Motor Sport Club. Racing regularly takes place at the purpose built track near Clonakilty where there are excellent spectator facilities & a good family attendance.



1997 Season
2nd place Clonakilty Class 1 Trophy.
3rd place Clonakilty Class 1 Trophy.
Paddy Little: 3rd place West Cork Hot Rod Club Winter Championships.
Sponsored by Barry's of Bantry.
1998 Season
23/02/98: 3rd place Clonakilty Class 1 Trophy
17/05/98: 2nd place Clonakilty Class 1 Trophy
05/07/98: 3rd place Consolation Race
09/08/98: 1st place Consolation Race
13/09/98: 2nd place Clonakilty Class 1 Trophy
13/09/98: 3rd place Clonakilty Class 1 Trophy
Paddy Little: 3rd place 1998 Drivers Championship
Sponsored by Donal Fennessy
1999 Season Carbery Motor Sport Club Formed
14.6.99
The first race of the Carbery Motor Sport Club season took place over the weekend and saw a triumphant win for Paddy Little of The Demon Racing team in the very first race. This is the first win for the Goleen based driver and throws down the gauntlet in the over all Drivers Championship. Paddy who has previously finished third in the Winter Championships followed up his first victory with a second place finish in the second race. The combined points puts him in the leading position in class one as they head into the next session of races at Clonakilty. The races were sponsored by the Lyre Bar Clonakilty.
28.6.99
Patrick Little(77pts) followed up his successes at the last meeting by picking up two second place finishes to his rival P.J.O'Sullivan(64pts). Patrick still retains his lead in the Class 1. The generous support of local business man will see the team driving under the new name The DERMOT SHEEHAN RACING TEAM for the rest of this years Championships.