Located at Ballyrisode between Schull and Goleen and near the beautiful and renowned Ballyrisode strands, Sylvia Connell's is an ideal place to stop. Enjoy our excellent food in scenic surroundings. Sample our homemade pastries. Serving Lunches, Teas and Evening Meals. Also serving take-away & snacks for the beach. Sit outside on a fine day and admire the view and perhaps the swans. Then browse through the craft shop. You're sure to find the ideal gift for the folks at home.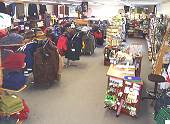 Our fashion section includes Mizen Head Wax Jackets and Hats, Kerry Woollen Mills Scarves and Rugs, Weave of the Irish Jackets, Avoca Handweavers Coats, Capes and Jackets, plus a large collection of Fleece, Sweatshirts, T Shirts, Men's Caps and Hats, Rain Wear, and also a Collection of Irish Linen.


Tax Free shopping for non EU customers, excellent Sterling Exchange for our British Customers, and a wide range of sale and bargain shopping for all our customers.


Hugh and Sylvia Connell will serve you 7 days a week.

Extensive collection of Quality Irish Knitwear Jackets, Coats & Capes, Pottery and a host of other Beautiful Irish Crafts and Gifts.



Our Sweater Section includes 100% Wool Aran Sweaters in a range of colours for IR£24.95, Lamb's Wool Sweaters IR£23.95 Cotton Sweaters IR£29.00. Hand Knit Wool and Cotton Sweaters. Tivoli Spinners, Claire Kennedy and Ireland's Eye, are some of out Knitwear Collections.