REVIEW 2000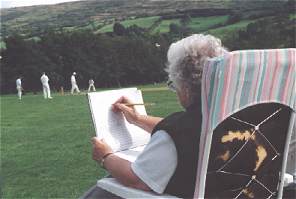 MIZEN FINISHING WITH FLORISH
Following a poor start Mizen Cricket Club are finishing their season strongly, having taken the Towns Cup and lying in 2nd place in the Munster Cricket Union Division 3 with one game to play.

Mizen lost their the first three games to Coolmountain (twice) and Tralee. However, there were notable performances in the batting of Richard Hudson and Owen Kelly, and the bowling of Joff McPherson and Len Lippitch against Coolmountain.

Form did subsequently improve with Mizen taking the points in seven of the eight following fixtures, including the successful cup run ending with victory over Clonmel last Sunday.

The wins were over Limerick, Bantry(twice),UCC, Coolmountain, Lismore and Clonmel featured some excellent performances from the Mizen team.

Best batting were the centuries from Nick Addey (148 v UCC), Richard Hudson (117 not out v Bantry) and Robin (108 not out v Lismore). Furthermore during Nick Addey's innings of 148 along with Owen Kelly a first wicket opening partnership of 240 was set, a league record!

Best bowling performances were from Hugh Rance (6 for 13 v Bantry),Joff McPherson(5 for 13 v Bantry ), Martin Downs(4 for 30 v Presentation), and Len Lippitch (4 for 35 v Coolmountain)

After their formation 5years ago the Mizen Cricket Club are delighted with their improvement in performance this season , winning the Towns Cup and gaining a reasonable league position after being newly promoted to the Munster Cricket Union Division 3

MIZEN TAKE TOWNS CUP.

Excellent batting against a fine bowling side ensured a comprehensive victory for Mizen Cricket Club over Clonmel in the Munster Cricket Union Towns Cup final at University College Cork on Sunday last.

After being put into bat the Mizen openers Owen Kelly (32 runs) and Nick Addey (47) saw off the bowling attack and built the platform for a decent score with an opening partnership of 71 runs.

A further partnership of 73 runs between Richard Hudson (39) and Robin (40), during which they contended with some clever leg spin and then punished the returning fast bowlers, put 182 runs on the board by the fall of the 4th wicket.

The score was considerably enhanced by the controlled middle order hitting of Martin Downs (30-not out) aided by Jamie Fisher.

The resulting total of 232 runs against a Clonmel side featuring an aggressive fast bowling attack followed by some accurate spin bowling (especially the leg spin of K O'Mahoney) proved to be decisive.

After the fall of the first wicket in the 4th over Clonmel were unable to get back into the game, despite a middle order flurry of runs by hurler R. Butler and P. Clifford, and only managed a score of 105 runs all out after 28 overs. This gave Mizen victory by the substantial margin of 127 runs. All the Mizen bowlers took wickets, the pick being Robin with 3 wickets for 13 runs off 9.5 overs and Charlie Harger on his 18th birthday took "Man of The Match" with 2 for 23.


Coolmountain Defeated.
On the 3rd attempt this season Mizen scored a rare win against Coolmountain. The victory was especially sweet as it was the result of some very good bowling, which Mizen has not been reknown for! This means that Mizen will play Clonmel in the Final of the Munster Minor Towns Cup and will hope to go one better that last season.
Lost In Kerry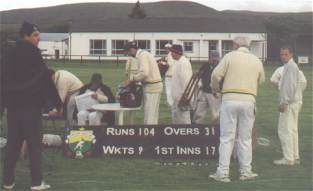 I for one got completely lost going to the match. We never really found ourselves and lost by 70 odd runs.

Mizen Sign New Batsman
Mizen C.C. have enrolled a new member of the team. Owen Kelly who has been one of the leading opening Batsman and Wicket Keeper for Coolmountain and the Rebels over the last few years has moved to the Mizen C.C. In a strange twist of fate he will play his first match this season against his old club Coolmountain. It is a safe bet that the Coolmountain bowlers will be linning up to take his wicket in this match, which is often a closely fought amd tense affair.

Saturday MAY 6th Mizen Vs Limerick at Schull
Limerick failed to turn up for this match so Mizen pick up some much needed points. A match was organised against a scratch Bantry side. It was an easy stroll for the Mizen team however, but much needed practice, which will come in handy when they face the local Derby against Coolmountain C.C.on the 21st. The weather is likely to be a major factor early on this season